Pastor Joel Osteen Addresses Gun Control After Conn. School Shooting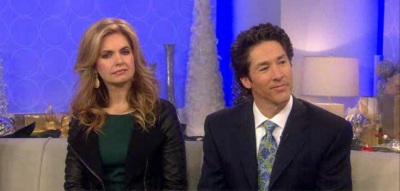 Christian pastor Joel Osteen appeared alongside his wife and children on NBC's "Today" show Monday to discuss the recent tragedy which occurred in Newtown, Conn., on Dec. 14, in which 26 children and adults were shot to death at Sandy Hook Elementary School.
Specifically, Osteen addressed the issue of gun control, which has been a major discussion in recent days in light of the Newtown tragedy.
When "Today" host Matt Lauer asked Osteen if he believes it is his responsibility to take a stand regarding guns in the U.S., Osteen responded: "I really don't Matt, because political issues divide us."
"For what I'm doing, I'm trying to reach as many people as possible. There are good people on both sides of the aisle, and I don't know what the best answer there is either, but I just try to guide them and give them hope in this time of need," Osteen added.
Osteen also addressed the question that many Americans ask when such tragedies strike: "Why does a good and kind God allow something like this to happen?"
"God gave us all our own free will. He gives us freedom of choice, He didn't make us his robots," Osteen told Lauer.
"Unfortunately, some people choose to do evil, and we don't always understand it, but I still believe that God is good and God is for us, but He doesn't make us do what's right," Osteen added.
The pastor of Lakewood Church and his wife, Victoria Osteen, went on the NBC morning program to speak about the importance of faith and family during such tragedies, with Mrs. Osteen saying: "This is a time that we can reflect as a family, that we can learn to really say I love you and appreciate each other."
Osteen is the pastor of Lakewood Church, located in Houston, Texas. The megachurch is considered to be the largest in the U.S., averaging a weekly attendance of 43,500, according to Sermon Central's Top 100 Churches.
Police say that on Dec. 14, 20-year-old Adam Lanza opened fire on students and faculty at Sandy Hook Elementary School in Newtown, killing 20 children, ages six to 10 years old, and six adult faculty members at the school.
Lanza was found dead from a self-inflicted gunshot wound in the head at the scene of the crime.
The 20-year-old reportedly also killed his mother, Nancy Lanza, as she lay in bed in her Newtown home shortly before he arrived at the elementary school.
Friday's shooting has invoked widespread debates regarding gun control in the U.S., with some critics arguing that Lanza's rampage could have been avoided with stricter gun regulations.
"If you look at the states with the strongest gun laws in the country, they have some of the lowest gun death rates, and some of the states with the weakest gun laws have some of the highest gun death rates," Brian Malte of the Brady Campaign to Prevent Gun Violence told The Associated Press.
Others have argued, however, that the issue is not so much about gun control but a more deeper issue regarding today's youth culture and the accessibility of mental health services in the U.S.
"In the wake of another horrific national tragedy, it's easy to talk about guns. But it's time to talk about mental illness," wrote Liza Long in an article entitled "I Am Adam Lanza's Mother," which has received widespread attention on the Internet since it was first published on Dec. 15.
Today begins the funerals of two of the youngest victims killed in Friday's shooting, 6-year-olds Noah Pozner and Jack Pinto.