Pastor Preaches Forgiveness After Texas Church Shooting, Says Victims Are 'Dancing With Jesus'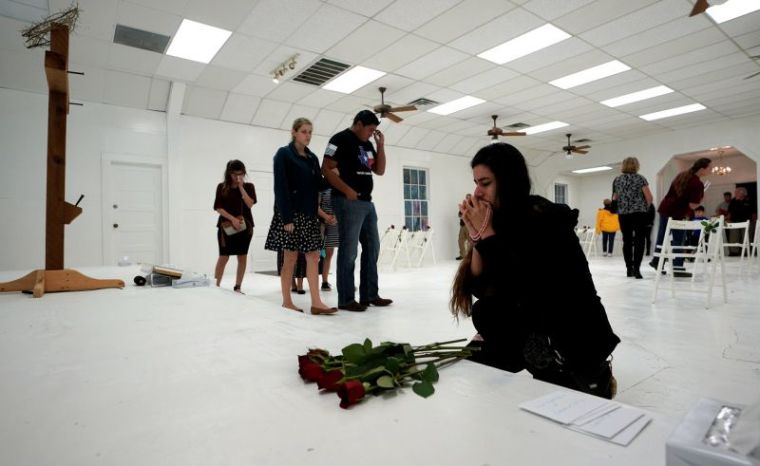 First Baptist Church Pastor Frank Pomeroy of Sutherland Springs, Texas, preached a message of forgiveness and said at the first Sunday service following last weekend's mass slaughter that the victims are with Jesus Christ.
"I knew everybody who gave their life that day. Some of them were my best friends. And my daughter," Pomeroy said during Sunday's emotional service, referring to the 26 victims, including his 14-year-old daughter, Anabelle.
"I have no doubt they're dancing with Jesus today."
The Houston Chronicle noted that the pastor preached a message of forgiveness, as the small town community attempts to pull itself together after the worst mass shooting in the state's history.
"We have the freedom to proclaim Christ. Folks, we have the freedom to choose, and rather than choose darkness as one young man did that day, I say we choose life," the pastor said.
The 75-minute service did not mention the name of Devin Patrick Kelley, the gunman who stormed into the church on Nov. 5 and carried out the deadly shooting spree, eventually killing himself after fleeing.
Authorities have ruled out racial or religious motives for the shooting, and have been piecing together a character profile of Kelley.
Tessa Brennaman, the gunman's first wife, told CBS News on Friday that her ex-husband had "a lot of demons or hatred inside of him."
Kelley, who served in the U.S. Air Force, pleaded guilty in 2013 of hitting, choking, kicking and pulling Brennaman, along with fracturing the skull of her young son.
"And he had a gun in his holster right here and he took that gun out, and he put it to my template and he told me, 'Do you want to die? Do you want to die?'" Brennaman recalled.
Kelley served one year in military prison, after which he received a bad-conduct discharge.
Sunday's service was held under a white tent, The New York Times reported. And the church reopened in the evening as a memorial. The church was completely transformed, with pews and carpet removed and the entire interior painted white. There were chairs with the names of the victims, and on each chair was a rose, including a second rose on a chair for the unborn baby of Crystal Holcombe.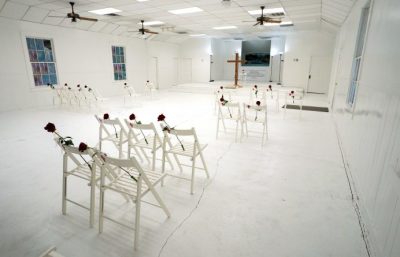 John Barnhill, 46, a UPS worker, said he was glad to see hundreds show up for the service.
"In Texas, we know the Devil can't beat us," Barnhill said. "You may kick us out. But if we have to do it in the middle of a baseball field, it don't matter. We're going to have church."
Pomeroy urged the congregation not to despair despite the gravity of the tragedy.
"Just because we are wounded doesn't mean to turn back," he said. "We should fight back. I say, do not allow the lives that have been lost or changed to be in vain."
The pastor asked people to trust in the teachings of Christ.
"We can't allow this act that happened last weekend to keep us from church. We can't use it as an excuse for why we can't or should not go to church. We can't allow that act to let us turn heinous and ugly, as the darkness would have us to be," he continued.
Earlier, Pomeroy told The Wall Street Journal that he does not plan to open the church again, saying many do not want to return to the place where half the congregation lost their lives. He said the church will serve as a memorial "for a while" and expressed his desire to have the church demolished. "We're playing it day by day right now."
The North American Mission Board, the domestic missions agency of the Southern Baptist Convention, has offered to cover the funeral expenses for the families of the 26 victims.
SBC President Steve Gaines said last week that he has spoken with Pomeroy and his wife, Sherri, calling them "godly people."
"Our Southern Baptist family grieves with this beloved church and the community it serves. Our prayers are ascending steadily to God's throne of grace. May God bring healing and hope to these that are hurting," Gaines said.