Pastor Robert Jeffress Rejects 'Hate-Spewing Church' Label Following Tim Tebow Invitation
Pastor Robert Jeffress of First Baptist Church of Dallas has responded to criticism that he leads a "hate-spewing" ministry following news that NFL quarterback Tim Tebow will be a guest at the church in April.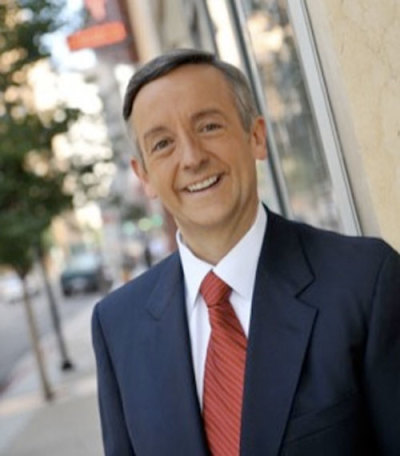 "We have been mischaracterized and misquoted as being a hate-spewing church," Jeffress told radio show 106.7 The Fan's Holden and Danny on Wednesday. "For us to simply say that Jesus Christ offers salvation to anyone who believes in him, and that sex should be between a man and woman and marriage, that that should be considered hate speech, I don't understand that. It really shows you not that the Word of God has changed, but society has changed."
Several news sources criticized New York Jets star Tim Tebow for accepting the invitation to speak at First Baptist Church, trying to portray Jeffress' ministry as being anti-gay and intolerant because of their traditional stances on controversial subjects.
NBC Sports writer Rick Chandler wrote that Jeffress is "a controversial evangelical Christian who has made quite a name for himself by referring to other religions as 'heretical,' and that re-electing Obama would lead to the 'rise of the anti-Christ.'"
"Tebow's peace-and-love message could be tested by the megachurch's evangelical Christian pastor, the Rev. Robert Jeffress," added the New York Daily News.
In his radio show interview on Wednesday, Jeffress, who leads an 11,000 member congregation, insisted that Tebow is not coming over to speak on any controversial issues, but to celebrate his relationship with Jesus Christ.
"A lot of people appreciate Tim Tebow and his strong Christian testimony," Jeffress said, revealing that the NFL's star appearance before the church on April 28 will mark the opening of a new $130 million campus in downtown Dallas.
"Although the media is trying to make something negative about this, he's not here to talk about negative, controversial subjects," Jeffress continued. "He's going to be here to talk about his own personal relationship with Jesus Christ and the difference that's made in his life."
When asked whether Tebow's public faith and decision to speak at what some say is a controversial church could hurt his lucrative endorsement deals, the megachurch leader said that the quarterback needs to make the decision on his own, but reminded listeners that for Christians, loyalty to God comes before all other concerns.
"Those of us who are Christians believe that our allegiance is, first of all, to God and not to man, and I think most Americans are tolerant enough of people to recognize that they can enjoy a sports figure and not have to agree with every belief that he has personally," the pastor concluded.
Earlier this month, the First Baptist Church leader told his congregation that some evangelicals have been "too quick" to dismiss the possibility that sexual orientation may indeed be genetically predisposed, but affirmed that despite any such urges, acting on homosexual desires is still a sin, just like many other things including unbiblical divorce and adultery.
Tim Tebow Interview: God's Role in Football