Pastor Says He Was Thrown Out of SBC Meeting for Questioning ERLC Ties to Revoice Conference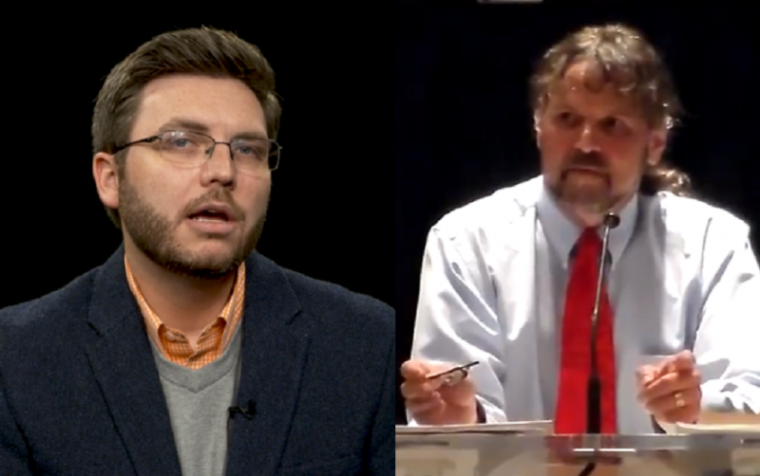 The Rev. Thomas Littleton, a veteran Southern Baptist pastor and writer, said he was "physically handled" by a staff member of the SBC's Ethics & Religious Liberty Commission and removed from the Southern Baptist Convention's annual meeting in Dallas Wednesday for asking questions about the ERLC's ties to Revoice, an upcoming conservative Christian conference for those struggling with same-sex attraction.
The Revoice 2018 conference, which takes place next month, is aimed at "supporting, encouraging, and empowering gay, lesbian, same-sex-attracted, and other LGBT Christians so they can flourish while observing the historic, Christian doctrine of marriage and sexuality." Some critics insist that the conference is trying to push an LGBT agenda on conservative evangelical churches but those involved say there is a lot of misinformation out there.
In a series of tweets beginning Wednesday, Littleton, who is an evangelist with over 38 years' experience, claims he was "physically handled" by Brent Leatherwood, the ERLC's director of strategic partnerships, and removed from the conference after he tried asking ERLC President Russell Moore about the ERLC's ties to Revoice. He says the Dallas Police Department was told that he had "threatened someone" at the Kay Bailey Dallas Convention Center where the SBC's annual meeting was held Tuesday and Wednesday.
"Is this the new Culture at The @ERLC after the @jdgreear election? Do thugs now run the ERLC who make false reports to the @DallasPD that I threatened someone for asking questions about #revoiceus conf and #ERLC ties? Where is @drmoore? Was @LeatherwoodTN doing #drmoore bidding?" Littleton asked.
The Christian Post contacted the ERLC's press secretary, Elizabeth Wood Bristow, about Littleton's claims on Thursday and she called his claims "untrue."
"Mr. Littleton's allegations about Mr. Leatherwood are absolutely untrue. To be specific, Mr. Leatherwood made no physical contact with Mr. Littleton whatsoever. We understand that Mr. Littleton was removed from the exhibition hall by the SBC Executive Committee, which manages access and credentialing issues," Bristow said in a statement to CP.
Southern Baptist Convention spokesman Roger Oldham confirmed with CP Thursday that  one person, a member of the media, was removed from the convention Wednesday for being in a restricted area but did not specify who.
"The individual was actually in a restricted area and was basically loitering around," Oldham said.
He said the individual was asked by the convention manager to leave the area when he did not comply so security was called to remove him. Oldham could not confirm if the security personnel who removed the individual were Dallas Police Department officers.
Sgt. Jerry Williams with the Dallas Police Department told CP Thursday that department records as well as checks with the precinct covering the area of the convention did not reveal anyone being removed from the conference this week.
He said while it is possible that Littleton was removed from the convention center by Dallas police and a report wasn't filed, the removal of a pastor from such a large event would normally warrant some kind of narrative.
"Usually we record it in some form or fashion. I just don't see a report on it anywhere," he said. "I'm not saying that it didn't happen but as far as the documentation of it, I don't see it."
Popular Christian talk show host Janet Mefferd said in a post on Twitter that has since been removed that Leatherwood grabbed Littleton by the arms in Moore's presence.
"Yep, Leatherwood grabbed him by the arms. Russell Moore was right there when he did it. And yes, Tom can file his own (true) police report!" she declared in a tweet Thursday morning that has since been removed.
She also alleged that Leatherwood made a false police report.
"Good morning, @LeatherwoodTN - one more question. Are you & your ERLC team aware that under the Texas Penal Code, filing a false police report under Section 37.08 is punishable by up to 180 days in jail and a fine up to $2,000? Look forward to hearing from you!" she wrote.
Nathan Rager of The People's Church in Clearwater, Florida, notes in a video posted to YouTube that he was at the SBC meeting and questioned Moore about the ties between ERLC research fellow and Liberty University professor Karen Swallow Prior and Revoice.
Moore responded: "I don't know about the Revoice conference but I do know this, Karen Swallow Prior has committed herself to go anywhere and everywhere to stand up and tell the truth about God's Word about human sexuality. In doing that, she has seen countless people come to faith in Jesus Christ and countless others strengthen to going forward. She's a professor at Liberty University serving there for many years. I don't know anybody more committed to evangelism, and committed to the inerrancy and truth of God's Word, and more committed to the biblical message that marriage is between a man and a woman and that sexual immorality leads not just to bad consequences but to Hell."