Mike Pence SBC Meeting Speech Slammed for Focusing on Trump, Politics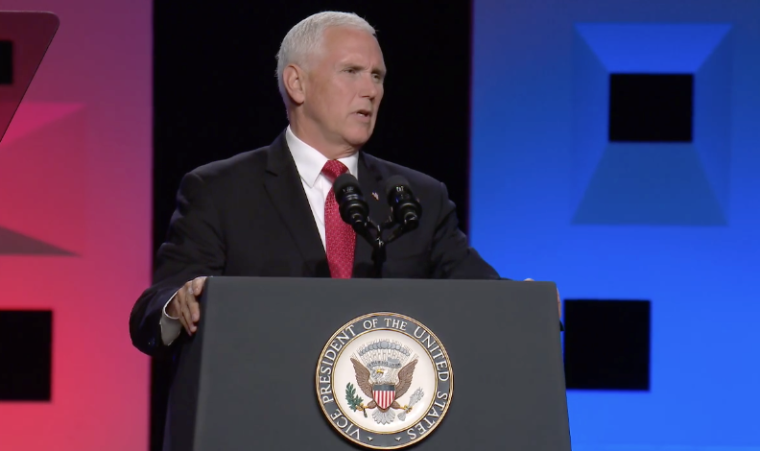 Update Appended
Vice President Mike Pence's speech before the Southern Baptist Convention is being criticized by many as being too focused on politics and President Donald Trump.
At a speech before the SBC annual meeting at the Kay Bailey Dallas Convention Center in Dallas, Texas on Wednesday, Vice President Pence gave remarks that centered heavily on touting the Trump administration's accomplishments.
While Pence talked about his spiritual upbringing (he gave his life to Christ 40 years ago), the power of prayer, and his visiting victims of the Sutherland Springs church shooting, he also focused on President Donald Trump's agenda items of tax cuts, nominating conservative judges, fighting the Islamic State, and the talks with North Korea.
"It's the greatest privilege in my life to serve as vice president to a president who is working every day to renew the greatest of this country," said Pence.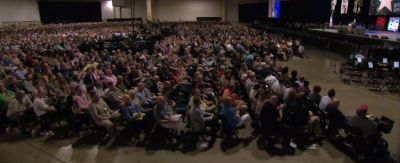 "When you look at the progress we've made over the last 500 days at home and abroad, a stronger America, a stronger economy, a stronger commitment to the God-given liberties enshrined in our Constitution, I think there is only one way you can sum up this administration: it's been 500 days of action, 500 days of accomplishment, its been 500 days of promises made and promises kept."
To read the full transcript of Pence's speech, click here.
Pence received a standing ovation. 
Pastor Jack Graham tweeted, "The @VP Mike Pence is a Godly and dedicated public servant who inspired the #SBC and blessed us with words of encouragement. So very glad he honored us by coming and delivering a message that rocked the house." 
Others in attendance were more critical. 
"I know the SBC has welcomed politicians on occasion going back 45 years, but has there ever been a full-blown campaign speech like this one?" Trevin Wax, director of Bibles & Reference at LifeWay, tweeted.
Southern Baptist theologian Denny Burk responded to Wax, "This is a stump speech. Incredible." 
Beth Moore, a popular Southern Baptist author and speaker, agreed, adding, "I don't know that there will not come a time in our lifetimes to accept that this is how it overwhelmingly is and how it is determined to be. What that will mean for the rest of us, God alone knows."
North Carolina Pastor Clint Pressley tweeted, "I love America. I like Mike Pence. I hate this." 
Michael Wear, an evangelical podcaster who once worked in the Obama administration, took to social media to denounce the theme of Pence's speech.
"I am saddened Pence [would] be so triumphalistic, so unabashed, so jingoistic. I'm more saddened that there would be people in the audience, messengers of the gospel (unless they're outside guests), who would so revel in rubbing their politics in the faces of their brothers & sisters," tweeted Wear on Wednesday.
Pastor and author Wade Burleson of Oklahoma contrasted Pence's speech with an earlier presentation by International Mission Board head David Platt.
"Today IMB President David Platt talks about radical Muslims coming to faith in Christ. VP Mike Pence talks about radical Muslims 'on the run.' Which is it? 'Come to Christ' or 'Run from us.' Two different messages. SBC must determine which one takes priority," posted Burleson to Twitter.
"This is getting hard to watch," tweeted Austin Mathis, a pastor from Ohio, during the Pence speech. "Even if you agree with @VP and giving him a platform, you must understand the dissent of many of our brothers and sisters. It is questionable wisdom at best to provide a platform for a campaign speech."
Pence's speech came as part of the annual meeting of the SBC, a two-day event that began on Tuesday and had a total of 9,467 messengers in attendance.
When it first announced that Pence was going to speak at the annual meeting, many worried that the speech would be too political and be seen as a partisan endorsement.
During the introduction on new motions session held Tuesday morning, three different resolutions were introduced calling on the SBC to cease inviting public officials unless they are local.
A Tuesday motion by Pastor Garrett Kell to disinvite Pence was rejected. 
Another proposed motion moved to amend bylaw 21 for the Committee on Order of Business to add the statement, "In an effort to divest from the appearance of partisan politics, the Committee shall refuse to allow any person holding political office at the time of the annual meeting to speak from the platform during the Convention."
Following his election as the new president of the SBC, J.D. Greear explained at a press conference that he believed both sides needed to have "empathy" regarding the issue.
"We respect the decision of the messengers, and they decided they wanted to listen to him. I think we owe it to them to be charitable that they are having Pence for the reasons they say they are having him, which is to honor him and not give an endorsement," stated Greear.
"At the same time, we need to show empathy for those who hear a different story and different narrative, and understand that. And understand why they see this as an endorsement."
Greear added that "we might have strong political opinions and politically informed opinions, but we need to limit ourselves to proclaiming what the Bible says."
"We don't want to do anything that implies all Christians should be Republicans or Democrats," said Greear. "We can be clear on what the Bible says, but we might differ on the approach to tax policy or health care or what are the right stances on global warming. I want us to speak with one voice and show restraint where we can."
Update: In response to the critics, Greear tweeted, "I know that sent a terribly mixed signal. We are grateful for civic leaders who want to speak to our Convention—but make no mistake about it, our identity is in the gospel and our unity is in the Great Commission. Commissioned missionaries, not political platforms, are what we do."