Pastors Rally to Overturn NYC Schools' Ban on Worship Services
Days after the U.S. Supreme Court refused to hear a Bronx church's plea for after-hours school space, church leaders continue their fight to overturn New York City schools' ban on church services in public school buildings.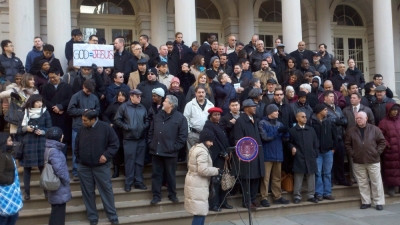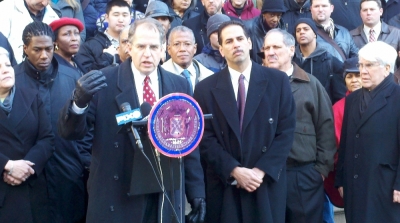 Over 100 local pastors and allied legislators took to City Hall Thursday around noon to urge the city council to allow churches to worship in city schools after official school hours. The rally follows a failed attempt to petition the Supreme Court to hear a lawsuit against the Board of Education's policy on behalf of the Bronx Household of Faith.
The high court decided Monday not to accept the case, meaning that the 2nd Circuit Court of Appeals' June decision to uphold the board's policy against religious activity in public school facilities stands. It also means that BHF church will no longer be able to conduct its worship meetings in the school auditorium it has used since 2002.
That should have been the end of the 16-year battle. But for church leaders, it is instead the beginning of a new legislative push aimed at overturning the school board's policy.
Assembly Bill A8800 would prevent school districts from excluding groups from meeting on school property because of religious content or the viewpoints of the speech featured in the meetings.
The New York City Department of Education currently allows various groups to use public school buildings as a public meeting space after school hours. The bill asserts that religious groups are entitled to equal access to public space according to law.
"The government cannot target religious services for exclusion from public buildings when they are open to other similar types of meetings," Alliance Defense Fund Senior Counsel Jordan Lorence said in a statement.
ADF has represented BHF for the last 16 years in its legal battle against the Department of Education's policy. Justices ruled in a 2001 U.S. Supreme Court decision for Good News Club v. Milford Central Schools that it was unconstitutional for a public school district to exclude from its facilities a private Christian organization, he has argued.
The New York City Department of Education has consistently rejected Bronx Household of Faith's request to hold Sunday services at P.S. 15, claiming that allowing churches to use school buildings would be unconstitutional. A federal district court issued an injunction in 2002, prohibiting the department from keeping churches out.
Pastors Fighting Ban on Using School Space
The church also gained a favorable ruling from the appeals court in 2003 and from the district court again in 2007. However, the Department of Education officials appealed and won this past summer.
Unless Assembly Bill A 8800 is passed, churches will be excluded from renting schools for worship meetings beginning Feb. 12, 2012. The bill already has the support of District 14 City Councilman Fernando Cabrera, a Democrat and pastor of New Life Outreach International.
BHF is currently raising money to construct a church building. The church has fundraised over $1 million, but still needs over $375,000 to finish the new building.