Pastors Sue Houston's Lesbian Mayor Over Stopping Vote on Transgender Ordinance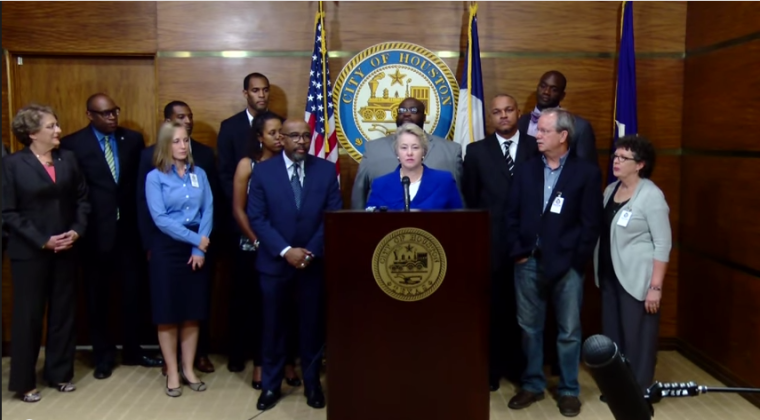 A group of pastors have filed a lawsuit against a Texas city mayor whose administration refused to allow a referendum on a controversial transgender rights ordinance.
The Houston Area Pastors Council, being represented by attorney Andy Taylor, filed the suit against Mayor Annise Parker on Monday over her administration's refusal to put the Houston Equal Rights Ordinance on the ballot.
"She trampled the voting rights of over a million people in the fourth largest city in the United States of America," stated Taylor to the Houston Chronicle.
"And so we're here today to say 'uh uh,' there's going to be accountability for doing that. We are not going to sit idly by and let you do that."
Last year Houston passed HERO, a city ordinance that expanded civil rights protections to include sexual orientation and gender identity.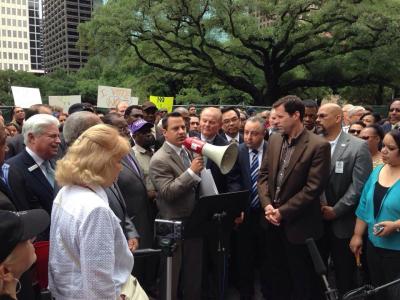 Critics of HERO claimed that it would force businesses to make facilities like bathrooms become gender neutral, creating a dangerous environment for women and children.
Anti-HERO activists eventually turned a petition demanding that the ordinance be put on the ballot, with a possibility that voters may repeal it.
Last October it was revealed that Parker had subpoenaed five Houston area pastors who had been critical of HERO, demanding that they turn over all sermons and communications on homosexuality, HERO, and about the mayor, who is a practicing lesbian.
The subpoenas garnered nationwide criticism from both liberal and conservative organizations, with Parker eventually dropping the subpoenas.
In a statement released Monday, Parker said the lawsuit and the overall effort against HERO "threatens to hurt [Houston's] image and our progress."
"This new lawsuit is not about civil rights or religious freedom. It's about politics. It is being waged by a small group that wants to take Houston backward instead of moving it forward," stated Parker.
"I respect the pastors' right to use our legal process how they see fit, but their energy would be better invested in making sure Houston remains a welcoming, inclusive city that does not discriminate."
The pastor group's lawsuit against Parker comes not long after the Texas Supreme Court ruled that the city must recognize the petition and either repeal HERO or allow a vote to be held in November.
"The City Council is directed to comply with its duties, as specified in the City Charter, that arise when the City Secretary certifies that a referendum petition has a sufficient number of valid signatures. Any enforcement of the [Equal Rights] ordinance will be suspended," read the ruling.
"If the City Council does not repeal the ordinance by August 24, 2015, then by that date the City Council must order that the ordinance be put to popular vote during the November 2015 election."