Pastor's Wife Urges Christians to Share Gospel After ISIS Gunman Kills 4 in France Supermarket Attack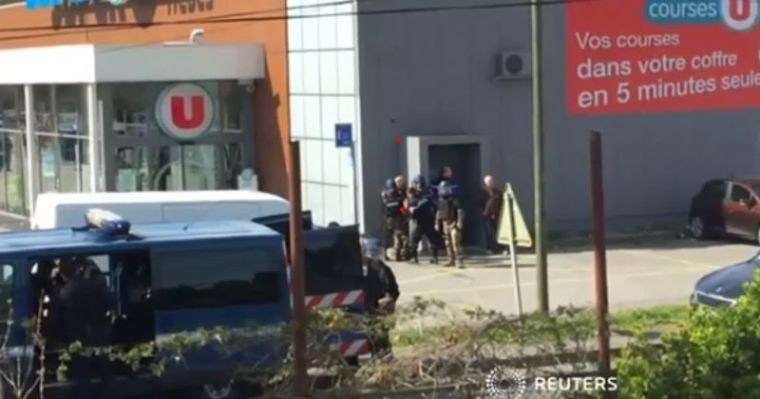 After a 26-year-old man, allegedly acting on behalf of the Islamic State terror group, killed three hostages before being shot dead in a police raid in a small town in the south of France Friday afternoon, the wife of a pastor of a church near the hostage scene urged people to trust God and said the incident was a reminder that they need the Gospel.
"We're safe anywhere if it's not yet our time," the wife, identified only as Elizabeth, told Premier. "But these things can happen anywhere and we just need to trust that God can look after us if it's not yet our time. It's a reminder that life is precious and people need the Gospel."
She added that Jesus has warned that "there will be trouble and war and all sorts of disturbing news right 'til the end of time."
"We need to remember that Jesus said, 'in this world you will have trouble but take heart for I have overcome the world.' That's what we pray we can do in the months to come as we seek to talk to people about this. There's no doubt these incidents will have a big impact on the local community. We just pray for opportunity to share the love of Jesus and his message of hope to people."
Islamic State, also known as IS, ISIS, ISIL or Daesh, claimed that the gunman, identified as Redouane Lakdim, launched the attack on its behalf, according to The Times. "The person who carried out the attack in Trèbes in southern France is a soldier of the Islamic State and he carried out the operation in response to a call to target states" of the anti-IS coalition, the terror group said.
The shooting took place in the supermarket in the town of Trèbes, near Carcassonne. Lakdim hijacked a car, injured a police officer and the driver, shot a car passenger to death and killed two other people. He reportedly shouted "Allahu Akbar. I am a soldier of Da'esh."
Lakdim reportedly wanted police to release Salah Abdeslam, the terrorist who survived after killing 130 people in Paris in November 2015.
The gunman seized some people as hostages, but all managed to escape except a woman. A French policeman, Arnaud Beltrame, swapped himself for the hostage and was soon shot by Lakdim.
Beltrame, a lieutenant-colonel in the gendarmerie, is "fighting for his life," French President Emmanuel Macron said Friday evening.
On Saturday, however, it was announced that Beltrame had died from his injuries, increasing the death toll to four. 
It was Beltrame's heavily-armed men who eventually killed the gunman.
Police have arrested a person, believed to be Lakdim's partner, according to BBC.
In July 2016, IS supporters killed French priest Jacques Hamel inside his parish in Saint-Étienne-du-Rouvray in Normandy. It was later revealed that French intelligence agents could have prevented the incident.
However, church attendance grew after the priest's murder despite the fear that persisted. Monsignor Dominique Lebrun, the archbishop of Rouen, explained at the time that while there is fear "on a psychological level," there is also strength "on a deep level in the soul."