Pat Robertson Stands by Claim That Liberals Support Sharia Law; 'The Left Is Undermining Christian Values,' Says Rep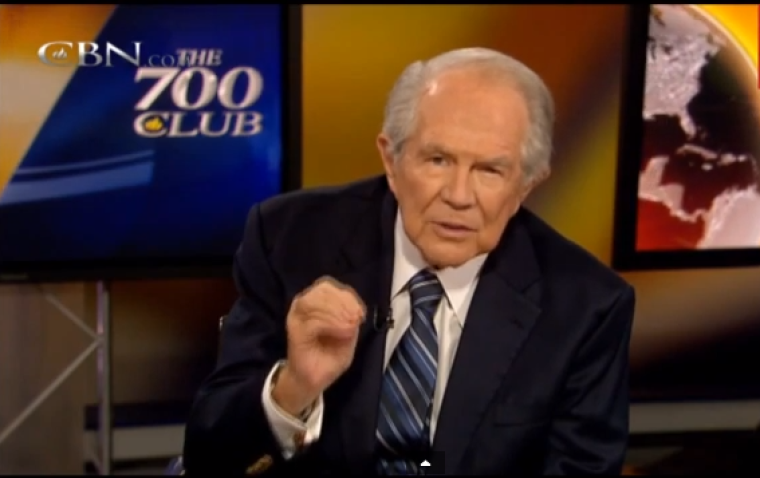 Pat Robertson, the executive chairman of the Christian Broadcasting Network stands by controversial comments he made recently about liberals supporting Sharia law, despite sparking a firestorm of criticism.
During Wednesday's edition of CBN's "The 700 Club," the conservative evangelist accused liberals of advocating for Islamic law, which is based on the teachings of the Quran and encompasses strict religious law and personal moral code.
"You know folks, what's happening is the so called left, the liberals want to rebel against the established order and the established order of western civilization is basically Christian," said Robertson. "It is based on the gospel, it is based on the good news of the gospel of Jesus Christ and so if somebody wants to rebel against that then anything else goes."
Sharia law is renowned for pushing sexist ideologies and imposing harsh punishments including stonings. The ancient practice is enforced in predominantly Muslim countries such as Afghanistan, Egypt, Iraq and Saudi Arabia among others.
Liberals wasted no time condemning Robertson's statement on social media and one progressive Talk Radio host, Kyle Kilinksi, who boasts 110,000 YouTube subscribers, did not hold back.
"If he believes that, Pat Robertson is even dumber than I thought," Kilinski said on The Kyle Kulinski Show.
Chris Roslan, a rep for Robertson, told The Christian Post that Robertson was simply highlighting the growing threat of religious persecution around the world.
"He's talking about how the left is undermining Christian values that are the basis of our nation," Roslan told The Christian Post. "And how once that starts to happen, then anything goes and certain things like Sharia can come into the mix."
During Wednesday's episode, Robertson alluded to a growing movement that he says is being led by left-wing activists in the west, which in essence promotes Islamic fundamentalism and encourages Christian persecution.
To illustrate his point, the popular televangelist recalled two high profile cases in which vocal opponents of Islam were rebuked and punished. The first was that of Heidi Mund, widely known as the "brave German woman," who in 2013 took a stand against Islam in Germany in honor of her Christian faith. The second case he mentioned was that of Somali-born writer, Ayaan Hirsi Ali, who was punished for openly criticizing Islam in 2014.
"So here comes an ideology out of Saudi Arabia, for the 7th Century, Saudi Arabia, talking about persecution of women, cutting off hands, decapitating people, butchering whole populations because they happen to share a different faith and the so-called Left is saying, 'this is the ideology we want,'" said Robertson.
He continued: "And you say, are you crazy? This is an outrageous return to barbarism. You want to turn away from your freedom that has brought this tremendous civilization to you and you want to undermine it? Well that is exactly what the Left is doing ... This is not some crusade for freedom, it is a return to bondage."
In 2014 Brandeis University in Waltham, Massachusetts made headlines following a controversial matter involving Ali. The Liberal Arts university, which is named in honor of Louis Brandeis, the first Jewish Justice of the Supreme Court of the United States, announced that it had rescinded its offer to award Ali with an honorary degree due to criticism surrounding controversial statements she made about Islam.
"The fact that Brandeis – Louis Brandeis was supposed to be one of the champions of the law of the United States – and a university named after Louis Brandeis withdrew and offer of an honorary degree to this woman because of her stand against radical Islam...that's how bad it is," said Robertson. "Don't think that this is the new freedom folks, it isn't."