NFL MVP Patrick Mahomes says Christian faith 'plays a role in everything I do' ahead of Super Bowl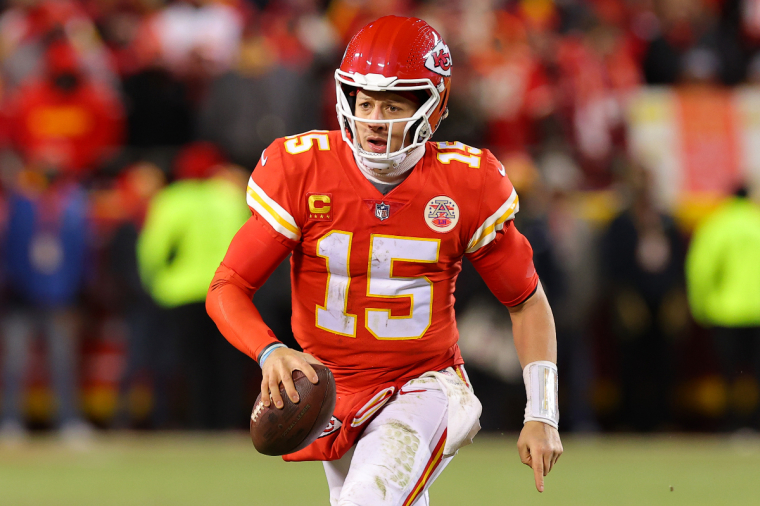 NFL MVP Patrick Mahomes may be battling an ankle injury ahead of Super Bowl LVII, but that hasn't stopped the Kansas City Chiefs star from giving glory to God in the lead-up to the big game. 
Ahead of Sunday's title game against the Philadelphia Eagles, Mahomes was named the NFL's most valuable player for the 2022 season Thursday night, the second time he was won the award.
In a media event on the Opening Night at the weeklong Super Bowl festivities in Glendale, Arizona, the 27-year-old told members of the media this week that his faith informs everything he does — on and off the field.
"My Christian faith plays a role in everything that I do," Mahomes told the press, according to a video shared by Sports Spectrum, a ministry of Pro Athletes Outreach. "I mean, I always ask God to lead me in the right direction and let me be who I am for His name."
"So, it has a role in everything that I do," he continued. "And, obviously, it will be on a huge stage in the Super Bowl that He's given me, and I want to make sure I'm glorifying Him while I do it."
Mahomes said that as one of the best quarterbacks in the league — already having won a Super Bowl and will be appearing in his third — he is blessed to be in the position he is in. 
"I know that I am here for a reason, to glorify Him," he said. "It means everything, not only about my football career but all the decisions that I've made. I have a faith backing, and I know why I am here. It's not about winning football games. It's about glorifying Him. I think it gives me that I have no pressure when I step out on that football field; I know why I am here." 
Mahomes said he has grown in his faith in the last few years. He added that he got a tattoo about Eutychus from Acts 20:7.  
"It's about being half in and half out on God and the interpretation that I took from it," he said. "You can't be half in and half out. So that was a Bible verse that kind of stuck with me and told me that I need to be fully in." 
Considered by many to be the NFL's top quarterback, Mahomes' comments aren't the first time the athlete has credited God for his success.
Following the Chiefs' 23-20 win over the Cincinnati Bengals in the AFC Championship game, Mahomes said he believes God healed him for that game as he had battled a high ankle sprain suffered the week before. 
"First off, I want to thank God, man," Mahomes told CBS' Tracy Wolfson. "He healed my body this week to battle through that. He gave me the strength to be out here."
In 2019, as he won the Most Valuable Player Award at the NFL Honors ceremony, Mahomes proclaimed, "God is amazing!" In the days leading up to 2020's Super Bowl LIV, which the Chiefs ended up winning, Mahomes told a local news outlet that "faith has always been big with me." 
"Obviously, I want to win every game, but I'm glorifying Him every single time I'm out there," he added. "As long as I'm doing everything the right way and the way that he would want me to do it, then I can walk off the field with my head held high and be able to be the man that I am." 
In 2018, Mahomes said that growing up in the church helps a professional athlete "know why you are playing the game and Who you are doing it for." 
A healthy ankle could go a long way in taking Mahomes to a second Super Bowl win after leading the Chiefs all the way in 2020 over the San Francisco 49ers.
In a media briefing Wednesday, Mahomes gave an update on the ankle, saying his goal is to "get it as close to 100% and then rely on some adrenaline" on football's biggest stage.
"I definitely move around better than I was moving last week or two weeks ago," he said before Chiefs practice at an Arizona State University facility. "So, it's just trying to continue to get the treatment and the rehab and get it as close to 100% and then rely on some adrenaline to let me do a little bit extra when I'm on the field."
Sunday's matchup with the Eagles will have plenty of drama, including pitting longtime Chiefs head coach Andy Reid against his former club. 
Meanwhile, Philadelphia center Jason Kelce and Chiefs tight end Travis Kelce will become the first brothers to face off in the Super Bowl. 
Heading into the playoffs, the Chiefs and the Eagles had the best regular season records of their respective conferences, finishing with 14-3 records. The Feb. 12 game will mark Mahomes' third appearance in a Super Bowl.