Paul Walker's Funeral: Westboro Baptist Church Plans to Picket Over Actor Promoting 'Fast & Furious' Lifestyle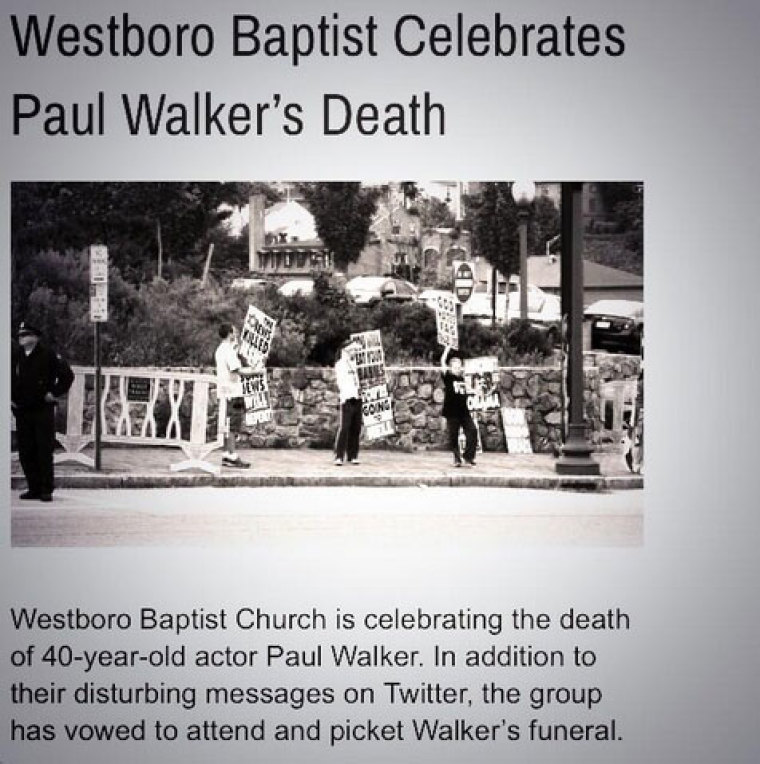 Westboro Baptist Church announced on Twitter that it plans to picket at the late actor Paul Walker's funeral because he promoted a "fast & furious" lifestyle.
"Paul Walker taught a rebel nation to be fast & furious. He died that same way," read the Twitter handle of Westboro Baptist on Monday evening.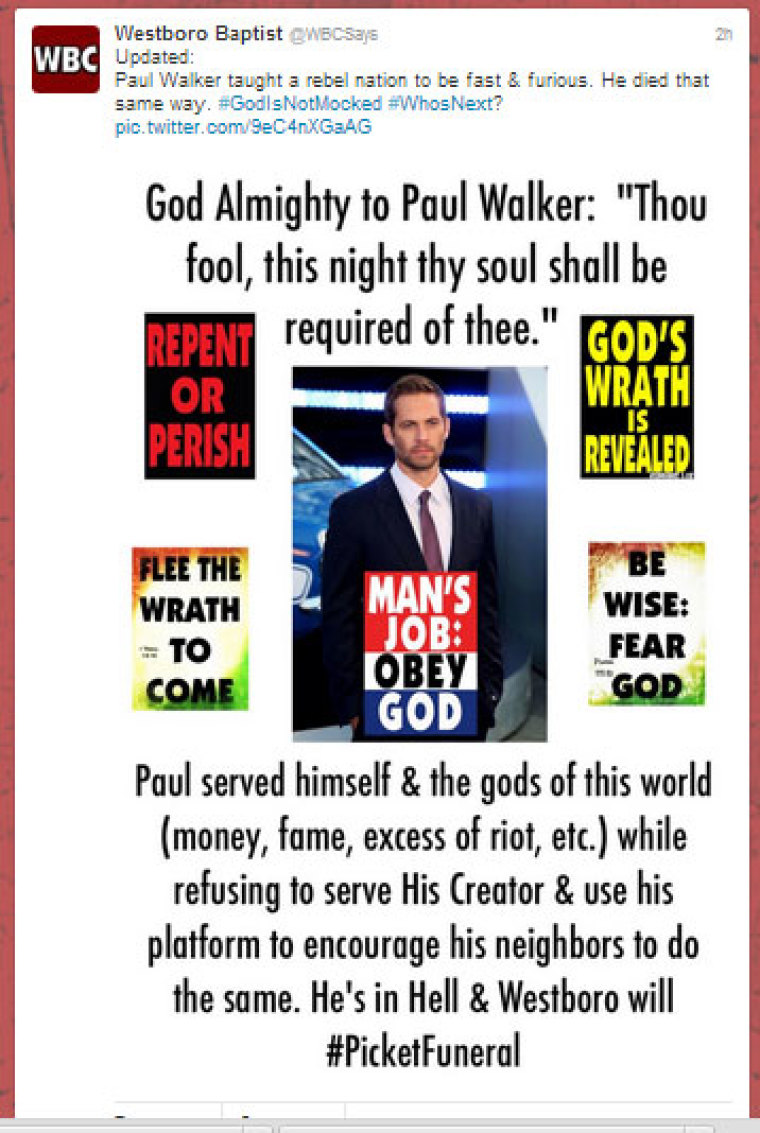 Westboro Baptist, a hate group not associated with any Baptist or Christian denomination, has a history of picketing at funerals, schools, and public functions that it considers to be somehow connected to sin. For instance, in October, Westboro Baptist announced that it would picket at the Major League Baseball World Series in St. Louis, Mo., to protest organized sports that have "given itself wholly over to the fag agenda."
The controversial Kansas-based extremist group also said it would protest the funeral of TV-series Glee star's Cory Monteith's funeral several months earlier because the young star "taught millions to sin."
But likely Westboro is most infamous for protesting at the funerals of U.S. soldiers. Several states have tried, some successfully, to pass laws that would ban members of Westboro Baptist, or any similar groups, from protesting at military funerals and funerals in general.
Though Westboro has pledged to picket at Walker's funeral, it is unclear at the time of this article when Walker's funeral will be held.
Paul Walker, who starred in the multi-billion-dollar movie franchise "Fast & Furious," died in a fiery car accident on Saturday along with his friend who was driving a 2005 Porsche Carrera GT. Although investigators are still looking into the accident, authorities suspect that the speed of the vehicle is a factor in the Porsche crashing into a light pole.
A statement on Walker's official Twitter account after his death said that he was attending a charity event Saturday afternoon for his non-profit, Reach Out Worldwide, that would benefit Filipino victims of Typhoon Haiyan before the fatal car crash.
The 40-year-old actor is survived by his daughter, Meadow Walker, 15. Paul Walker's father, Paul Walker III, told reporters on Monday that "Meadow is taking it really tough."
"[But] she has family around her and some very, very loving friends. They're all close. There's a lot of hugging, a lot of hand-holding," he said.
For himself, the older Walker said, "Every now and then I'll really break down. Talking really seems to help. Remembrances, talking about him… There's just such a tremendous amount of stories."
Walker, who was raised Mormon and attended an evangelical Christian school, has said that he is Christian.
"I'm a Christian now. The things that drove me crazy growing up was how everyone works at fault-finding with different religions. The people I don't understand are atheists. I go surfing and snow boarding and I'm always around nature. I look at everything and think, 'Who couldn't believe there's a God? Is all this a mistake?' It just blows me away," Walker was quoted as saying by IMDb.