Paula White Says 'Crusader' Trump Put Jesus Christ, Christmas, Prayer Back in White House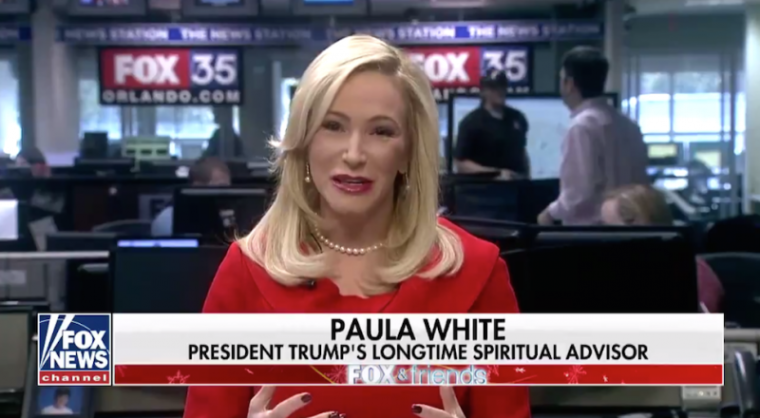 Paula White, who is President Donald Trump's spiritual adviser, said Trump, whom she called a "crusader," put Christmas, Jesus Christ, and prayer back in the White House.
Speaking in an interview Monday with "Fox & Friends" on the Fox News Channel, the senior pastor of New Destiny Christian Center in Florida stated: "Well, isn't it nice to be able to say Merry Christmas and to put Jesus Christ back on the White House lawn? And to have the crusader that we have in our president?"
"It is so vitally important — first off, it's personal to him. He's a man of faith, he is a believer. He's spiritual. I've known him for over 17 years. And Trump just hasn't put Christ back in Christmas, but he's also put prayer back in the White House, he's put justice back into, and religious freedom back into, our courts."
When asked about what Christmas Day itself means to Trump, the televangelist suggested that it is a "very personal day" because his faith is "such an important part of his life."
"It guides him, it leads him, and one of the things that I love about President Trump is that he is not afraid to take those steps that might be unpopular with other people," she said.
"What makes America great is that we were founded on a Judeo-Christian nation. That's very important for us to understand. He understands it. It is personal to him. Our country, though it is not a theocracy, you will not understand democracy if you don't understand the biblical foundations and traditions and foundation of Christianity and of our faith."
White's suggestion that Trump is restoring religious or Christmas references at the White House, as if they were missing under former President Barack Obama, has been questioned by a number of media outlets.
Conservatives have debated about how inclined Obama was to use certain terms, with the former president criticized in 2016 for failing to mention the word "Christmas" in Christmas cards he sent, though he wished U.S. troops "a very Merry Christmas" in his last news conference of the year.
Other times, such as in December 2015, Obama, a Christian, raised eyebrows when he said that Jesus' values are found in all religious faiths.
In his Christmas message at the time he called on all Americans to share the "spirit of compassion. That's the message of the child whose birth families like mine celebrate on Christmas — a prince born in a stable who taught us that we should love our neighbors as ourselves; and that we are our brothers' keeper and our sisters' keepers; that we should feed the hungry, visit the sick, welcome the stranger.
"These are the lessons of Jesus Christ," Obama said at the time. "But they're also the bedrock values of all faiths — values to be cherished and embraced not only during the holidays, but to be practiced in our daily lives."
Obama has also referenced his faith and Christ throughout his annual National Prayer Breakfast speeches, including his last one as president in February 2016, where he said:
"Jesus is a good cure for fear. God gives believers the power, the love, the sound mind required to conquer any fear. And what more important moment for that faith than right now? What better time than these changing, tumultuous times to have Jesus standing beside us, steadying our minds, cleansing our hearts, pointing us towards what matters."
Back in September, White was forced to clarify comments she made earlier on Jim Bakker's show in which she said that Trump was "raised up by God," by stating that Obama too is part of all authority that God establishes.
"I don't believe that just for President Trump. I would believe that for President Obama, I would believe that had Hillary [Clinton] been in," White said.
"I understand that I don't understand all things and what those purposes are. He's a sovereign God. Do I believe that He uses us as people? Yes."