Paula White: There's a Difference Between Jesus as a Refugee and Those Who Enter the US Illegally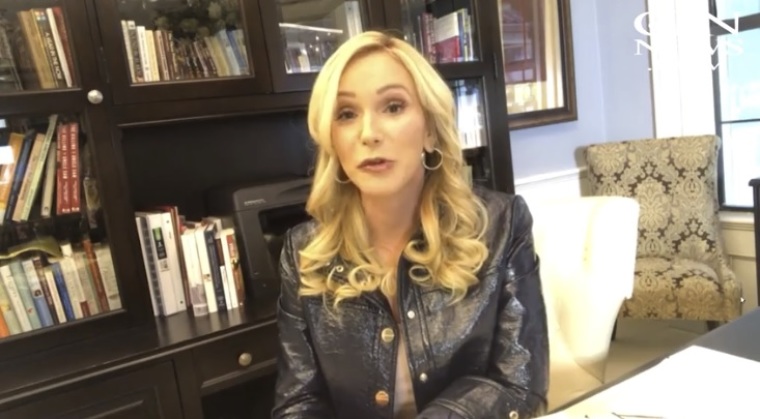 Amid the hysteria surrounding the separation of immigrant families who recently entered the United States illegally, one of President Donald Trump's spiritual advisers, Paula White, is speaking out in support of stronger border laws and explains the difference between Jesus as a refugee and those who break immigration laws. 
White recently visited the Youth for Tomorrow facility in Bristow, Virginia, a foster facility that is taking care of several unaccompanied immigrant children who were trafficked into the U.S. from countries like and Honduras, Guatemala and El Salvador.
After visiting the center, White told CBN News in an interview that aired on Monday that what is being portrayed by much of the media is misleading. She also said that some people are taking biblical scriptures "out of context" when debating the issue. 
White was asked by CBN's National Security Correspondent Erik Rosales if there were any biblical scriptures that came to mind during her visit.
"I think so many people have taken biblical scriptures out of context on this, to say stuff like, 'Well, Jesus was a refugee,'" White responded. "Yes, He did live in Egypt for three-and-a-half years. But it was not illegal. If He had broken the law then He would have been sinful and He would not have been our Messiah."
She also described the center she visited as "amazing" and "beyond phenomenal."
"They care for the children," said White, who's also the senior pastor at New Destiny Christian Center in Apopka, Florida. "Not just three square meals, psychiatric care, clinician, medical care, chapel, events, schooling, language, and love."
She said that each child is given an assessment when they arrive, which includes medical and debt evaluation.
White explained that she learned while visiting the center just how many unaccompanied children are in debt to human traffickers who smuggled them into the U.S.
White said that at the center she visited, "all of the children" faced some sort of debt totaling between $3,000 to as much as $10,000 "because they have been smuggled."
She also said there are cases in which parents had mortgaged their homes or put their land up to pay for their child's trafficking.
"These were unaccompanied minors," she was quoted as saying. "If we are going to be compassionate, we have to have stricter border security and laws."
White also told Rosales that her visit had "100 percent" strengthened her views on border security.
"While I recognize how well we are taking care of these children, I also recognize the situation," she said. "We are talking about children that are being trafficked."
In many cases, the children have fled their country of origin to avoid violence or persecution associated with gangs. However, there is much concern about the journey through dangerous terrain required to complete the trip, which has led to an increase in deaths in recent years.
White's interview comes as the U.S. government has said it's unable to meet the court-imposed deadline to reunite 2,300 immigrant children with their families who were recently  detained or deported after crossing the border illegally. Under the initial federal court order last month, the administration was given 14 days to reunite children younger than 5 with their families, and had 30 days to reunite children older than 5 with their families. 
The government had until Tuesday to reunited 100 children age 5 and younger with their families. The government, however, was granted an extension by a federal judge. As the federal government plans to reunite just under 60 children with their families on Tuesday, U.S. District Judge Dana Sabraw said she's encouraged by the direction things are headed.
"There's no question that the parties are meeting and conferring," District Judge Dana Sabraw said Monday. "This is real progress and I'm optimistic that many of these families will be reunited tomorrow, and then we'll have a very clear understanding as to who has not been reunited, why not, and what time-frame will be in place."
As there were over 2,300 children (younger than 18) who needed to be reunited, it was reported last month that the federal government had already reunited over 500 children with their families.
Bethany Christian Services, a foster agency that was taking care of immigrant children separated from their families, assured on Tuesday that it's in the process of reuniting all immigrant children in its care who are age 5 and younger with their families.
"The forced separation of refugee children from asylum-seeking families is a gaping wound in our country, and this wound cannot even begin to heal until every child is reunited with their families," Bethany President Chris Palusky said in a statement. "It is never OK to separate a child from its family when they're seeking asylum. They are fleeing. The definition of refugee is someone who is fleeing for their lives or security."
While the Trump administration has received much scrutiny for detaining immigrants who enter the country illegally — as the Bush and Obama administrations did, which was previously reported by The Christian Post here and here — they've mostly received backlash for the immediate separation of children from their families at the border, which many evangelical leaders have opposed.
Although families who entered the country illegally were being separated from their children, Attorney General Jeff Sessions stressed in a speech on June 14 that those seeking asylum at ports of entry were not being separated, except in cases where a parent has a criminal record. However, those who crossed the border illegally and then subsequently sought asylum were separated from their children.
The New York Times reported on Monday that Todd C. Owen, the assistant commissioner for the Office of Field Operations, "said that between early May, when the zero-tolerance policy began, and July 2, a few weeks after the practice ended, there were just seven cases of children being separated out of 5,298 families who appeared at ports of entry. There are 48 ports of entry along the southwest border.
"He said in all seven cases, the children were separated because an adult traveling with them had a criminal record."
Last month, Department of Homeland Security Secretary Kirstjen Nielsen also responded to criticisms of the administration's actions, saying at a White House press briefing: "The Obama administration, the Bush administration all separated families. ... They did — their rate was less than ours, but they absolutely did do this. This is not new," Nielsen asserted when speaking about the accompanied children.
She added that of the more than 12,000 immigrant children who recently crossed the border, over 10,000 were unaccompanied, smuggled by traffickers, and are being cared for.  
"Ten thousand of those currently in custody were sent by their parents, with strangers, to undertake a completely dangerous and deadly travel alone. We now care for them. We have high standards. We give them meals. We give them education. We give them medical care," Nielsen said. 
Since the Obama administration didn't keep a record of the number of children who were separated from families after crossing the border illegally, those numbers are unknown, DHS officials recently told McClatchy news.
Former Homeland Security Secretary Jeh Johnson recently told "Fox News Sunday" that under the Obama administration some children were detained alone and some with families. "We had then 34,000 beds for family detention, [but] only 95 of 34,000 [were] equipped to deal with families."
"From fiscal year 2010 to fiscal 2016, there were 2,362,966 adults apprehended illegally crossing the Southern border, and 492,970 were referred for prosecution," notes Factcheck.org which adds that those numbers don't include the number of children who also entered the country, either accompanied or unaccompanied.
Some confusion over the Trump administration's former family separation policy stems from the 1997 Flores Settlement Agreement which states that children can only be detained for 20 days before they're released to the Department of Health and Human Services.
In 2016, the Ninth Circuit of Appeals ruled that the Flores Settlement Agreement not only applied to unaccompanied children, but also applied to accompanied minors. This means that after 20 days children can no longer be detained alongside their parents or the adults who accompanied them across the border, but must be released to family members already living in the U.S. or a sponsor while their parents remain in detention.