Paula White to Be Crowned Queen? NDCC Pastor Denies Link to Eddie Long's 'Rabbi'
NDCC Leader Refutes Florida Newspaper's Report of Planned 'Coronation' Ceremony for Super Bowl Sunday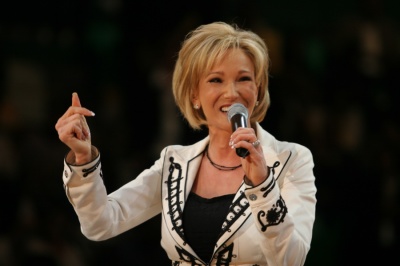 Paula White, senior pastor and "Apostolic Overseer" of late Zachery Tims' New Destiny Christian Center as well as Without Walls International Church, has denied any connection to a rabbi seen in a widely-circulated video "crowning" Eddie Long king in an elaborate Torah ceremony at his Georgia megachurch. 
After the Florida Courier published on Feb. 3 a "breaking news" report based on a rumor that White would be crowned queen during a Super Bowl Sunday service at New Destiny Christian Center, White and her attorney refuted the claims and denied that the Florida minister had any "ties or affiliations" with Rabbi Ralph Messer, the same minister who performed Long's "enthronement" ceremony at New Birth Missionary Baptist Church on Jan. 29.
SEE VIDEO REPORT OF PAULA WHITE AND WEALTHY PREACHERS HERE
One day after the news report was published, White issued a statement on PaulaWhite.org, which reads: 
Late last night, a local newspaper published an article alleging that Rabbi Ralph Messer was set to "enthrone" or "coronate" Pastor Paula White. This allegation is utterly and completely false. There is not a single shred of truth in it. Nevertheless, the newspaper has continued to post this ridiculous story, even after Pastor White's representative repeatedly denied the story directly to the publisher.

In the past, Pastor Paula has interviewed Rabbi Messer on her television show. However, to be clear, Rabbi Messer has not been invited to participate in any service of New Destiny Christian Center or any other service with Pastor White. She has no ties or affiliation with him. She does not endorse him in any way, and she will not be participating in any events with him. Any suggestion to the contrary is totally false.
Included with White's statement was a comment her attorney, Daniel Beirute, made to the Florida Courier's publisher in a phone call, in which he called the publication's report a "ridiculous fantasy."
"There is not a single shred of truth in it, and we cannot fathom where such ridiculous fantasy may have come from. Pastor White has no ties or affiliation with Mr. Messer. She does not endorse him in any way, and she would never consider participating in any so-called coronation under any circumstances, whatsoever," Beirute said.  
The so-called coronation ceremony performed by Messer has been witnessed at a viral pace thanks to a video published on the Internet this week that shows the disputed rabbi "crowning" troubled New Birth pastor Eddie Long a king of some sort. 
Since the publication of the video, various theologians and biblical scholars have come forward refuting any such ceremony, as performed by Messer, a Messianic minister, to be legitimate in the Jewish tradition. 
"The notion that he wraps Bishop Long in a Torah is horrifying simply because it's completely inappropriate. It's an awful way to use the Torah," Bill Nigut of the Anti-Defamation League told The Associated Press. "And it doesn't in any way approximate any Jewish ritual."
The Atlanta Journal-Constitution also spoke with a local rabbi who slammed Messer's use of the Torah, considered one of Judaism's most sacred objects.
"We wouldn't wrap a Jewish person in a Torah scroll and declare him king. As a Jew, I find that use of symbols very off-putting," Rabbi Joshua Heller of Congregation B'nai Torah in Sandy Springs said. "The Jewish community does not associate itself with the Messianic congregations. We don't feel like this does due justice to either the Jewish or Christian community."
In addition, the Rev. Wil Gafney, Ph.D, an Associate Professor of Biblical Hebrew and Jewish and Christian Scripture, provided a list of 27 discrepancies of the ceremony on her blog as well as on The Huffington Post.
"It is unfortunate that the speaker chose to plunder the sacred traditions of Judaism as he invented novel interpretations of biblical texts and imagery affirm and elevate an individual who had admittedly broken the sacred trust between pastor and congregant," Gafney writes.
Most recently, Keith Johnson, the former chaplain for the Minnesota Vikings, said in a statement acquired by the Florida Courier that Messer "has been exploiting African-Americans and making a mockery of the Hebrew roots of the faith for years."
"I first encountered Messer eleven years ago when my friend the late Football Hall-of-Famer Reggie White paid him an inordinate amount of money to learn Hebrew under his tutelage as a 'rabbi.' A year went by and Reggie never received even a single Hebrew lesson. I decided to confront Messer with Reggie and Pro Bowler Hardy Nickerson as witnesses," Johnson claims. 
"In their presence 'Rabbi Ralph' admitted he had never formally been ordained as a  real rabbi. I then challenged Messer to read from my Hebrew Bible and he responded by making excuses for an hour about why it was "dangerous" to learn the language. I continued to insist he read from my Bible in Hebrew and with great effort, Messer managed to slowly sound out the first verse of the Bible one syllable at a time. It was obvious to everyone present that Messer did not possess the knowledge to read the Hebrew language let alone to teach it."
Messer, who leads Simchat Torah Beit Midrash, has not only appeared on White's "Paula Today" talk show, as cited in the Florida pastor's statement, but the controversial rabbi also made an appearance at Without Walls International Church in 2007, as reported by Tampa Bay Online.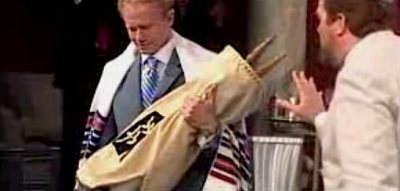 At the time, the Whites, who helped found the Tampa congregation, had announced plans to divorce. Based on a video from Without Walls International Church promoting his appearance, it seems Messer may have visited the church again in 2009. 
The promotional text included with the video touts Messer's resume as well Simchat Torah Beit Midrash's "ties with other international ministers including Rev. Kenneth Copeland, Pastor Paula White, and Bishop T.D. Jakes."
Messer explains on his Facebook page that he teaches principles of the Torah that "produce life."
"If you have been undecided, unfocused, and unexcited, then start learning about Principles of God. You can Succeed! You have been Redeemed! Yeshua (Jesus) has a plan for your life! It is called the Torah," he says on Facebook. "Remember, a Torah Principle applied accurately will cause you to prosper Financially, Emotionally, Physically and Spiritually."
Watch the promotional video of Messer's appearance at Without Walls International Church: