Paulina Gretzky Selfies: NHL Star's Daughter Posts Photos of Younger Self with Father (PHOTO)
Paulina Gretzky, infamous for leaking photos of herself on Instagram, has been deemed the "Queen of Selfies."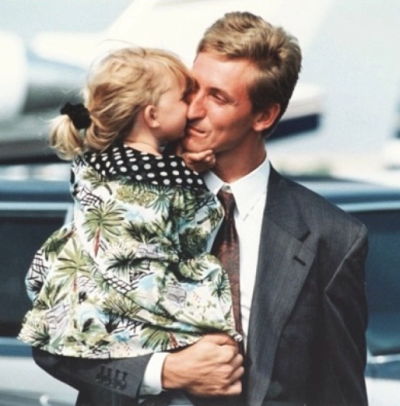 After gathering nearly 200,000 followers on Instagram, Paulina Gretzky has been deemed the "Queen of Selfies." The term "selfies" has become popular over recent months to describe a self-taken picture. It is commonly used on social media in the form of a hashtag.
Gretzky is the daughter of famed NHL player Wayne Gretzky, who has been named by some as "the greatest hockey player ever." Gretzky finished his career as a center for the New York Rangers before retiring in 1999. While his name still remains well known in the hockey world, his 24-year-old daughter has also become a household name.
Just a month after pictures that Gretzky posted on her Instagram account began trending, new photos have surfaced. Gretzky now appears in the habit of posting racy pictures of herself on Twitter or Instagram. When the first racy pictures appeared, a not so thrilled Wayne Gretzky got on Twitter himself and had a bit of a rant over how inappropriate the pictures were.
Following the incident, it appeared that Paulina had taken a Twitter hiatus at dad's request. But a few months later, more pictures surfaced. Despite the seemingly trouble relationship however, between Gretzky and her father, the aspiring model and singer appears to have fonder memories of her father as well.
Aside from adding pictures of her boyfriend, , Gretzky also recently posted a picture of herself in her fathers arms. In the photo, Paulina is just a small girl wearing a palm tree dress with a polka dot collar and a short blonde ponytail. She is seated in Wayne Gretzky's arms and appears to have her hand on his face, reaching in for a kiss as he smiles.
Users showed compassion for the NHL star over his daughter's antics.
"Oh poor Wayne! He is so awesome, this has to be humiliating for him," one user wrote on a Daily Mail blog.