Pay Away the Layaway Seeks to Make 'Layaway Angels' Out of More Than Tim Tebow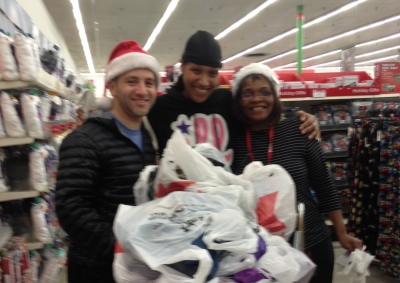 Lee Karchawer, a mobile marketing company employee, never dreamed that his efforts to help people during the holiday season would draw the interest of football star-turned-ESPN analyst Tim Tebow.
While the 27-year-old ESPN football analyst will travel the country to pay off people's layaway accounts while appearing on his "Good Morning America" segment, he is doing so with the help of Karchawer's organization.
In 2011, Karchawer founded the non-profit organization called Pay Away the Layaway, after witnessing random acts of kindness where people surprised families by paying off layaway balances. He decided to create an organization where he could spread awareness and garner crowd fund donations to help low-income families.
Every year, a team of volunteers affiliated with the organization travels across the country to Kmart, Walmart, Toys "R" Us, and Babies "R" Us stores to pay off layaway plans for children. The Pay Away The Layaway organization works closely with the retailers to select stores and layaway plans that align with its mission.
Over three years, Pay Away The Layway has been featured in NBC News reports, USA Today and ABC News. Karchawer is shocked to see how much the organization has managed to grow and attract big names such as Tebow.
"We are so fortunate to have received such great media attention, both locally and nationally. The support from the media has been great year after year and stories just seem to keep getting bigger," Karchawer told The Christian Post. "With many celebrities like Tim Tebow getting involved in the movement, it is truly unbelievable to see this cause spreading. When I go on Twitter and Facebook and see all of the posts with #layawayangel or #layawaysanta ... it is just incredible."
Tebow, an evangelical Christian who heads a segment on "Good Morning America" called "Motivate Me Monday," seeks to share inspirational stories at the start of each work week. Karchawer revealed how he managed to get his organization to team up with Tebow, who has gained recognition for more than just winning a Heisman trophy and once playing in the NFL.
"Tim Tebow is exactly the type of person who represents what our organization is all about. Tim has always promoted helping others, giving back, and finding ways to help your community," Karchawer told CP. "We worked with 'Good Morning America' on the segment this week to promote the Layaway Angel movement and 'GMA' was instrumental in getting Tim involved. We are in communication with Tim to see if he'd like to work closer with our organization in the future."
Although Karchawer said he hopes other celebrities can get involved with his organization, he also expressed the importance of everybody and anybody recognizing that they can take part in it.
"We certainly are hoping that more high-profile figures will help us spread this message. In addition to Tim Tebow, Steve Harvey has been active in the past with this movement," he told CP. "At the same time, the purpose of our organization is to allow everyday people to contribute even $5 or $10 to feel a part of this movement."
While Pay Away The Layaway calls for Layaway Angels to aid in its mission around the Christmas holiday, Karchawer said he has other goals in mind for his organization long after Dec.
"We are working to expand into other seasons in the future such as back to school to help families pay for school supplies that are placed on layaway," he told CP. "Also, we are looking to provide education on smart, financially responsible shopping during the holidays. We see our organization in a great position to educate consumers around holiday shopping."
Right now, the immediate goal of Pay Away The Layaway centers around making sure children have a merry Christmas despite their family's financial status.
"For many people who were as fortunate as I was growing up, there wasn't a holiday where I didn't have the present, toy, game, book that I wanted, that made me run around the house screaming with excitement. Millions of children across our country will wake up Christmas morning and not have this experience," Karchawer told CP. "We hope that (people) will consider sharing and donating to our organization and help us bring smiles to children's faces on Christmas morning this year!"
For more information about how to donate to the organization in time for Christmas, please visit www.payawaythelayaway.org.