PBS 'taking advantage' of parent's trust by including gay wedding in 'Arthur': Conservative group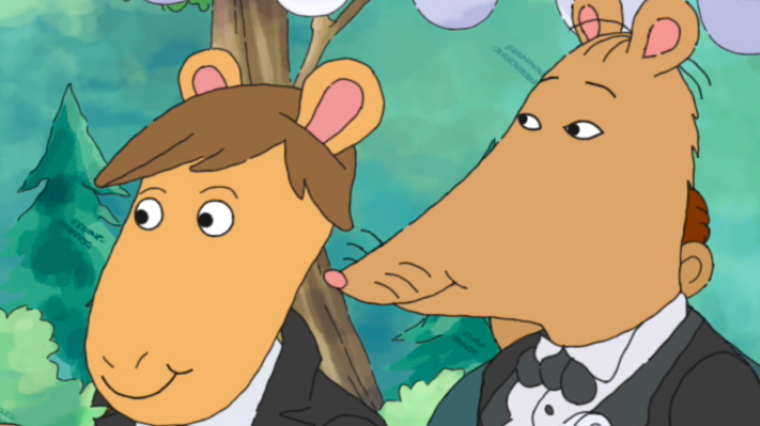 Mr. Ratburn from the PBS children's show "Arthur" got married to another man in the show's 22nd season premiere, prompting negative reactions from conservative and religious groups.
On Monday, PBS aired "Mr. Ratburn and the Special Someone," guest starring lesbian actor Jane Lynch.
In the episode, Arthur, Francine, Buster, and Muffy discover their third-grade teacher, Mr. Ratburn, is engaged. But the animal friends are surprised to discover that on the day of the wedding, Mr. Ratburn walks down the aisle arm in arm with his partner, Patrick, a local chocolatier. As the two animated creatures walk down the aisle, all guests smile in celebration of the same-sex marriage. Afterward, the students eat cake, which was shown earlier in the episode with two toppers that resemble Mr. Ratburn and Patrick.
"Mr. Ratburn is married, I still can't believe it," Arthur says.
"Yup, it's a brand-new world," Francine responds.
The episode closes with the animal friends happily eating cake as Mr. Ratburn and Patrick dance together nearby.
Maria Vera Whelan, the senior director of marketing, communications and social media for children's media and education at PBS, said in a statement that PBS Kids programs are "designed to reflect the diversity of communities across the nation."
"We believe it is important to represent the wide array of adults in the lives of children who look to PBS Kids every day," she said, according to the New York Times.
The move elicited praise from LGBT advocacy organizations and was widely celebrated on Twitter. GLAAD congratulated Mr. Ratburn on Twitter, adding a rainbow emoji.
But others expressed dismay over the decision to include a same-sex couple in a children's TV show.
Cathy Ruse, Family Research Council's Senior Fellow for Legal Studies, told The Christian Post, "Remember, Americans didn't ask for a re-definition of marriage, it was forced on them by activist judges, who overturned tens of millions of votes cast to keep marriage a man-woman institution," she said.
"But gay activists are not satisfied with just changing the law — people must change their beliefs, too. There can be no dissent. Children are not asking for their cartoon characters to be gay — activists in the entertainment industry are forcing it on them."
Children's entertainment, she said, is "no longer informed by a Judeo-Christian values system, but by left-wing political interest groups."
"Now more than ever, parents have to be vigilant about the media their children consume," she warned. "Parents trust shows made for children, and the creators of the show are taking advantage of their trust."
On Facebook, evangelist Franklin Graham said the PBS series is clearly promoting the "LGBTQ agenda."
"PBS receives government funding—why should our government be financing programming that promotes behavior the Bible says is sinful?" he asked. "I sure don't want my tax dollars going toward that. I think many viewers may be surprised and disappointed in this content decision. I hope everyone will rise up and clearly tell PBS that they do not want to see this kind of programming slipped in to try to influence the hearts and minds of our children and grandchildren."
American Family Association's subgroup One Million Moms (OMM) launched a petition calling on PBS to pull the episode, arguing that "discussion of such controversial topics and lifestyle choices should be left up to parents."
"PBS Kids should not introduce this to young children. Just because an issue may be legal or because some are choosing a lifestyle doesn't make it morally correct. PBS Kids should stick to entertaining and providing family-friendly programming, instead of pushing an agenda," OMM notes.
Reads the petition: "I am outraged that PBS Kids would use their children's network to promote same-sex marriage. It is offensive to me and my family that the network would glorify the homosexual lifestyle. Until PBS Kids agrees to no longer air this episode 'Mr. Ratburn and the Special Someone,' or others with same-sex couples, then conservative families including my own will have no choice but to discontinue watching PBS Kids Network, even avoiding previews, commercials, and reruns. Therefore, my family will not be able to allow PBS Kids in our home."
"Arthur," which premiered in 1996, has previously featured a gay character.
A 2005 episode of the show's spinoff, "Postcards From Buster," found the rabbit visiting Vermont to learn how maple sugar is made. While there, he met several children whose moms were lesbians, to which he commented, "Boy, that's a lot of moms!"
But at the time, PBS chose not to air the episode on more than 300 affiliates, explaining that the "presence of a couple headed by two mothers would not be appropriate curricular purpose that PBS should provide."
Same-sex relationships have seen increased visibility in film and television shows geared towards children in recent years.
A 2017 episode of "Star vs. the Forces of Evil" on the Disney Channel depicted gay couples kissing among others during a boy band concert, sparking outrage among pro-family groups. The same year, the Disney kids series "Andi Mack" featured a 13-year-old character who realizes he is gay and comes out to his friends.
Additionally, Disney's remake of "Beauty and The Beast" included an openly "gay moment" expressed by LeFou, the sidekick to the movie's antagonist, Gaston.