Perry Noble Supports Mark Driscoll's New Trinity Church '100 Percent,' Asks Critics: 'Who Made You the Judge?'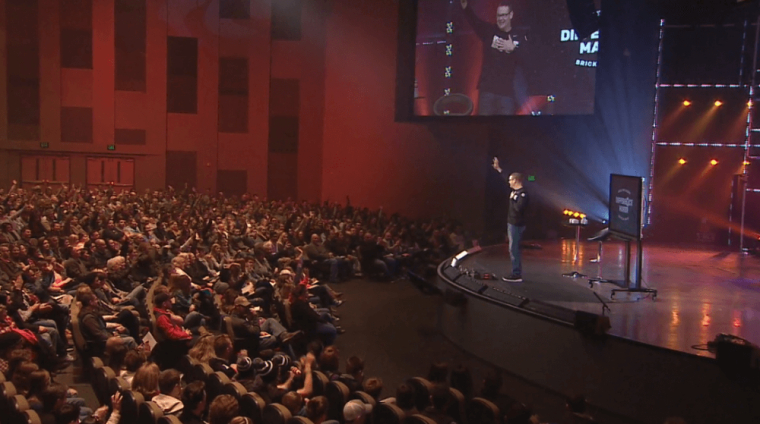 South Carolina-based NewSpring Church pastor Perry Noble expressed his support recently for disgraced pastor Mark Driscoll's return to church ministry, slamming critics of his fellow clergyman and praising Driscoll's efforts to plant a new church in Phoenix, Arizona.
In a Facebook video titled: "How I Personally Feel About Mark Driscoll Starting a New Church," which garnered nearly 120,000 views and was shared more than 500 times (as of the publication of this article), Noble takes on critics of the ex-pastor of the now-defunct Mars Hill Church who feel that Driscoll isn't ready to lead another congregation.
"Here's a man [Driscoll] who messed up, made some mistakes, admitted it, apologized, said he was sorry — he's starting over … Who made you the judge on whether or not he's ready?"
Noble prefaces his comments with a biblical analogy that, ironically, uses Apostle Mark from the Bible. Noble explains how in Acts 13:13, Mark quits a missionary journey with Apostles Paul and Bartimaeus. Later, against Paul's wishes, Bartimaeus helps to get Mark back into the ministry.
"Thank God for Bartimaeus," says Noble, "because he didn't say [to Mark], 'You had your shot, and you blew it.'"
Noble goes on to say, " … I'm going to choose to be a Bartimaeus. I'm going to choose to believe in Pastor Mark and Grace [Driscoll's wife] as they set out on this endeavor to plant a church. And I just want to say that I support him 100 percent."
The NewSpring pastor mentions that some argue that Driscoll has hurt people. To this Noble says, "So have you … I think he's [Driscoll] got ministry left in him … He may have hurt people, but he's learned from it … Christians are the only army in the world that shoot their wounded."
Noble is no stranger to tackling controversial issues. In early January, the megachurch pastor waded into the hot-button topic of Christians and gambling. As previously reported by The Christian Post, Noble wrote a blog post announcing that he purchased a lottery ticket for the $1.6 billion Powerball jackpot, the largest in U.S. history, fanning the flames of the hotly debated question of whether Christians should gamble and play the lottery.
In the post, Noble boldly writes, "If this [gambling] turns out to be sinful and wrong one day then I promise to tell God 'I'm sorry.' And, if you think this action will send me to Hell, then I'll most likely see you there."
Then in late January, CP reported on how Noble chided other pastors who endorse political candidates, indicating that their time is better spent spreading the Gospel.
"Dear pastors, please SHUT UP about endorsing a political candidate!!! Preach the GOSPEL!! Jesus is the ONLY hope of the world," Noble exclaimed in a tweet shared with his 153,000 followers.
Noble's Twitter post sparked online debate about whether pastors should get involved in politics from the pulpit, and at the time garnered 397 likes and 125 retweets, setting off a daisy chain of responses — both for and against his comments.
Mark Driscoll's new assembly is called The Trinity Church. Driscoll was once considered one of America's "most prominent and celebrated pastors" by Forbes, but he resigned in disgrace as senior pastor of Seattle-based Mars Hill in October 2014 after a confluence of events marred his reputation, including allegations of plagiarism and fostering an abusive work environment. Two weeks after Driscoll's resignation, Mars Hill Church announced that it would dissolve.