Perry Noble Says Trump Having to 'Prove Himself' to Evangelicals is 'Hypocrisy;' Turns Down 'Inquisition'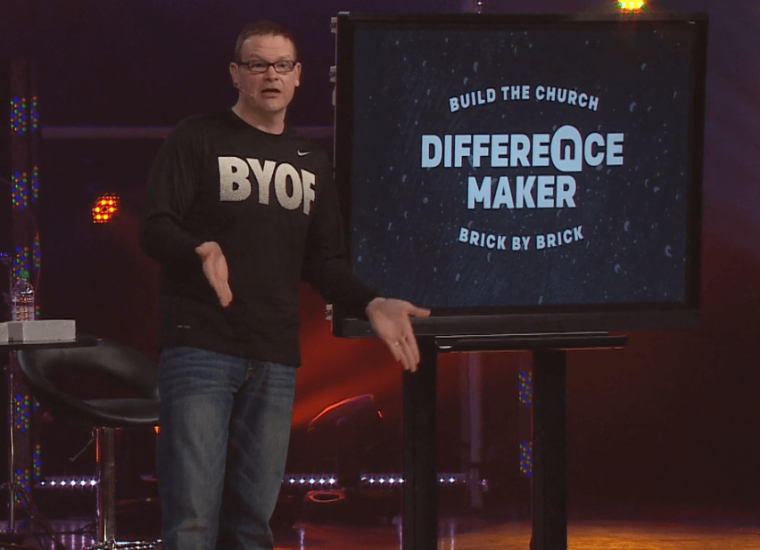 Pastor Perry Noble of NewSpring megachurch in South Carolina has revealed that he received an invitation to attend the highly publicized meeting of 500 evangelical leaders with Donald Trump in New York on June 21, but is turning it down.
Noble explained in an article on his website that he initially thought Trump was a "political fad that would pass the wind," but like many others turned out to be wrong, as the billionaire businessman looks set to capture the Republican presidential nomination.
"Now evangelical leaders say they want to meet with him — almost as if he has to prove himself to us," the pastor noted, referring to Trump agreeing to meet with 500 top evangelical and social conservative leaders in a closed-door event in June in New York, to ascertain what he has to offer to the country.
Family Research Council President Tony Perkins told Fox News: "Our goal is to be able to have a conversation that could lead to a better understanding of what Donald Trump has to offer to the country,"
Perkins, along with Bill Dallas of United in Purpose, worked with former Republican candidate Carson, who has endorsed Trump, to arrange the meeting.
"I want to be actively supportive of a candidate who can help turn this nation around. With Trump, I'm not there yet. I hope to be there, but I'm not there right now," Perkins added.
Others leading the efforts include Southern Baptist Convention President Ronnie Floyd; Focus on the Family founder James Dobson; Faith and Freedom Coalition's Ralph Reed; Penny Nance of Concerned Women for America; Bob McEwen, Tim Wildmon of the American Family Association; Kelly Shackleford of First Liberty; American Values President Gary Bauer; Family Leader President Bob Vander Plaats, and megachurch Pastors Jack Graham and Ed Young.
Noble, who has not endorsed Trump but back in April listed four main reasons for why the billionaire businessman looks set to capture the Republican candidacy, explained in his latest article that he is turning down the invitation to meet Trump.
"I would bet if you took a survey of many of these same Evangelical leaders that are going to the 'Trump Inquisition' next month ... concerned about his lack of morality and stance on certain issues ... that you would find many of those same leaders did not have to have such a meeting with Mitt Romney," he wrote.
"Mitt Romney — a Mormon!" he exclaimed, but clarified that he does not "hate Mormons," only that the differences between evangelical Christianity and Mormonism are "vast."
"And ... just so everyone is clear, I voted for Mitt, so there's that. That calms SOME people down!" he added.
As for the problem in question, Noble wrote: "Honestly, I see it as a bit of hypocrisy for a group of people to ask Trump to 'prove himself' when the same group were leading the Romney bandwagon!"
"Trump has spent quite a few years 'proving himself' through his deeds and actions — and the American people have spoken by voting for him to be the Republican nominee," the pastor continued.
Noble pointed out that instead of meeting Trump, he is getting ready on July 17 to deliver a sermon about how the Gospel should impact the worldview of Christians, and how that translates for followers of Christ when they are thinking about voting in elections.
"In the meantime I hope the meeting where Trump has to 'prove himself' goes well for him ... because if he isn't able to then evangelical leaders are gonna have to decide if they are feelin' the Burn ... or if the Clintons get the keys to the White House again," he concluded, referring to Democratic Presidential candidates Bernie Sanders and Hillary Clinton.
As for how Evangelicals responded to Romney four years ago when he ran against Barack Obama for the presidency, Reed of the Faith and Freedom Coalition commented in November 2012 that white evangelicals heavily backed the Mormon candidate, in a 78 to 21 percent split in his favor.
"Evangelicals turned out in record numbers and voted as heavily for Mitt Romney yesterday as they did for George W. Bush in 2004," Reed said back then. "That is an astonishing outcome that few would have predicted even a few months ago. But Romney underperformed with younger voters and minorities and that in the end made the difference for Obama."