Phil Robertson on Offer to Baptize Trump: Left-Wingers Will Go Crazy, Evangelicals Will Swarm You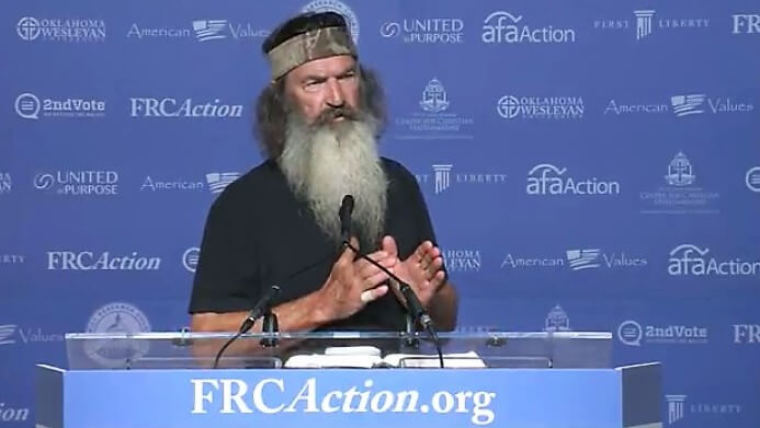 WASHINGTON — Duck Dynasty star Phil Robertson expressed to hundreds gathered for the annual Values Voter Summit Friday his passionate distaste for secular humanism and his enthusiastic support for Donald Trump for president.
In remarks preceding the showing of a documentary titled "Torchbearer," a film in which Robertson is prominently featured and outlines how societies fall apart when they reject God, the 70-year-old A&E star did not mince words.
 "When you allow men to determine for you what is right and what is wrong, when you allow men to determine what is good and what is evil, when you allow men to determine for you how much your life is worth, how much anybody's life is worth, you turn those things over to humans instead of vetting through this Bible," Robertson said, holding up a large, open Bible for all to see, at the Family Research Council's annual event held at the Omni Shoreham Hotel.
"It never turns out well, ever!" he proclaimed.
"Thomas Jefferson had it right," Robertson continued. "Our rights come from God. If you allow men to step in and decide for you what your rights are gonna be, look out because the slaughter's fixin' to take place."
"Look at the Nazis, there was no Jesus with the Nazis, correct? What were they famous for?" he asked, "In a word? Murder!"
The Duck Commander then read a portion of Romans 1, the passage where the apostle Paul speaks of all kinds of wickedness and God gave unrepentant people over to reprobate mind.
"Was that the way it was in the Roman empire?" Robertson asked, "it sounds like us."
In response to objections he sometimes hears, particularly ones about Trump's propensity for sticking his foot in his mouth, Robertson said: "First of all, read the Old Testament and see how many different people God worked through to accomplish his purpose."
"Better a man who sticks his foot in his mouth every once in a while, than a woman who pours out lies," Robertson said.
Yet the long-bearded duck hunter has a softer, nonpolitical side.
People often ask, Robertson recounts, what he and his wife, Miss Kay, do down in Louisiana when the cameras are not rolling.
"We work with drug addicts, we work with girls, women who prostitute themselves. If you heard the stories that we sit down and listen to every day ... We deal with the ones who perform unnatural sex acts, we convert them, we bring them to Jesus."
"Our culture is just churning out this mass of humanity, mostly they get high, they get drunk, and they get laid a lot. We're trying to get them to turn to God so that they can have finally peace of mind."
Briefly returning to politics before exiting the stage, Robertson mentioned that when he met Donald Trump earlier that day, he showed him a drawing of a timeline of history showing the cross and the empty tomb at the 1 AD marker.
"I also told [Trump] if you really wanted to see something wild, film me baptizing you," adding that the left-wingers would go crazy at the sight of it, and "the evangelicals will swarm you like mighty throng."
"I'm just trying to help America go back to her roots," Robertson concluded.