Philadelphia Eagles' TE Trey Burton: 'Satan Trying to Attack Us Off the Field'
Philadelphia Eagles' TE Trey Burton: 'Satan Trying to Attack Us Off the Field'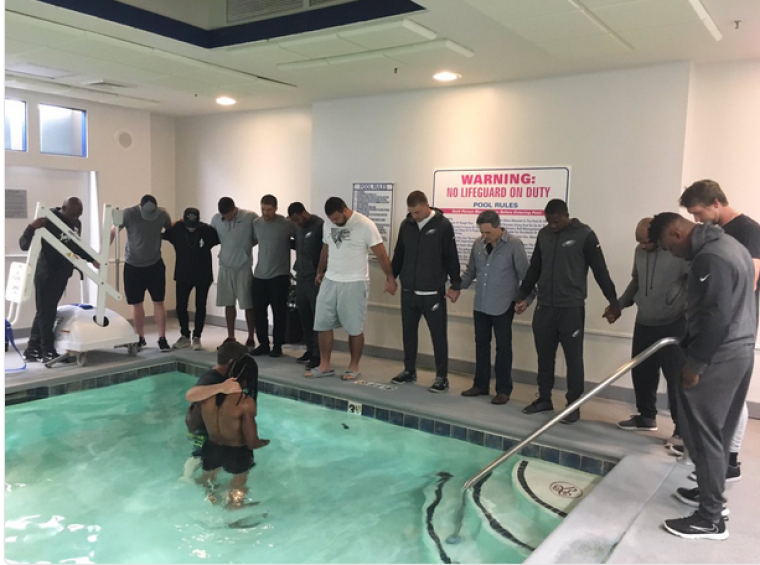 Philadelphia Eagles tight end Trey Burton says Satan is trying to attack his teammates with injuries as the NFL players grow deeper in their Christian faith.
Burton, the 26-year-old tight end who ESPN called the Eagles' team preacher, replaced TE Zach Ertz after a hamstring issue in week 9 of the NFL season. Ronald Darby, the Eagles cornerback, has been out with a dislocated ankle since the first week of the season.
While multiple members of the team have been engaging in Bible studies and being vocal about their Christian faith, they have also become the top team in their NFC East division. Although the team has been progressing both on the field and spiritually, Burton believes Satan has used things like injuries in an attempt to deter them.
"We've had a lot of guys who are strong leaders get hurt after showing their boldness for the Lord," Burton said in a CBS Sports report. "Satan can't control us on the field, so he's going to try to attack us off the field, attacking us physically."
He explained just how serious his fellow teammates have been about growing in their faith, which includes multiple Bible studies each week.
"We do a couples Bible study every Monday night. Thursday, ideally, we do a team Bible study at the facility," he revealed. "Saturday, another guy leads. And after meetings, that night in one of our hotel rooms, we'll chop it up and pray for each other."
He added, "If we play Sunday night or any night game, we have another one with a chaplain in the morning."
Burton baptized five of his teammates last year, including linebackers Kamu Grugier-Hill, Mychal Kendricks, Jordan Hicks, wide receiver Paul Turner and David Watford. Just last month, Burton joined Ertz, Hicks, quarterback Carson Wentz, backup quarterback Nick Foles and offensive guard Stefen Wisniewski to support Eagles wide receiver Marcus Johnson who got baptized in a hotel pool.
Johnson tweeted about the experience, calling it beautiful.
"First time being Baptized! Corporate Worship is a beautiful thing!!" Johnson shared. "Cleansed & Reborn in JESUS name!"