Philippine President Duterte Blasphemes God in Rant About Adam and Eve's Original Sin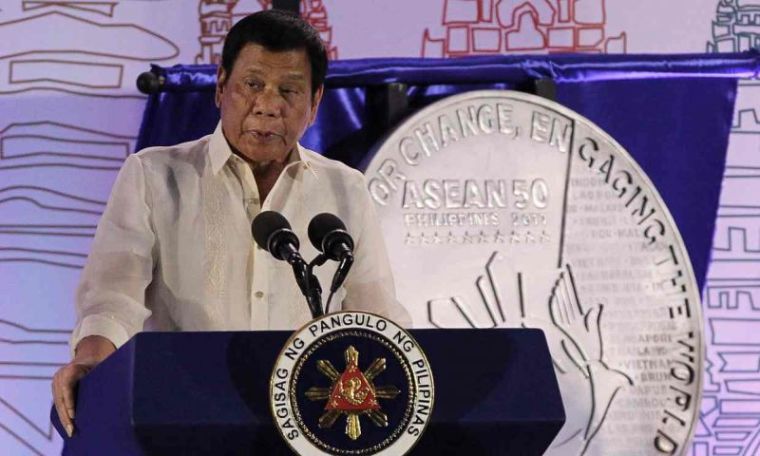 Philippine President Rodrigo Duterte, who has a history of making highly provocative remarks against his country's Catholic priests and the Christian faith, recently made offensive remarks, condemning God for Adam and Eve's original sin. 
"Who is this stupid God?" Duterte asked on Friday at the end of his speech at the opening of the 2018 National ICT Summit in Davao City.
"This son of a whore must really be stupid. You created some — something perfect and then you think of an event that would tempt and destroy the quality of your work," Duterte continued, as translated by Manila Standard on Sunday.
"How — how can you rationalize a God?" he asked.
Reflecting further on the concept of original sin, which Adam and Eve committed, going against God's command and being expelled from the Garden of Eden, he said: "I cannot accept that. Very stupid proposition. What sin? Original sin and then they will baptize you. Your head will even be washed with [holy] water. And you'll even believe that priest," he said, also criticizing the practice of infant baptisms.
As he has in the past, Duterte said that he believes in a "universal mind," but not in conventional representations of God.
"I really believe there's a ... I have this faith and abiding thing about ... But religion? Why believe in that?" he asked.
He further suggested that "God is lonely" as there is "no woman beside him."
Duterte has been caught in an ongoing war of words with the country's Catholic priests, who have strongly criticized the executions his administration is carrying out in its crackdown on drug users and dealers in the country.
Some have claimed that Duterte's rhetoric against the church could be fueling violence, such as the string of murders of priests in the country, though Duterte has denied such accusations.
"God's justice be upon those who kill the Lord's anointed ones. There is a special place in Hell for killers. There is a worse place for those who kill priests," Archbishop Socrates Villegas of Lingayen-Dagupan said following the latest priest killing in June.
The archbishop also pleaded for God to "touch the heart" of Duterte and stop the "verbal persecution" of the Catholic Church.
In past tirades against God, such as one from September 2016, Duterte also asked why God doesn't intervene and stop babies from being raped and killed.
The president's comments came during his dispute with the Church over the death penalty, which he supports but the latter speaks out against.
"So where is now God when a 1-year-old baby, 18-months-old baby is taken from the mother's arms brought under a jeep and raped and killed. So where is God?" he asked at the time.