Philippines President Duterte Says Only 'Stupid God' Would Create Hell, Then Apologizes to God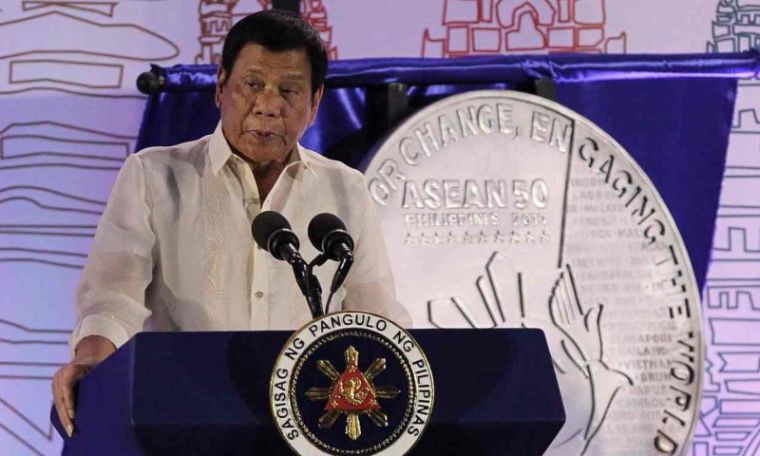 Philippines President Rodrigo Duterte failed to last 24 hours in his promise to stop attacking the Catholic Church, after he suggested in a speech that only a "stupid God" would create Hell. He also questioned Heaven and then ended up apologizing to God.
Duterte had agreed on a moratorium against making statements against the Catholic Church earlier in the week following a meeting with Archbishop Romulo Valles of Davao, but in a speech before businessmen on Tuesday he was back to making questionable statements, UCANews reported.
Duterte said that God "never created Hell because if He created Hell, He must be a stupid God."
"My God is not stupid to create man just to burn him in Hell. I do not believe in that," the president declared.
He also questioned the existence of Heaven, telling the audience that if he believed in it, "only a fraction of you will ever enter Heaven."
Duterte later met evangelical leader Eddie Villanueva of the Jesus Is Lord Movement, where he offered an apology of sorts for his remarks earlier.
"If it's the same God, I'm sorry, that's how it is. Sorry God. I said sorry God. If God is taken as a generic term by everybody listening, then that's well and good," the politician said.
"I only apologize to God, nobody else. If I wronged God, he would be happy to listen. Why? Because my God is all forgiving ... Why? Because God created me to be good and not bad," he added.
Duterte added that church leaders should "never use the name of God as a front to attack government [because] that is not the proper way to do it." His statement reflected the years-long tension between him and the Catholic Church on issues such as the death penalty and his deadly crackdown on drug use.
On Monday, Duterte told Valles that he would halt his diatribes against priests and bishops.
The condition behind the agreement was that church officials would stop using the pulpit to criticize the president, presidential spokesman Harry Roque clarified.
Duterte issued one his most eyebrow-raising challenges last week at a science and technology event in Davao city, when he said that if anyone can prove conclusively that God exists, he will resign as president.
The Philippines leader clarified that he is not an atheist and that he does believe in a "supreme being" that governs the universe, but said that he is looking for "one single witness" who can show that humans are "able to talk and to see God," suggesting a picture or a selfie as proof.
Also late in June, Duterte called God "stupid," based on the story of Adam and Eve's original sin.
"This son of a whore must really be stupid. You created some — something perfect and then you think of an event that would tempt and destroy the quality of your work," Duterte said the.
"How — how can you rationalize a God?" he asked. 
The Catholic Bishops' Conference of the Philippines, while not directly mentioning the president, said in a statement on Monday that they want to invoke "God's mercy and justice on those who have blasphemed God's Holy Name, those who slander and bear false witness, and those who commit murder or justify murder as a means for fighting criminality in our country."
They called for a day of fasting and prayer on July 16. 
U.S. evangelist Franklin Graham, meanwhile, said that Duterte needs to look at the words in the Bible to find answers.
"God exists, and no one has to prove it. The Bible says there is no excuse for not understanding that He exists. He has made it evident and continues to reveal Himself," Graham wrote on Facebook on Sunday.
"The Bible says, 'For since the creation of the world God's invisible qualities — His eternal power and divine nature — have been clearly seen, being understood from what has been made, so that people are without excuse,' (Romans 1:20)."