Phyllis Schlafly's 'Love of God and America' Praised by Conservatives; Criticized by Opponents, LGBT Groups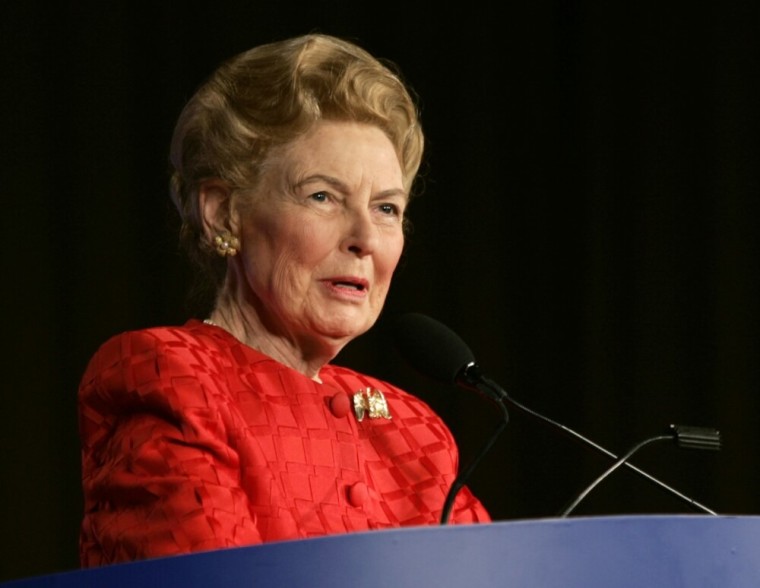 Several conservative groups have been praising the life and work of activist and author Phyllis Schlafly, who died in St. Louis, Missouri, on Monday at the age of 92, though opponents have criticized her stances on LGBT and other issues.
Family Research Council President Tony Perkins wrote that Schlafly fought the political establishment of her time, and was a leading force in the creation of the modern pro-life and pro-family movement.
"I have little doubt that the political and cultural landscape of America today would have long ago been devoid of true conservatism if not for her leadership. She never surrendered her principles and she never gave in to intimidation," Perkins wrote.
"Her love for God and this country drove her to fight for the Constitutional principles that founded this nation. We honor Phyllis for the lessons that she taught us all. I'm proud to have stood alongside her for faith, family and freedom," he added.
Schlafly's official Facebook page noted that she authored 27 books and thousands of articles, advocating for "common sense and traditional values."
One of her greatest triumphs was her successful campaign in the 1970s to defeat the Equal Rights Amendment. She claimed the amendment would have eliminated the men-only draft requirement of the U.S. army at the time. Her critics at the time denied the charge, accusing her of making a false slippery slope argument.
In recent years, many of Schlafly's predictions have come to pass, even without the ERA, such as non-gendered bathrooms and women in combat.
American Conservative Union Chairman Matt Schlapp said that Schlafly, who was a former ACU board member, inspired others through her "courage and conviction."
"She understood that the stakes are always high. Her sense of urgency was infectious and persuading people to see things our way was our best path to preserving American values," Schlapp wrote.
"We mourn the loss of a leader and great friend, but her life, voice, passion, and principles will continue to impact and influence future generations. Phyllis' life was a celebration of the things that our nation was founded on, and a small part of her legacy provides, in the short-term, a road map to victory by holding fast to our principles and fighting eloquently and elegantly for our shared beliefs," he added.
Pro-LGBT magazine The Advocate called her one of the "worst homophobes of all time," however, noting her opposition to same-sex marriage, and criticized her arguments that supporting traditional marriage is not the same as supporting discrimination.
"Knowing how at odds same-sex marriage is with our legal and cultural traditions, we should not be surprised that some homosexual activists are trying to get rid of marriage all together," Schlafly said in 2014.
"Same-sex marriage isn't about granting equality of human rights. Gays are not denied any human rights. Same-sex marriage is about getting rid of the traditional values and institutions that have guided the Western world, including America."
Hemant Mehta of The Friendly Atheist blog further argued that history will not remember the conservative icon kindly.
"She fought to hold people back rather than uplift them. She put her faith ahead of human decency. And while she'll be remembered as a conservative icon for a long time, most people aren't going to celebrate her legacy. She'll be remembered for who she hated, not who she helped," Mehta alleged.
ACU's Schlapp was of a different view, however, and insisted that her long-term legacy will be "one of intellectual and moral rigor combined with the courage and will to understand that there are, in fact, American values that we must stand up and fight for."
"Even if there are arrows to be taken from those who seek to water down what it means to be an American, we can take them, and we will do our best to make her proud and honor a life well-lived," Schlapp vowed.