Plaster Falls From St. Peter's Basilica After Claims of Pope Saying 'Hell Doesn't Exist'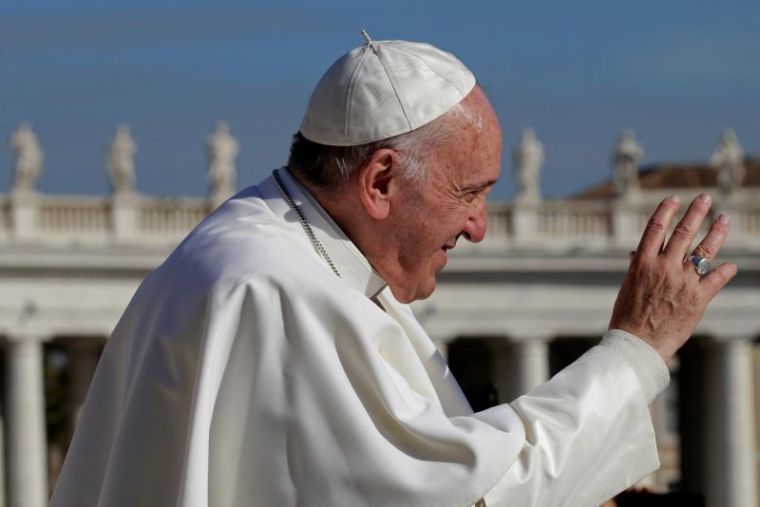 The day a report claimed that Pope Francis denied the existence of Hell, some chunks of plaster fell off St. Peter's Basilica leading the Vatican to temporarily seal off the area during the peak of the Easter holiday season.
Plaster rained down near Michelangelo's famed Pieta statue to the right of the main entrance on Thursday, according to The Washington Post.
Also on Thursday, Eugenio Scalfari, a 93-year-old atheist philosopher, claimed in statements published by La Repubblica that Francis had told him in a conversation that "Hell does not exist" and that "those who do not repent and cannot therefore be forgiven disappear."
Vatican spokesman Greg Burke was quoted as saying that repairmen worked to secure the site and the basilica remained open.
Soon after the article was published, the Roman Catholic Church released a statement denying the claim.
Scalfari is known for not taking notes during interviews.
The Vatican statement read, "What is reported by the author in today's article is the result of his reconstruction, in which the literal words pronounced by the pope are not quoted. No quotation of the aforementioned article must therefore be considered as a faithful transcription of the words of the Holy Father."
According to LifeSite News, Scalfari asked the pontiff, "Your Holiness, in our previous meeting you told me that our species will at some point disappear and God will always create other species from His creative seed. You have never spoken to me of souls who have died in sin and go to Hell to suffer for it forever. Instead, you have spoken to me of good souls who are admitted to the contemplation of God. But the bad souls? Where are they punished?"
Francis allegedly responded, "They are not punished, those who repent obtain God's forgiveness and join the ranks of souls who contemplate Him, but those who do not repent and cannot therefore be forgiven disappear. Hell does not exist; the disappearance of sinful souls exists."
Scalfari and Francis have engaged in multiple dialogues in the past. This is not the first time Scalfari's interpretation of the pope's words were disputed by the Vatican.
In 2013, Francis garnered headlines when an interview with Scalfari, published by the same newspaper, La Repubblica, purported to have the pope rejecting the concept of evangelism as "solemn nonsense."