Poland grants asylum to mother and 2-y-o fleeing Norway's controversial child services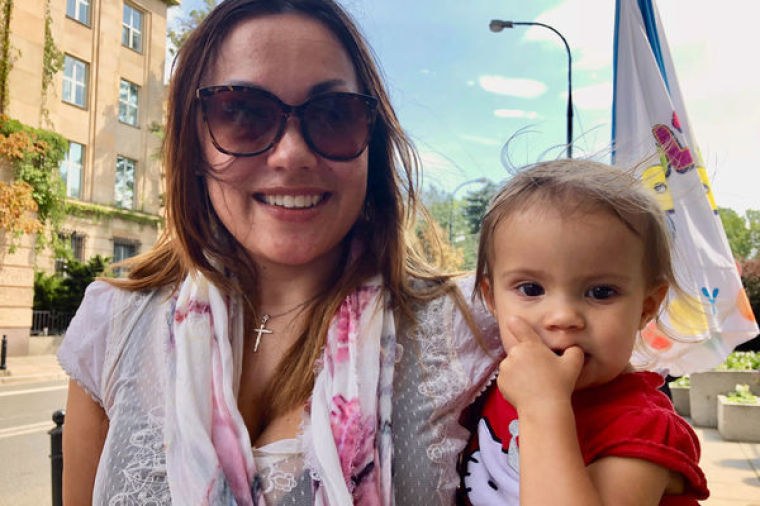 Poland has granted asylum to a mother and her 2-year-old daughter who fled Norway after child services tried to remove the child from the mother's care based on what she says are false allegations of drug abuse.
European family rights activists are rejoicing after Silje Garmo and her daughter, Eira, were granted asylum by Poland's Ministry of Foreign Affairs on Wednesday.
The two had fled Norway because the mother was trying to retain custody of Eira as Norway's controversial child services agency, Barnevernet, tried to take the child away from her mother in 2014, based of unfounded claims made by the father of Garmo's first child.
Garmo's eldest daughter is 13 years old and remains in Norway as Barnevernet continues to thwart any attempts for a reunion, according to Norway's Christian Coalition (Kristen Koalisjon).
A spokesman for Poland's Ministry of Foreign Affairs told The Christian Post that in Garmo's case, the agency took into account "the constitutional guarantees regarding the protection of motherhood and parenthood, protection of family life, protection of parents and parental authority against the arbitrariness of public authority and protection of the rights of the child that serve as our guidelines on how to proceed in matters related to children and families."
"It must be stressed that the final decision to grant asylum rests with the head of the Office for Foreigners," the spokesperson explained.
The Christian Coalition, an Oslo-based group that advocates for Judeo-Christian foundations and seeks to mobilize values-based Christians, reports that the asylum was formally granted about 10 months after Polish Immigration Services concluded that Garmo and her daughter needed protection in Poland.
"However, the government had to approve as well in [since this could hurt] Poland´s relationship with a friendly nation, Norway," Pastor Jan-Aage Torp, chairman of the Christian Coalition, told The Christian Post in an email on Friday. "This week, Poland´s Prime Minister Mateusz Morawiecki, a devout Catholic, intervened and granted political asylum, making her the first Norwegian after World War II to seek and gain political asylum in a European nation."
Torp, who visited with the family in July, believes there was "no valid reason" for what he calls a "child abduction" by the Norwegian government.
As Garmo detailed in an interview with the Polish tabloid Super Express, she was accused by the father of her first child of "abusing painkillers," leading a "chaotic lifestyle" and having "chronic fatigue syndrome."
Garmo explained that while it was his word against hers, she had tests performed that were negative for painkillers.
"My medical records were broken in and nothing was found," she said. "However, it is enough to denounce and the system works automatically, only later can you try to recover your child. Until 2014, for 10 years no one had any objections to my motherhood."
Like other families in Norway, the Barnevernet is able to remove a child from the home and later get court approval. Garmo asserts that the Barnevernet was more inclined to believe her ex's words over hers because he's a "very influential man, businessman, friend with lawyers."
"If he was an ordinary man — a truck driver or a salesman — it would probably be a bit different," she contended. "It was he who reported my daughter's 'threat to life' with my 'chaotic lifestyle.' Barnevernet began to act. Someone once compared them to the speeding train — as they begin, it's hard to stop."
According to Torp, Garmo initially fled to Spain but was arrested "because of an arrest order through Interpol."
"Luckily, insightful psychologists and investigators started to unravel what was going on when she returned to Norway. [And then], she fled to Poland with her baby," Torp, who is also president of the network European Apostolic Leaders and pastors a Pentecostal congregation in Oslo, explained.
Garmo fled to Poland in May 2017.
"I rejoice with Silje Garmo that she had gained protection by the great Catholics of Poland," Torp added. "In Norway, a massive ideological and political struggle is unfolding and Silje´s victory this week inspires us all."
Step Up 4 Children Rights, a Vienna-based organization, also praised the approval of Garmo's asylum request.
Torp notes that Garmo's asylum was granted two days after the 70th anniversary of the University Declaration of Human Rights.
"[The granting of asylum indicates] that the atrocities of Norwegian Barnevernet and its accomplices in Norwegian society are serious breaches of human rights," Torp said. "The Council of Europe and the European Court of Human Rights have this year made strong decisions and verdicts against Norwegian atrocities. Silje is one of many parents in Norway that are being harassed by the anti-family policies that are reminiscent of the Soviet Union of old."
Garmo is not the only parent who has fled Norway just to keep custody of their child.
Earlier this year, The Christian Post reported on another family that fled to Dubai based on accusations that the father abused one of the children. That is an accusation that the family denied adamantly. The father was also cleared by police in the matter, however, that didn't stop the Barnevernet from trying to take custody of their children.
Additionally, American mother Amy Jakobsen Bjørnevåg is still fighting to get her son back after he was removed from her custody in 2013 at the age of 19 months based on a minor weight discrepancy and vitamin deficiencies. She most recently voiced concern that the Norwegian government is beginning the process to allow another family to adopt her now 7-year-old child.
The BBC has also done extensive reporting on other families who said their parental rights had been violated by Barnevernet.
In 2015 and 2016, several protests were held at Norwegian embassies around the world after Barnevernet removed five children from the home of Ruth and Marius Bodnariu based on allegations they spanked their children as a form of discipline, which is illegal in Norway. The children were eventually returned to the family after the international outcry.
Earlier this year, the Parliamentary Assembly of the Council of Europe issued a report that was critical of Barnevernet's family intervention practices. The assembly called for stronger safeguards against forced family separations.
"While child protection agencies often face difficult situations in keeping children safe from harm, removing children from the family without compelling reasons is contrary to international law," PACE rapporteur Valeriu Ghiletchi said, according to Alliance Defending Freedom International.