Police Chief Refuses to Remove Cross From Lawn Following Atheist Complaint in Ark.
A police chief in Arkansas is refusing to remove a small white cross from the lawn of the local police department after an atheist group demanded he do so. The police chief has argued that residents do not find the cross offensive and therefore it will not be removed.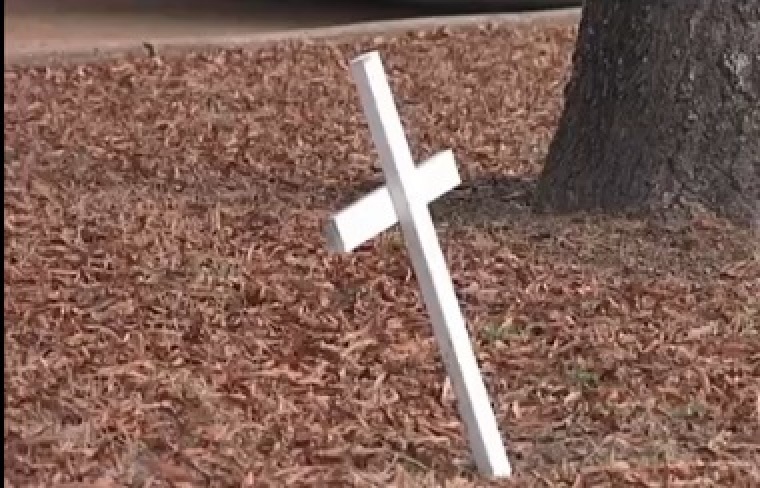 The Madison, Wisconsin-based Freedom From Religion Foundation contacted Jeremy Clark, police chief of the Searcy Police Department, asking that he remove the small wooden cross from the front lawn of the department, arguing that its presence is a violation of Separation of Church and State. The FFRF claims it was contacted by a local resident who feels too intimidated to directly request the police department remove the cross.
Annie Laurie Gaylor, co-president for the Freedom From Religion Foundation, told the local KARK-TV that her organization has asked Clark to remove the cross from the property on multiple occasions. Clark told the local media outlet that he doesn't plan to remove the cross just because an organization from another state has told him to. Clark also added that the cross was already there when he took his position as police chief in February 2013.
"Someone put it there, I didn't put it there. I don't know who did," the police chief said. "I wasn't going to remove it just because this organization in another state told us that we should. We're here serving the citizens of Searcy and I don't feel like we've done anything to offend them."
Reader comments on the KARK-TV page and other articles seem to support Clark's stance on keeping the cross. "Thank you Chief Clark. Our community has the right to post the symbol. A great majority of citizens in Searcy and [White County] are Christian. If the person who wrote the 'complaint' is so 'offended,' please print their name. Chief and other city leaders are named, why not the complainant? Our community has the right to know who they are. Or even if there really was a complaint," Michael B. Wood, who is described on his Facebook as being an associate professor at Harding University in Searcy, commented on an article by The Daily Citizen.
The town's former Police Chief Kyle Osborne told The Daily Citizen that the crosses were placed sporadically throughout the town by members of St. Paul United Methodist Church in 2011.
"The St. Paul guys passed those out all over town and you still see them all the time," he said. "One day an officer asked me about putting it out there and I said it was OK. If it was up to me, I'd absolutely keep that cross up."
The FFRF has pledged to keep fighting to have the small cross removed from the police department's lawn.