Poll: Majority of Americans Say Religion Is Answer to Today's Problems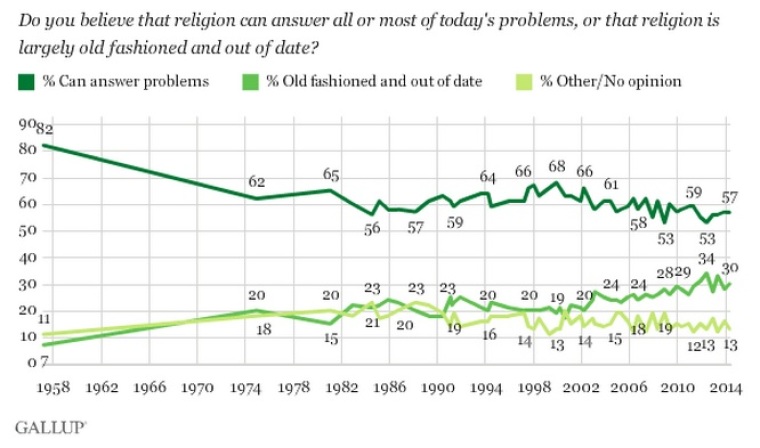 A new Gallup poll revealed that a small percentage of Americans consider religion old fashioned while the majority of Americans think it can actually solve today's world problems.
The recent poll asked over 1,000 adults about their views on the topic and found that 57 percent of individuals surveyed are optimistic about religion and only 30 percent find it to be out of date.
"The majority of Americans continue to believe that religion can answer today's problems, another indicator that the nation, by far, remains a religious country," said Frank Newport, Gallup's editor-in-chief, in a statement. "And, with the trend leveling off in recent years, it appears this aspect of the secularization of U.S. society may have slowed, if not halted, for the foreseeable future."
Despite the high percentage, the 57 percent figure reflects a decline over the last 40 years in the number of Americans who believe religion is the answer.
In 1957, 82 percent of Americans believed in religion's ability to solve today's problems but that number dropped to 62 percent when Gallup asked the same question in the 1970s. There was an increase in 2000 to 68 percent but that number continued to decline over the last 14 years.
"The 82 percent choosing the 'can answer today's problems' options in 1957 is in line with a number of other measures from that decade showing a high level of religiosity, including religious service attendance, importance of religion, and the percentage of Americans with a formal religious identity," said Newport.
Meanwhile, the percentage of Americans who believe religion is old fashioned and out of date has continued to increase since 2000 when it was 19 percent.
People over age 65, women, political conservatives, and those living in the South are found to be among the most religious groups, based on measures of church attendance and importance of religion, and are the most likely to consider religion as an answer to today's questions. However, younger, politically liberal individuals living in the Eastern part of the country are more likely to consider religion outdated.
The Gallup poll surveyed 1,028 adults in 50 states and the District of Columbia, May 8-11, 2014. The margin of error is plus or minus 5 percentage points.