Pope Benedict Delivers Final Public Mass; Makes Call to Prayer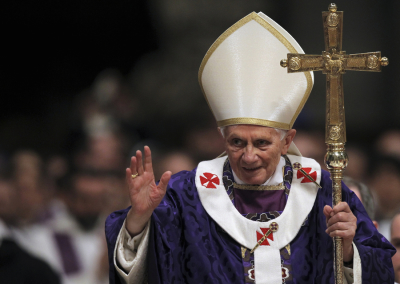 Pope Benedict XVI conducted his final scheduled public Mass on Wednesday after announcing earlier this week that he would resign as pope at the end of the month.
The Pope held service for Ash Wednesday in the famed St. Peter's Basilica in Rome, where he offered gracious thanks to his devout and supportive followers in attendance, as well as urging the faithful to continue to pray for himself as well as the Church.
"Thank you for the love and prayer with which you have accompanied me ... Keep praying for me, for the Church and for the future pope … I did this in full liberty for the good of the Church," Benedict said during the service.
Some of those sitting in the pews were reportedly brought to tears during portions of his address, and those who worked closely with the Pope offered their thanks to the man, who has provided spiritual guidance to them as pope for the past six years.
"We wouldn't be sincere, Your Holiness, if we didn't tell you that there's a veil of sadness on our hearts this evening," Cardinal Tarcisio Bertone, Benedict's deputy, said during his address.
"Thank you for having given us the luminous example of the simple and humble worker in the vineyard of the Lord," Bertone added.
The Vatican published the official announcement of the Pope's resignation on Monday revealing that the 85-year-old pontiff felt he was no longer able to carry out his duties as head of the Catholic Church, due to his deteriorating health.
"After having repeatedly examined my conscience before God, I have come to the certainty that my strengths, due to an advanced age, are no longer suited to an adequate exercise of the Petrine ministry," Pope Benedict's statement explained.
The last pope to resign was Pope Gregory XII, who left his post in 1415 as part of a deal that went to end the Great Western Schism concerning competing papal prospects.