Pope Francis Encourages Christians to 'Reconcile Family Feuds' in Jubilee Year of Mercy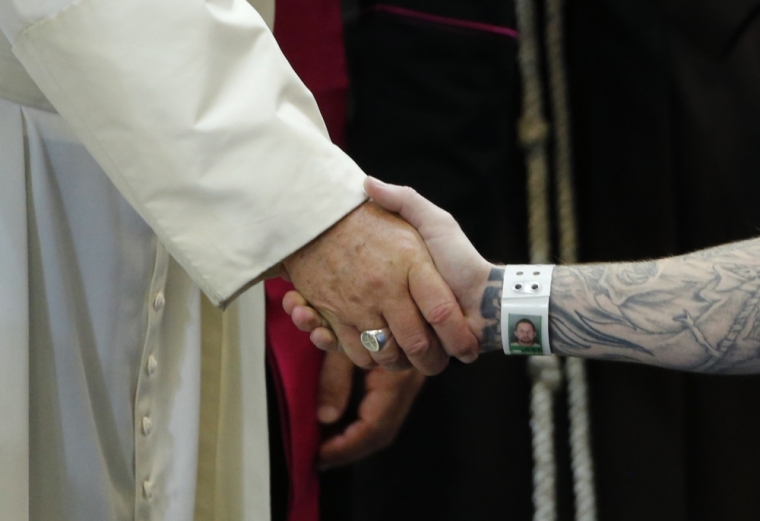 Pope Francis is encouraging Christians to "reconcile family feuds" as Catholics enter the Church's Extraordinary Jubilee "Year of Mercy."
Francis made his comments during the Vatican's General Audience in St. Peter's Square on Wednesday, where he advised Christians to reconcile relations with their "estranged brothers and sisters."
"I think about so many brothers and sisters who are estranged from their families; they don't speak to each other," the pontiff told the audience.
"This Year of Mercy is a good occasion to meet up again, to embrace each other and forgive each other, to leave bad things behind," he added.
 Francis also addressed the importance of mediating conflict, referencing the biblical story of Moses serving as as a mediator to free the Israelites.
"We can do this work, too, during this Year of Mercy, of being mediators of mercy with works of mercy," the pope said, adding that there are "so many good things people can do" to project an attitude of reconciliation and unity.
The pope, who has often been outspoken about the plight of Christians suffering around the world, said that mercy must especially be extended to those who are "oppressed, [...] exposed to violence, reduced to slavery, condemned to die." 
Previous jubilees in the Catholic Church were meant to focused on the forgiveness of sins.
When he announced the jubilee year in 2015, Francis called on Christians to "never tire of asking for forgiveness," making a connection between seeking mercy and in turn receiving God's forgiveness. 
"I am convinced that the whole Church — which has much need to receive mercy, because we are sinners — will find in this jubilee the joy to rediscover and render fruitful the mercy of God, with which we are all called to give consolation to every man and woman of our time," the pope said during a service at St. Peter's Basilica in Rome last April. 
As the Catholic News Agency reports, the theme behind this year's jubilee message was taken from the Gospel of Matthew 9:13 that states: "'I desire mercy, not sacrifice.' For I have not come to call the righteous, but sinners," (NIV).
While jubilee years are usually held every 25 years in the Catholic Church, Pope Francis announced this special "extraordinary" jubilee year just 15 years since the last one in 2000.