Pope Francis Condemns ISIS' 'Blasphemy' in Using God's Name to Justify Killings
Pope Francis Condemns ISIS' 'Blasphemy' in Using God's Name to Justify Killings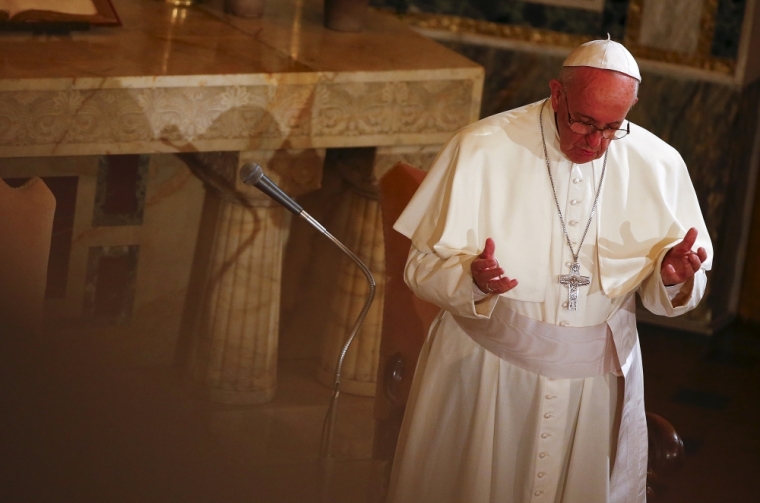 Pope Francis has condemned the terror attacks on Paris on Friday that left 129 people dead, and argued that those who use God's name to justify murder are committing blasphemy.
"Pope Francis said such barbarity leaves us stunned as we wonder how human hearts can think up and carry out such atrocities which 'have shocked not only France but the whole world.' The pope stressed again that 'the way of violence and hatred does not resolve the problems of humanity,' adding that whoever uses God's name to justify that path is guilty of blasphemy," the Vatican Radio reported of the pontiff's words on Sunday at St. Peter's Square.
The Islamic State has claimed responsibility for the mass shootings and bombings at Paris bars, restaurants, a concert hall and a stadium, which also left over 350 injured on Friday.
IS-linked social media accounts had apparently warned of the incoming attack 72 hours earlier, sending messages such as "God bless you in your mission," presumably to the attackers that were getting ready for the assault.
Francis said that that the attack were "not human," and in a previous interview on Saturday with TV2000 called the developments "a piece" of the "piecemeal Third World War."
"I am close to the people of France, to the families of the victims, and I am praying for all of them," the Roman Catholic Church leader said. "I am moved and I am saddened. I do not understand, these things hard to understand."
He insisted that "there is no religious or human justification" for such mass killings.
Evangelical groups, such as the World Evangelical Alliance, have also said that they are grieved by the attacks on Paris and on Beirut, Lebanon, where IS militants killed another 43 people on Thursday.
"We condemn these coward acts of terrorism in the strongest terms and express our deepest condolences and solidarity with the people of France and Lebanon at this difficult time," said Bp Efraim Tendero, secretary general of the WEA.
"We echo the words of our brothers and sisters in France who said: 'France is not alone! At this time, millions of Christians around the world are praying for our country.' Yes, we are praying for France and Lebanon, and we call on churches around the world to join us," he added.
"Pray for hope, pray for healing, and pray for wisdom as the two nations seek the right way forward."
Islamic leaders have also slammed the actions of IS, saying they are without justification.
"These savage and despicable attacks on civilians, whether they occur in Paris, Beirut or any other city, are outrageous and without justification," said the Council on American-Islamic Relations on Friday.
"We condemn these horrific crimes in the strongest terms possible. Our thoughts and prayers are with the loved ones of those killed and injured and with all of France. The perpetrators of these heinous attacks must be apprehended and brought to justice."
Arab world leaders, including Saudi Arabia, the United Arab Emirates, Kuwait, Qatar and Egypt, have all also condemned the attack, with King Salman of Saudi Arabia sharing in a message of of condolence to French President Francois Hollande:
"We learned about the pain and the sadness of the terrorist attacks in Paris. … We express our condemnation for this repugnant terrorist act and offer our condolences to your excellency, the French people and the families of the victims," King Salman said, according to International Business Times.