Pope Francis, Israeli PM Discuss Iran, Israeli-Palestinian Conflict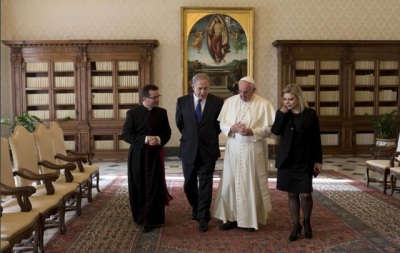 Pope Francis and Israeli Prime Minister Benjamin Netanyahu met for a 25-minute closed-door exchange in the Vatican on Monday.
According to the Israeli government, the pair discussed the Iranian nuclear program, the ongoing Palestinian-Israeli conflict, as well as recent peace negotiations, and the current, beleaguered state of Christians in the Middle East.
Since assuming the papacy, Pope Francis has been vocal about the need to protect the Middle East's persecuted Christians.
In his Easter remarks, the pope asked the nearly 80,000 Christians in attendance to "pray especially for Christians who suffer persecution."
"In these times, there are many Christians who suffer persecution, a great many, in many countries: let us pray for them from our heart, with love, that they might feel the living and comforting presence of the Risen Lord," he stated.
Following weeks of violence against Egyptian and Syrian Christians in August and September, the pope asked his audience "how many of you pray for Christians who are persecuted?" and called upon them to be "genuinely concerned about their plight, just as one would be for a family member in distress."
When one of them is suffering, "Am I indifferent or is it like someone in the family is suffering?" the pope posed.
Netanyahu invited the pope to visit Israel next year, The Jerusalem Post reported.
The Israeli PM visited the Vatican after a series of trips to Moscow, Paris, Geneva, and Washington last month where he articulated Israel's frustrations with an interim agreement made between Iran and the West to roll back sanctions against a country that Netanyahu fears will continue making a nuclear bomb.
Following his meeting with Pope Francis, Netanyahu told Italian Prime Minister Enrico Letta that "Iran aspires to attain an atomic bomb" that would "threaten not only Israel but also Italy, Europe and the entire world."