Pope Francis Open to Debate on Married Priests to Counter Evangelicals, Pagans Displacing Catholics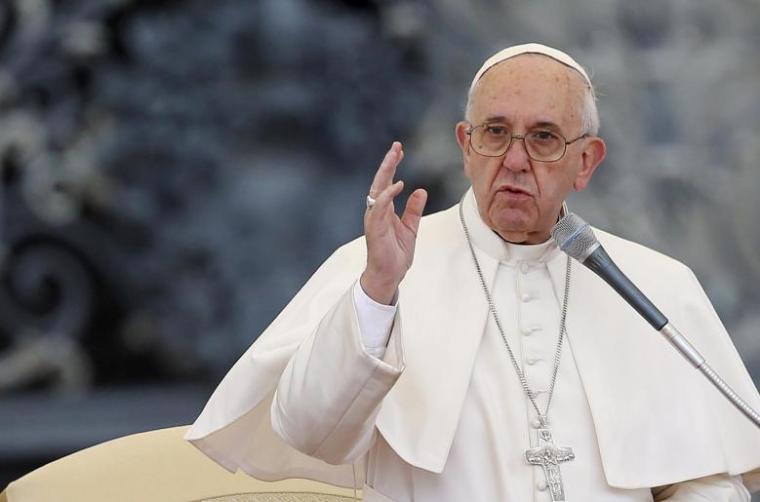 Pope Francis has suggested that he is open to the possibility of married men becoming Roman Catholic priests in cases where communities face a shortage of clergy and are being displaced by other faiths.
A prominent Catholic theologian has meanwhile resigned as consultant to the U.S. bishops' Committee on Doctrine after accusing the pontiff in a letter of sowing "chronic confusion" with the "intentionally ambiguous" manner of his teachings, which he warned could lead to sins against the Holy Spirit.
The Telegraph reported on Thursday that Francis has requested discussion on whether married men in the Amazon region in Brazil could be allowed to become priests, which would go against long-held tradition.
Cardinal Claudio Hummes, the president of the Episcopal Commission for the Amazon, reportedly made a request to the pope to consider the proposal, given that both evangelical Christians and pagan sects are displacing Catholicism in the region.
Monsignor Erwin Krautler, the secretary of the Episcopal Commission, has echoed the request, and said that bishops should also consider ordaining women deacons as priests.
Francis said earlier this year that he is open to the idea of ordaining married men, with a number of countries, including the U.S., reporting a shortage of priests.
Francis told Germany's Die Zeit in an interview in March that while removing the celibacy rule is not the answer to the problem, the prospect of married men of proven faith becoming priests could be considered.
The Vatican leader noted that the shortage of priests had become an "enormous problem," and said that the response to that needs to be prayer, combined with a more intense focus on "working with young people who are seeking orientation."
Capuchin Father Thomas Weinandy announced on Tuesday his resignation, the day after Crux and other media outlets published his letter to Francis, which dates back to July 31.
Weinandy accused Francis at the time of fostering a "growing unease" within believers, because of the ambiguity of many of his statements.
He took issue with some of Francis' suggestions that changes could be coming to historic Catholic positions regarding marriage and divorce.
The theologian accused Francis of too often acting in a manner that "seems to demean the importance of Church doctrine," portraying it as "dead and bookish."
Without naming names, he also said that faithful Catholics "can only be disconcerted by your choice of some bishops, men who seem not merely open to those who hold views counter to Christian belief but who support and even defend them."
Weinandy did not outline specifically which topics he feels Francis' teachings could be muddling Catholic doctrine on, though the pontiff's stance on numerous social issues has been placed under scrutiny.
Some media portrayals have positioned Francis as more liberal when it comes to LGBT people in the Church, as he once famously told reporters, "If someone is gay and seeks the Lord with good will, who am I to judge?"
Francis has clarified on a number of occasions that he supports the traditional doctrine that marriage is solely a union between one man and one woman, however.
The U.S. bishops' said in a statement following Weinandy's resignation: "The work of the committee is done in support of, and in affective collegiality with, the Holy Father and the Church in the United States. Our prayers go with Father Weinandy as his service to the committee comes to a close."