Pope Francis tells gay clergy: Better to leave ministry than live double life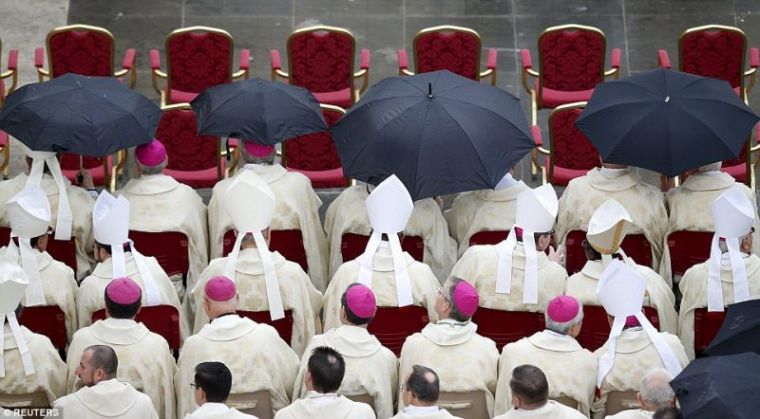 Pope Francis has affirmed that celibacy for Roman Catholic clergy is mandatory, telling gay clergy with romantic affections that it is better to leave the ministry than live a double life.
"The issue of homosexuality is a very serious issue that must be adequately discerned from the beginning with the candidates," the Vatican leader said in a newly released book, AFP reported.
"In our societies it even seems that homosexuality is fashionable and that mentality, in some way, also influences the life of the church," Francis stated in a declaration that was also published in The Strength of a Vocation.
"This is something I am concerned about, because perhaps at one time it did not receive much attention."
Francis went on to say that there is "no room" for romantic affection in the consecrated and priestly life.
He stressed that "homosexual priests, and men and women religious" need to "live celibacy with integrity, and above all, that they be impeccably responsible, trying to never scandalize either their communities or the faithful holy people of God."
As for those who seem unable to carry out their vows, Francis said: "It's better for them to leave the ministry or the consecrated life rather than to live a double life."
The worldwide Catholic church has been plagued by sexual abuse scandals uncovered in many different dioceses, with thousands of young children, both boys and girls, subjected to abuse.
In August, U.S. Bishop Robert Morlino of Madison, Wisconsin, argued in a letter that the "deviant sexual acts by clerics" are "almost exclusively homosexual" in nature.
"It is time to admit that there is a homosexual subculture within the hierarchy of the Catholic Church that is wreaking great devastation in the vineyard of the Lord," Morlino positioned at the time.
"The Church's teaching is clear that the homosexual inclination is not in itself sinful, but it is intrinsically disordered in a way that renders any man stably afflicted by it unfit to be a priest."
The bishop's comments came in light of a Pennsylvania grand jury report that found that at least 301 priests had abused over 1,000 children in the state alone over several decades, and were often protected instead of punished by the institution.
Morlino claimed in his letter that "the decision to act upon this disordered inclination is a sin so grave that it cries out to heaven for vengeance, especially when it involves preying upon the young or the vulnerable."
"Such wickedness should be hated with a perfect hatred. Christian charity itself demands that we should hate wickedness just as we love goodness," the bishop added.
Other theologians, including Janet E. Smith, a professor at Sacred Heart Major Seminary, have separately warned of a so-called "lavender mafia" of homosexual networks that supposedly pull the strings within church hierarchy.
While Catholic bishops in the U.S. planned to take action against clergy sexual abuse at their meeting last month, they were asked by the Vatican to delay it until a global summit at the Holy See scheduled for February takes place.