Pope Francis to Iraqi Priest Who Reported People Are 'Miserable': 'I Am With You Always'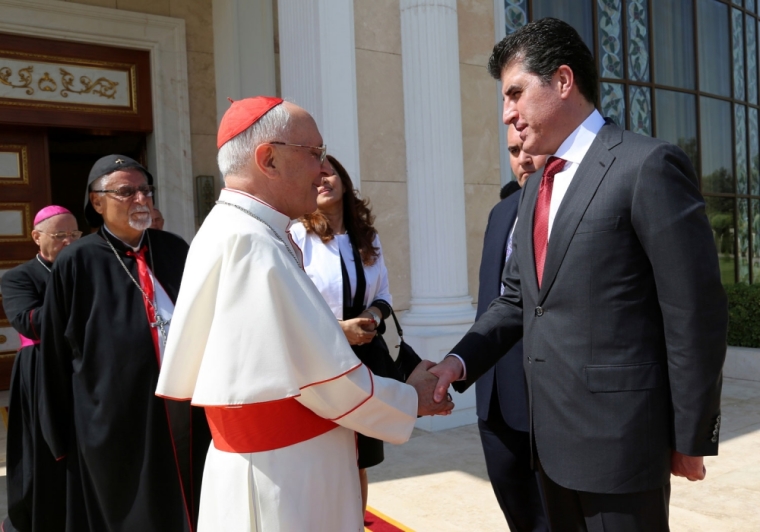 Pope Francis has reached out to an Iraqi priest helping refugees who are fleeing terror group ISIS and are said to be in a "miserable" situation, telling the priest that he is always with him in prayer.
"'I read your letter,' said the Pope. He said he was very sorry for everything that was happening to us and he said, 'Know that I am with you in prayer always. I never forget you,'" Fr. Behnam Benoka told CNA on Sunday, recalling the pontiff's phone call.
Benoka had written to the pope to tell him of the dire situation thousands of refugees, including many Christians, face in Iraq as they continue fleeing violence from ISIS.
The priest's letter to Francis, published in Arabic and Italian, read in part:
"Holiness, the situation of your sheep is miserable, dying and hungry, your little ones are afraid and cannot go on. We, priests and religious, are few and are afraid of not being able to meet the physical and mental demands of your and our children.
"I would like to thank you so much, in fact, very much because you always carry us in your heart, putting us there on the altar where the mass is celebrated so that God erases out sins and has mercy on us, and perhaps takes this up away from us."
ISIS, an al Qaeda offshoot, has captured a number of cities across Iraq and Syria, proclaiming an "Islamic State" in the region and carrying out many atrocities, including mass rapes and beheading of children.
Benoka revealed that he is running a make-shift clinic in Ankawa, Iraq, near Erbil, where many of the people have found refuge from the violence. Over 70,000 Christians have fled to Erbil, which is the capital city of Kurdistan.
Francis has spoken out strongly against the persecution of Christians and other minorities in the past, urging the international community to find a way to stop ISIS' actions.
"In these cases, where there is an unjust aggression, I can only say that it is licit to stop the unjust aggressor," Pope Francis told journalists in August. "I underscore the verb 'stop.' I'm not saying 'bomb' or 'make war,' just 'stop.' And the means that can be used to stop them must be evaluated."
The Roman Catholic Church leader told Benoka that he has sent Cardinal Fernando Filoni, prefect of the Congregation for the Evangelization of Peoples, to check on the situation at the refugee camps and report back to him.
Benoka spoke of his gratitude to the pope for the personal phone call, and said that it felt like "when you're a kid and you have a problem or an emergency and your Mom and Dad are the first to come to mind because you know they'll defend and protect you."
"It was like that, calling the person that could help us the most. I was able to get word through to him, and it felt like this, like a true father," he added.
Another Catholic priest in Iraq said that many Christian refugees feel helpless, and are angry at government soldiers who abandoned them to ISIS extremists after the militants began their attacks.
"The people are angry because the government just gave up on them. They told us that, in Mosul, where there had normally been a presence of 60,000 soldiers, after the onslaught of ISIS, in only a matter of hours, these soldiers abandoned them, laying down their weapons," said Fr Rami Wakim, the secretary to Melkite Catholic Patriarch Gregoire III Laham.
Fr. Wakim was part of a delegation of Catholic and Orthodox patriarchs who visited Erbil in August to show their solidarity with the persecuted minorities.
Lebanese Cardinal Bechara Rai, patriarch of the Maronite Catholics, who was also part of the delegation, added:
"We want all the Christians, Muslims, Yezidis, Sunnis, Shiites and Kurds to stay in Iraq and not to leave because this is our homeland, this is our culture, and civilization and we do not want to part with it," Rai said.
"The ones who want to help us must work to stop injustice, help us end injustice and help our people regain their rights. This is what we want from the ones who want to help."