Potter's House Fort Worth Volunteer Cuffed, Assaulted at Church in Dispute Over Working on Stage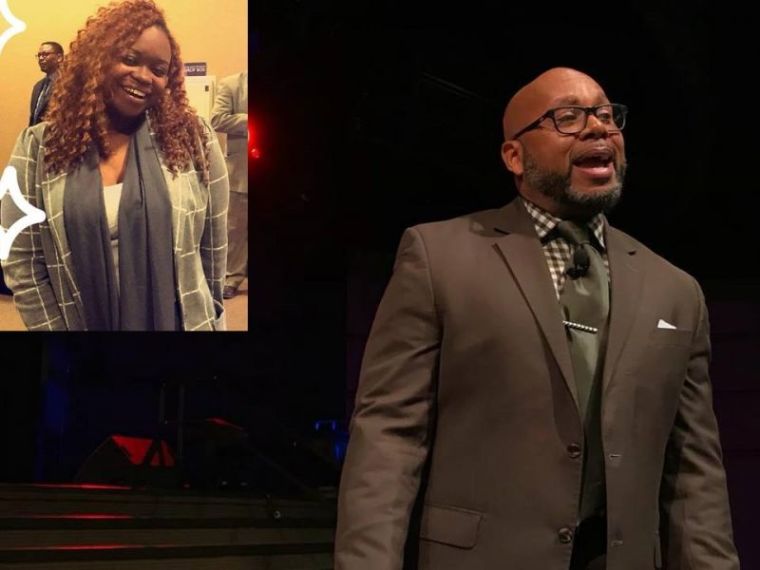 A young Potter's House Fort Worth church volunteer said she quit her role at the church Sunday after she was handcuffed, assaulted and physically removed from the church during a dispute with an elder, that was partially captured on video, about her appearing on the church's stage.
In the recording of the incident, Audrey Stevenson, the 22-year-old former volunteer who attended the church led by Patrick E. Winfield II, is heard having a discussion with the church elder, identified as Rhonda Lewis, backstage.
"So I want to be clear. On the stage, you are not allowed to do anything on the stage. Now they just said to me that you said the pastor said you could do stage?" Lewis can be heard in the video telling Stevenson.
Stevenson told Lewis that she spoke with the pastor's wife, who informed her that "she had no regulation on me serving under any type of restriction" and they would be meeting with the elder and other staff members to discuss the matter.
The conversation soon devolved into a tense argument after Lewis indicated that Stevenson was out of order for having gone to the pastor's wife with the dispute and indicated that there would be no meeting as she is the church administrator. She further called Stevenson a manipulative liar and noted that she had been "sat down" — meaning removed from service — and thus should not be on stage. Stevenson asserted that she has a right to call the pastor's wife and told the elder she should be "ashamed" of herself.
As Stevenson tried to leave the room, a church security official, identified as Brandon Amie, blocked her way, saying he needed to "explain something" to her. She was then handcuffed and restrained as she begged him to let her leave. At one point, she indicated Amie had his knee in her back while she continued screaming.
When other church security officers arrived at the scene of the dispute, Amie explained that Stevenson was refusing to follow the systems established by the church administrator.
"She's been told by her supervisor — she's a volunteer — she can't be backstage, she can't serve. She was on the stage," Amie said, explaining what led to the dispute. When he asked the production manager who allowed her back on stage, the manager said that Stevenson told him "pastor did."
"I know pastor didn't say that," said Amie. He then went searching for Stevenson backstage and that is when the dispute occurred with the elder.
"Tried to talk to her. She rises up on Rhonda. Rhonda explain to her the system of the church. All we wanted to do was have a conversation about the system, she rises up and started to be loud," he told the officers.
Calls to the Potter's House Fort Worth to find out why Stevenson was removed from service were not answered on Tuesday morning. 
In a video posted to Stevenson's Facebook page, Stevenson's mother, who was not identified but has been a member of the church since 2014, said there had been an ongoing issue between her daughter and Elder Lewis since January. She said she tried to find a solution to the problem prior to the fracas but Lewis would not let her speak to the pastors.
"I initially reached out to pastor. I called the church. Rhonda Lewis was the gatekeeper. She never passed the message on to Bradley so that I could speak to pastor," Stevenson's mother said.
She explained that when she tried reasoning with officials respectfully again on Sunday about how her daughter was treated, she was not allowed inside the church.
"The church I've been going to since 2014, have never had a problem with anyone there, I paid my tithe and offering faithfully, and when I asked to speak to first lady because I wanted them to know how my daughter had been slammed," the incensed mother said.
"These are despicable, ludicrous, demoralizing, hideous acts happening in the church of God. And these are the people who are in leadership, I want to tell you if they get away with this, they'll do this to somebody else's child. Or to someone else's sister. This is a woman. Audrey is 22 years old. 5' 2". I'm short. I'm only 5' 5" and they would do this to her? What kind of people are these?" she asked.
A statement from Pastor Winfield posted to the church's Facebook page on Sunday night called the incident, which has been viewed on Facebook nearly 3 million times as of Tuesday morning, "unfortunate." He further noted that the matter was reported to the Fort Worth Police Department and is being investigated.
"An unfortunate situation ensued between a former volunteer and church leadership, prior to service on Sunday, March 25. The incident captured partly on video and posted on Facebook gives a partial but incomplete reflection of all of the issues involved. The Potter's House of Fort Worth like most churches, welcomes and cherishes all of its volunteers who are the life's blood of the organization," Winfield said.
"When those in service are removed, we expect for that process to occur privately to protect the dignity of all involved. Unfortunately, that did not occur in this case. An incident report was made with the proper authorities at the time including the Fort Worth Police Department. A full investigation is underway," he said.
"While the facts are sorted by an independent third party, the TPHFW security personnel involved will be placed on administrative leave pending the results of the investigation. The safety and well-being of the Potter's House of Fort Worth community is our utmost concern. Please continue to pray for our church leadership and for all who serve and worship here," he added.