Pregnancy clinic sues Jane's Revenge, activists responsible for pro-abortion vandalism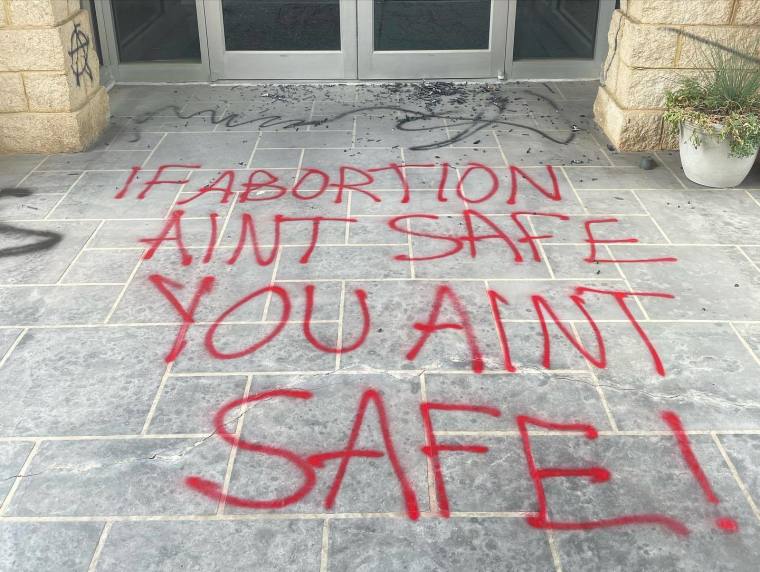 A pro-life pregnancy center in Florida and the state's attorney general have filed lawsuits against Jane's Revenge, a collective of abortion activists that have claimed responsibility for multiple instances of pro-abortion vandalism over the past year.
The First Liberty Institute has filed a lawsuit on behalf of Heartbeat of Miami, a pro-life organization that operates a Pregnancy Help Medical Clinic in Hialeah, Florida, against Jane's Revenge and three individuals facing charges for vandalizing the facility last July.
The lawsuit was filed in the U.S. District Court for the Middle District of Florida last Wednesday, the same day that a grand jury indicted two additional pro-abortion activists in connection to the defacement of the facility.
Two months before the indictment of Gabriella Oropesa and Annarella Rivera, a grand jury in the Middle District of Florida indicted Caleb Freestone and Amber Smith-Stewart for vandalizing Heartbeat of Miami and two other pro-life pregnancy centers in Florida.
The Twitter account Antifa Watch identified Freestone and Smith-Stewart as members of the anarchist group Antifa's Miami cell. The complaint names Freestone, Rivera, Smith-Stewart, and Jane's Revenge as defendants.
Jane's Revenge first received national attention last year following the May 2 publication of a leaked draft U.S. Supreme Court decision in the case of Dobbs v. Jackson Women's Health Organization, which indicated that a majority of justices were prepared to overturn the Roe v. Wade ruling that legalized abortion nationwide by declaring that the U.S. Constitution doesn't contain a right to abortion.
A week after the leaked Dobbs decision, a network of pro-abortion activists identifying themselves as Jane's Revengetook credit for firebombing the headquarters of Wisconsin Family Action, a pro-life organization based in Madison, Wisconsin. Jane's Revenge also called for the "disbanding of all anti-choice establishments, fake clinics, and violent anti-choice groups within the next thirty days."
When the "disbanding" of pro-life pregnancy centers failed to materialize, Jane's Revenge declared "open season" on such organizations as it took credit for multiple acts of vandalism directed against them in a communique. The lawsuit claims Jane's Revenge rhetoric motivated the other defendants to target their client's facility.
On July 3, about a week after the official Dobbs decision was released, Heartbeat of Miami took to social media to announce that vandals spray-painted the phrase "Jane's Revenge" on the side of its facility and additional messages reading "If abortions aren't safe [then] neither are you" and "our rage will not stop." Along with spray-painting the anarchist symbol on the exterior of the pro-life pregnancy center, the vandals asked, "Pro-life? What about [the] death penalty for the accused?"
The complaint outlines additional allegations against the three defendants.
Specifically, the lawsuit maintains that the defendants conspired to disrupt Heartbeat of Miami's annual gala, which took place at the Trump National Doral Miami Resort & Hotel in Miami on Sept. 17.
Leading up to the event, the defendants are accused of creating a social media page encouraging people to disrupt the gathering, offering to pay the bail of anyone arrested for doing so, and publishing the personal information of the pro-life pregnancy center's director and a member of its board.
"Defendant Freestone and other conspirators hacked into Heartbeat's registration for its Gala and added themselves to the guest list without paying the required fee for making such a reservation," the lawsuit stated. "The actions were taken in furtherance of an effort to disrupt Heartbeat's provision of reproductive health services by intimidating those who would financially support this life-affirming reproductive healthcare facility and preventing Heartbeat from obtaining the donations it relies upon for its operations."
Freestone and Rivera disrupted the event by "shouting obscenities and disparaging language regarding Heartbeat and its work in the community." They also distributed business cards "containing false information about the work performed by Heartbeat, including accusing Heartbeat of operating 'FAKE CLINICS' and stating Heartbeat's reproductive healthcare facilities were 'Designed to Lie to You.'"
While the two attempted to confront Heartbeat President Martha Avila, they were escorted out of the facility and arrested before they could do so. Despite the increased security Heartbeat of Miami invested in due to the threats leading up to the gala, Avila feared "physical harm."
The complaint contends that the defendants violated the Freedom of Access to Clinic Entrances (FACE) Act and seeks $5,000 in damages for each act committed violating federal law.
The FACE Act subjects anyone who "intentionally damages or destroys the property of a facility, or attempts to do so, because such facility provides reproductive health services" to federal charges.
Defendants also face trespass charges concerning the facility's vandalism and the gala's disruption, civil conspiracy and violation of the Florida Racketeer Influenced and Corrupt Organization (RICO) Act.
The lawsuit asks a judge to prevent the defendants from continuing to threaten the pro-life organization, going within 100 feet of the facility and damaging or destroying its property. Additionally, it requests an order for the dissolution of Jane's Revenge and the awarding of attorney's fees to the plaintiff.
"Those who target life-affirming reproductive health facilities must face the legal penalties Congress established for their crimes," First Liberty Senior Counsel Jeremy Dys said. "No one should suffer violence for simply providing faith-based counseling and baby supplies to women and their babies. Violence is never a lawful response to disagreement."
Defendants Freestone and Smith-Stewart face a separate lawsuit from Florida's Republican Attorney General Ashley Moody. The state seeks to recover $170,000 in damages from each in connection with their vandalism of Heartbeat of Miami, the South Broward Pregnancy Help Center in Hollywood and the LifeChoice crisis pregnancy center in Winter Haven.
"Antifa and Jane's Revenge are criminal organizations and must answer for their crimes in Florida. I am taking action to hold their members accountable for attempting to intimidate and threaten law-abiding citizens in our state," Moody stated.
If convicted in connection to their recent indictments by a grand jury in the Middle District of Florida, Freestone, Smith-Stewart and Rivera face up to 12 years in prison, three years of supervised release and fines of up to $250,000.
First Liberty President Kelly Shackelford praised the attorney general for "leading the effort to protect all faith-based pregnancy care centers across the country."
"The rule of law compels this lawsuit," Shackelford said. "If you use violence as a means to advance your disagreement, you will be held accountable by the law."