You'll Never Guess Which Presidential Candidate Comics Mock Most (OK, You Probably Will)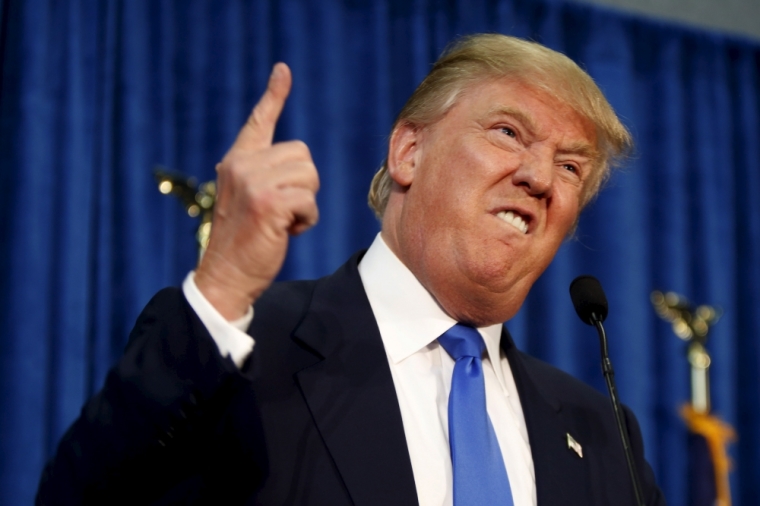 Republican presidential candidate Donald Trump has been the target of over three times as many jokes compared to Democratic candidates on late night talk shows, research finds.
In total, over a period of five months, Republican candidates were the butt of 1,363 jokes versus 424 jokes for the Democrats, researchers found, though Donald Trump accounted for most of the Republican jokes by far.
The study conducted by from September 2015 to January 2016 found that Trump has been the target of 655 jokes, compared to former Secretary of State Hillary Clinton at 216 jokes and Vermont Senator Bernie Sanders at 164 jokes.
The research took into account several of the top late night talk show programs, including NBC's "The Tonight Show With Jimmy Fallon," CBS's "The Late Show With Stephen Colbert," ABC's "Jimmy Kimmel Live!" and Comedy Central's "The Daily Show" with new host Trevor Noah.
The researchers, Robert Lichter is professor of communication at George Mason University, Stephen J. Farnsworth, professor of political science at the University of Mary Washington, and Deanne Canieso, a graduate student in communication at George Mason University, announced their findings in a Washington Post op-ed.
Lichter is an expert on comedy and politics and co-authored Politics is a Joke: How TV Comedians are Remaking Political Life.
They also reported that late night talk shows have targeted the Republican side compared to the Democratic side more frequently in every presidential election since 1992.
Conservative politicians have long criticized the media for taking a liberal bend in its coverage, an issue that was prevalent during the 2012 presidential election, in which Republican nominee Mitt Romney argued that journalists were focusing on unimportant political gaffes instead of real issues.
"I realize that there will be some in the fourth estate, or whichever estate, who are far more interested in finding something to write about that is unrelated to the economy, to geopolitics, to the threat of war, to the reality of conflict in Afghanistan today, to a nuclearization of Iran," Romney said in 2012, referencing an alternative name for the press.
"They'll instead try and find anything else to divert from the fact that these last four years have been tough years for our country," Romney added.
Conversely, a 2011 survey from the Pew Research Center found that the majority of Americans have negative views of overall press performance, with 66 percent of those questioned saying that they believe media stories are inaccurate.
However, when asked specifically about news organizations they follow, Americans' opinions of the media changed. Of those questioned, only 30 percent said their go-to news source inaccurately reported stories.
The current presidential election has provided much comedic fodder for the late night comedy circuit.
Earlier this month, Jimmy Fallon dressed up as Donald Trump to carry out a mock victory speech following the Super Tuesday primaries and caucuses, where the comedian poked fun at Trump's large ego and politically-incorrect attitude.
Colbert also targeted the Republican party in a recent bit, mocking the GOP for just now coming to grips with the possibility of Trump winning the Republican nomination.
Another presidential candidate, Texas Senator Ted Cruz, suggested this past weekend that the media hasn't given its all in attacking politicians, saying that several journalists are saving their worst charges for later on in the election, when they will have more of an effect.
"I think an awful lot of reporters — I can't tell you how many media outlets I hear, you know, have this great exposé on Donald, on different aspects of his business dealings or his past, but they said, 'You know what? We're going to hold it to June or July,'" Cruz told CBS's "Face The Nation" last weekend.