Priest calls cops on maskless pregnant mom holding baby at mass; police threaten arrest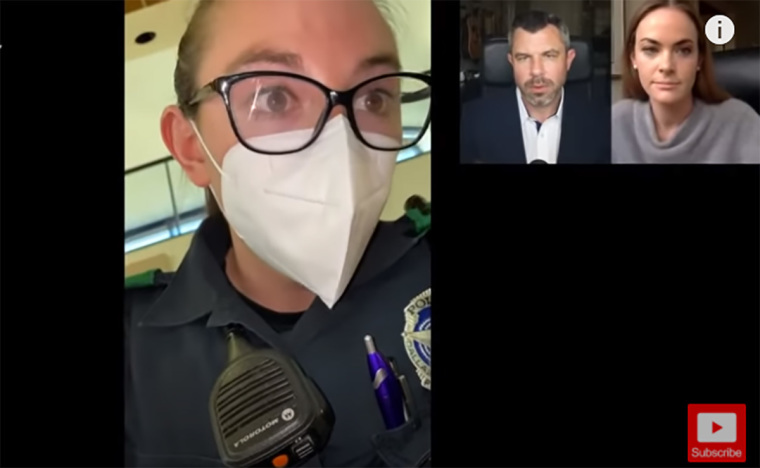 A Catholic mother in Texas is speaking out after being threatened with arrest for not wearing a mask during mass. 
Deirdre Hairston, who recorded a video of the incident on her phone, told Catholic author and podcaster Taylor Marshall in an interview that she had just taken communion at Holy Trinity Catholic Church in Dallas and was kneeling down with her 1-year-old child when a police officer approached her and told her that the church didn't want her there and she was trespassing.
Hairston, who's also pregnant, said parish priest, Father Milton Ryan, contacted police to report that she wasn't wearing a mask, according to CBS' DFW affiliate.
When she defended herself, noting it wasn't a crime not to wear a mask in church, the police officer said the church had a mask mandate because it was considered a business. In an exchange with three police officers outside the church, Hairston's husband is seen in the video expressing his dismay and defending his wife, emphasizing that the church is not a business. 
On March 2, Texas Gov. Greg Abbott lifted the statewide mask mandate. While houses of worship were never required to impose mask requirements on congregants during religious services, places of worship have the option to require the wearing of masks. 
"Our own government is more lenient at this point than our church, and that's a problem," Hairston told Marshall.
"You're more likely to get treated with Christian charity and grace at a Taco Bell than you are at church, unfortunately. Because if you don't wear the mask and they allow you not to wear the mask, they still treat you like a leper. They still treat you like you're a bandit. And I'm not a bandit. I may be a sinner, but I'm not a bandit."
Video footage Hairston took of the incident shows a female police officer attempting to lift her up out of her seat to escort her off the premises. Once Hairston steps outside the sanctuary, the officer can be heard warning that she will put her in handcuffs if she refuses to leave and then asks for her ID. 
Hairston further recounted that an usher at the church ran to her car to take pictures of the license plate. The video also shows the officer writing her a citation. 

Though no fine was levied against her, Hairston said she's no longer allowed back on the church's property and the officers made it clear that she would be arrested if she returned.

In response to the incident, the Diocese of Dallas released a statement saying that canon law "grants pastors jurisdiction over their parishes, and while the bishop has not mandated masks for every parish, he has left specific details to the pastors of the Diocese, adding that he expects the faithful to wear masks out of charity and concern for others."

"We recognize that not everyone can wear masks, but that those who can, should."
Hairston was neither arrested nor ticketed, the diocese added, but she was issued a trespass warning.

Hairston told Marshall that the episode has convinced her that the posture of the church is about making a political statement regarding compliance and not about public health.