Priest Who Leads Largest Catholic Church in US: We Should Allow Married Priests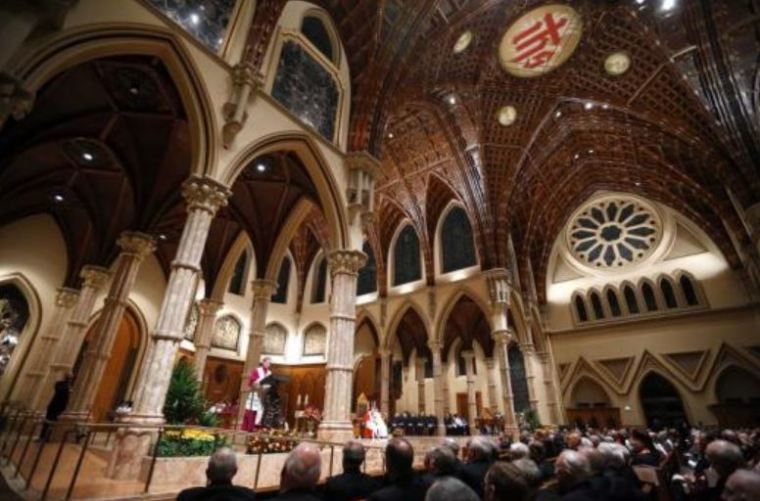 The man who leads the largest Roman Catholic Church in America is advocating that the church allow married men to become priests, and plans to spend his retirement ministering among the poorest of the poor.
Monsignor John McSweeney, 75, who is originally from New York, is concluding 43 years of ministry in Charlotte, North Carolina, where he has most recently served as priest at St. Matthew in Ballantyne, an affluent suburb of the state's most populous city.
St. Matthew Catholic Church is the largest Roman Catholic parish in the United States which boasts of over 10,000 families, according to The Charlotte Observer Sunday.
Much like Pope Francis, McSweeney said he desires a church that is more oriented toward hospitality and less about judgment. Charlotte, which reportedly has a burgeoning population of Roman Catholics, faces a shortage of priests in their diocese. And to address this, McSweeney said he favors the Church allowing priests to be married, mentioning that he has been around many Protestant pastors who are married and "doing great work."
"And many men I was in the (Catholic) seminary with would be great priests today except for one thing," McSweeney said. That one thing is their desire to be married. 
For the first 1,000 years of Catholicism, celibacy for priests was optional. In March, Pope Francis expressed openness to the idea.
"In our history, we would have men in training in different seminaries so we'd get a broader aspect of the church," he said.
"And I think that's what should be done now. Not just one place."
In the fall of 2009, Pope Benedict invited disenchanted Anglicans to come into the Roman Catholic Church, and allowed for married Anglican priests who converted to remain in the clergy.
McSweeney is "very concerned," however, about a resurgence of younger priests who are very conservative who dislike the Vatican II reforms in the Catholic Church.
Also called the Second Vatican Council, this council occurred in the 1960s where the Roman Church adopted notable changes in the way ministry is conducted. Vatican II invited lay people to minister more actively in the liturgy, and masses were increasingly celebrated in native languages of people, not just Latin.
Yet lay ministers who are women, are not being allowed, for instance, to help serve Communion. Altar boys are permitted, but not altar girls.
These young conservative priests, McSweeney explained, "are trying to reform the reform ... I don't endorse what they're doing to God's people."
When it comes to ordaining women as priests, as several Protestant denominations have done for decades, McSweeney said he "won't go there." Pope Francis and other recent popes have stated that change will never occur.
"I've had the privilege of being in many different roles in ministry ... But I think I need now to experience [poverty]," McSweeney said, who intends to spend the years of his retirement in a place like Haiti or Jamaica, ministering among some of the most destitute people on earth.
"I'm going to try to walk in the sandals of the Lord," McSweeney said.
"I have a little motto: 'You never say no to Jesus.' And he keeps talking to me."
McSweeney will preach his farewell sermon at St. Matthew on Sunday.