Pro-life group says CNN anchors spread misinformation, Biden does support late-term abortion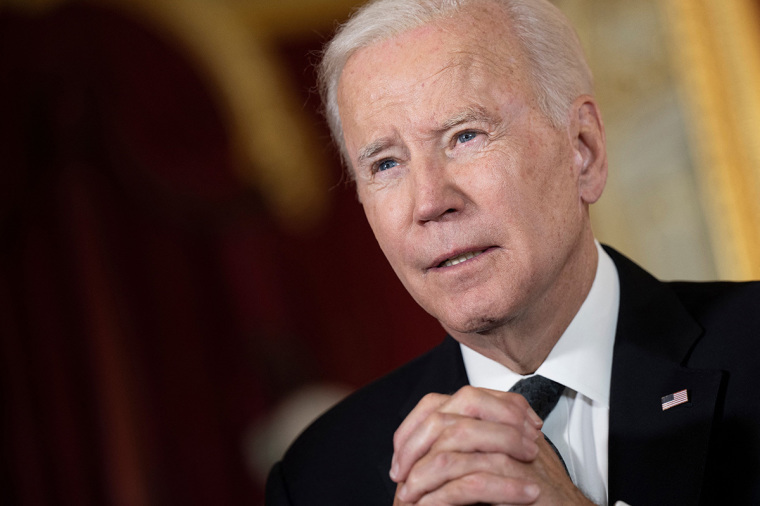 A leading national pro-life grassroots advocacy organization is calling on the media to ask Democrats about their views on abortion, noting that two CNN anchors during separate town halls incorrectly claimed that President Joe Biden opposes late-term abortion.
Republican presidential hopefuls, former Vice President Mike Pence and former U.S. Ambassador to the U.N. Nikki Haley, both appeared on CNN's town hall this month to discuss their policy positions. CNN's chief political correspondent Dana Bash moderated the town hall with the former vice president Wednesday, while Jake Tapper, the cable channel's chief Washington correspondent, moderated Haley's town hall. 
Bash said during the town hall that Biden supports Congress codifying the now-overturned 1973 U.S. Supreme Court decision Roe v. Wade, which the CNN opinion host claimed means the president supports gestational limits on abortion, contradicting Pence's assertion that Biden supports abortion up until birth. 
Yet this idea that Biden supports limits on abortion at "the point of viability" persists at @CNN.@SamFeistCNN, @DanaBashCNN where does this idea come from?

It can't be his policies.@Mike_Pence has always been very clear about where he stands on life.@JoeBiden has not.
4/7 pic.twitter.com/z3ApOgudgJ

— SBA Pro-Life America (@sbaprolife) June 8, 2023
Earlier this month, during a town hall event with Haley, Tapper also insinuated the same about Biden. However, Tapper appeared to concede that Vice President Kamala Harris has not publicly stated what abortion restrictions she would support, if any.
Nowhere in Roe is "viability" defined – much less at 20 weeks.@NikkiHaley is right – @jaketapper, have you asked Democrats if they support very late term abortions?

Does Joe Biden support abortion at 35 weeks? 36? 37? 38?

5/7 pic.twitter.com/ySTYVauxlA

— SBA Pro-Life America (@sbaprolife) June 8, 2023
Susan B. Anthony Pro-Life America pushed back on the assertion that Biden does not support abortion up until the moment of birth. Questioning in a Thursday Twitter thread what abortion restrictions Biden would endorse, the advocacy group shared links to Pence's and Haley's town hall events and outlined the president's nonrestrictive stance on abortion. 
The American people deserve to know:

Is there a SINGLE limit on abortion @JoeBiden supports?

???? (1/7)

— SBA Pro-Life America (@sbaprolife) June 8, 2023
"Pence was absolutely correct about the Democrats' abortion distortion. Time after time, Democrats refuse to name any protections for unborn children they support, at any point in pregnancy, even after science shows babies in the womb feel pain," SBA Pro-Life America President Marjorie Dannenfelser said in a Thursday statement. "CNN is well aware of this." 
The pro-life leader cited a Washington Post editorial that argued the November midterm elections did not go as expected for Republicans because many candidates did not make their position on abortion clear. The editorial contends that Democrats should make it known where they stand on abortion, including whether they support gestational limits. 
"Voters deserve straight answers, especially now that half the country has passed laws to protect unborn babies no later than 12 weeks," Dannenfelser said. 
"But Biden and the Democrats simply are afraid to admit their extreme agenda, as it is a massive political liability," she continued. "The media need to stop functioning like Democrat activists running interference and start acting like the journalists they are supposed to be, whose job is to ask persistent questions and uncover the truth."
The pro-life group highlighted how Biden championed the Women's Health Protection Act, which would allegedly "protect a person's ability to determine whether to continue or end a pregnancy, and to protect a health care provider's ability to provide abortion services." Susan B. Anthony Pro-Life America is one of many pro-life groups arguing that the act would allow abortion up until the moment of birth for any reason. 
Last year, the Senate fell short of the 60 votes required to invoke cloture and begin debate on the legislation. Sen. Joe Manchin, D-W.Va., was the only Senate Democrat to join Republicans in opposing the bill. The Women's Health Protection Act was supported by the Biden administration, then-House Speaker Nancy Pelosi, D-Calif., and Senate Majority Leader Chuck Schumer, D-N.Y. 
Dannenfelser argued during a press conference following the 2022 November midterm elections that Roe's reversal has made it "impossible" for politicians to ignore the abortion issue. 
"The simple takeaway is the simple political lesson that we've learned many times over," Dannenfelser concluded. "And that is that we win when we take a position that is popular and clear and confident, and we contrast that position with our opponents."
The pro-life leader praised Sen. Lindsey Graham, R-S.C., for introducing a 15-week abortion ban in September. She argued that this bill provided Republicans with the necessary guidance to address questions about the party's stance on abortion.