Gov. Ron DeSantis, pro-life leaders hit back after Trump calls heartbeat abortion ban 'too harsh'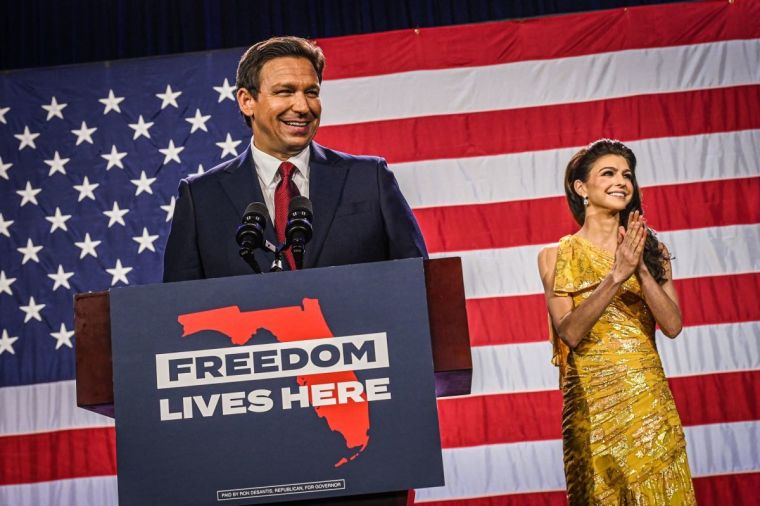 Florida Gov. Ron DeSantis responded to former President Donald Trump denouncing him for signing a bill banning most abortions once the baby's heartbeat is detectable. 
The Republican governor, who many see as a future presidential candidate, contended that the bill has widespread support and also noted that Trump did not reveal whether he would support pro-life laws that included exceptions for abortion. 
"Protecting an unborn child when there's a detectable heartbeat is something that almost 99% of pro-lifers support," DeSantis told reporters during a Tuesday press conference. "It's something that other states like Iowa, under Gov. Kim Reynolds, have enacted."
DeSantis signed the Heartbeat Protection Act on April 13, which prohibits abortions after six weeks into a pregnancy. The bill's passage comes as several states have begun to outlaw or place restrictions on abortion following the reversal of Roe v. Wade via the Dobbs v. Jackson Women's Health Organization ruling last summer. 
In an interview earlier this week with The Messenger, Trump, a 2024 presidential hopeful, did not articulate what abortion restrictions he supports. However, the former president did credit himself with appointing three of the U.S. Supreme Court justices who voted to overturn Roe. 
"He has to do what he has to do," Trump said about DeSantis signing the heartbeat ban. "If you look at what DeSantis did, a lot of people don't even know if he knew what he was doing. But he signed six weeks, and many people within the pro-life movement feel that that was too harsh."
Some pro-life leaders responded to Trump's statement, contending that they and a majority of others, including Floridians, support the ban. 
Live Action Founder and President Lila Rose tweeted a poll on Monday conducted on behalf of Susan B. Anthony Pro-Life America and the Florida Family Policy Council, showing that 62% of Floridians support the heartbeat law. Fifty-eight percent of women, 54% of Democrats and 54% of people who identify as pro-choice said that they supported the bill. 
"Trump is embarrassing himself by abandoning pro-life voters and the children we are fighting for. Florida and Gov DeSantis should be applauded for protecting life," Rose wrote in a separate tweet on the same day. "If President Trump is done with fighting for life, pro-life voters should be done with him."
The president of Students for Life of America and Students for Life Action, Kristan Hawkins, also responded to Trump's remarks in a Monday tweet, writing that failing to protect a human being with a heartbeat is what's "harsh." 
"The Pro-Life Movement did not fight for the preborn and their mothers for 50 years to simply sign off on 'a line the sand' of abortion policy that would allow more than 9 in 10 abortions," Hawkins wrote.
"We have and continue to be clear that demand protection at conception for all members of our human race, at a minimum children with heartbeats must be protected," she added. 
The Trump campaign previously faced criticism from pro-life leaders for stating that abortion policy should be decided solely at the state level following the Dobbs ruling. 
SBA Pro-Life America President Marjorie Dannenfelser said in a statement last month that a states-only position on abortion laws is "unacceptable." 
"President Trump's assertion that the Supreme Court returned the issue of abortion solely to the states is a completely inaccurate reading of the Dobbs decision and is a morally indefensible position for a self-proclaimed pro-life presidential candidate to hold," Dannenfelser said. 
"Life is a matter of human rights, not states' rights. Saying that the issue should only be decided at the states is an endorsement of abortion up until the moment of birth, even brutal late-term abortions in states like California, Illinois, New York and New Jersey. The only way to save these children is through federal protections, such as a 15-week federal minimum standard when the unborn child can feel excruciating pain."
On May 8, the pro-life leader disclosed that she had met with Trump alongside Sen. Lindsey Graham, R-S.C., and Family Research Council President Tony Perkins. Dannenfelser said that during the meeting, the former president condemned the Democratic Party's abortion position "of abortion on demand, up until the moment of birth, paid for by taxpayers — and even in some cases after the child is born." 
Dannenfelser shared more information on Tuesday about Trump's positions on abortion, saying that the former president opposes late-term abortions and supports abortion exceptions in cases of rape, incest and if the pregnancy poses a risk to the mother's life.