Prominent Atheist, Physicist Stephen Hawking Dies After Warning of Danger to Humanity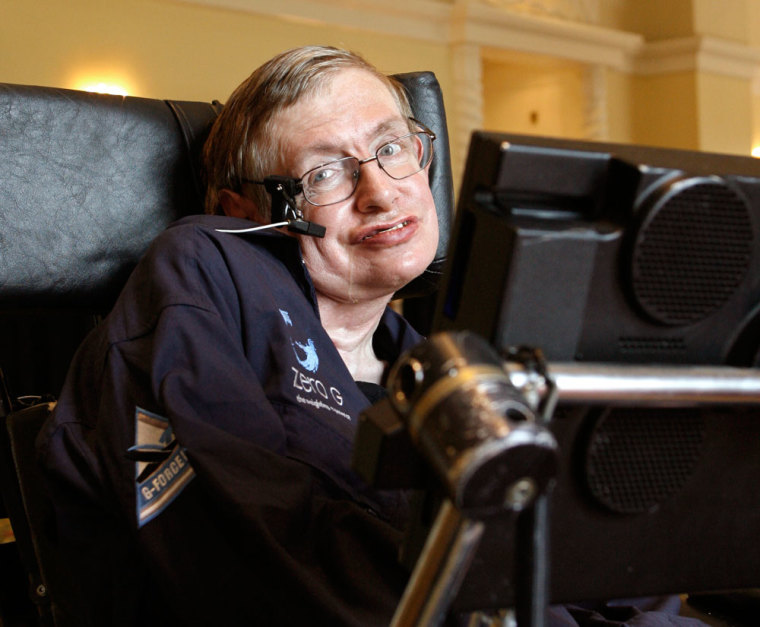 Prominent atheist and physicist Stephen Hawking, who preached that science offers a more "convincing explanation" of the universe than belief in God does, died early Wednesday, the University of Cambridge announced. He was 76.
"Widely regarded as one of the world's most brilliant minds, he was known throughout the world for his contributions to science. ... Professor Hawking broke new ground on the basic laws which govern the universe, including the revelation that black holes have a temperature and produce radiation, now known as Hawking radiation," the university, where Hawking was director of research at the Centre for Theoretical Cosmology, said. "At the same time, he also sought to explain many of these complex scientific ideas to a wider audience through popular books, most notably his bestseller A Brief History of Time."
Despite being diagnosed in 1962 with Amyotrophic Lateral Sclerosis, commonly known as ALS or Lou Gehrig's disease, Hawking lived a full 55 years even though he had been given just two years to live. While his survival had been treated by some as a modern miracle, he credited his family, friends and colleagues in an interview with BBC last summer.
"When I was diagnosed at 21, I was told it would kill me in two or three years. Now, 54 years later, albeit weaker and in a wheelchair, I'm still working and producing scientific papers. But it's been a great struggle, which I have got through only with a lot of help from my family, colleagues, and friends," he said.
His family did not reveal his cause of death Wednesday but confirmed in a statement that he "died peacefully" at his home in Cambridge, England.
"We are deeply saddened that our beloved father passed away today. He was a great scientist and an extraordinary man whose work and legacy will live on for many years," his three children, Lucy, Robert and Timothy Hawking, said in a statement. "His courage and persistence with his brilliance and humor inspired people across the world. He once said, 'It would not be much of a universe if it wasn't home to the people you love.' We will miss him forever."
Professor Stephen Toope, vice-chancellor of the University of Cambridge, said Hawking had left an indelible legacy to the world.
"Professor Hawking was a unique individual who will be remembered with warmth and affection not only in Cambridge but all over the world. His exceptional contributions to scientific knowledge and the popularization of science and mathematics have left an indelible legacy. His character was an inspiration to millions. He will be much missed," Toope said in a statement.
Raymond Laflamme, Canada research chair in Quantum Computing at the University of Waterloo in Ontario who earned his doctorate under Hawking's supervision at the University of Cambridge, called him an "incredible" scientist while mourning his loss.
"The scientific community, and the world is deeply saddened by the news of Professor Stephen Hawking's passing. We thank Professor Hawking for his impactful contributions to theoretical physics. He was an incredible scientist who has changed the way we think about the universe. His work will continue to inspire scientists all over the world, and generations for years to come," he said in a statement to CP.
It was part of Laflamme's doctoral research to mathematically demonstrate Hawking's theory about what happens to time in a contracting universe. Instead, Laflamme found that the math just didn't add up, meaning that Hawking's suggestion — that time reverses direction — could not be true.
Robert Mann, a professor of Physics and Astronomy at the University of Waterloo, spent his sabbatical 20 years ago as a visitor in Hawking's group. He described Hawking as someone who was actively engaged with both his students and his research and a regular participant at department seminars and the daily afternoon tea.
"Of Stephen's many contributions to our understanding of the universe, three stand out. One was showing that the attractive power of gravity will inevitably rip a hole in space and time, a phenomenon referred to as a singularity. The second was to show that black holes — whose normal behavior is to absorb everything they come in contact with — will actually evaporate to nothing once quantum physics is taken into account. The third was to show the universe itself might have a 'quantum birth,' popping out of nothing according to a well-defined mathematical description," Mann said. 
When asked what he wanted his legacy to be, Hawking told BBC during his 75th birthday celebration last year that it was his discovery about black holes.
"I never expected to reach 75, so I feel very fortunate to be able to reflect on my legacy. I think my greatest achievement, will be my discovery that black holes are not entirely black," he said.
"Quantum effects cause them to glow like hot bodies with a temperature that is lower, the larger the black hole. This result was completely unexpected and showed there is a deep relationship between gravity and thermodynamics. I think this will be key to understanding how paradoxes between quantum mechanics and general relativity can be resolved," he added.
During that interview, Hawking also warned about climate change and President Donald Trump's decision to withdraw from the Paris climate agreement to reduce CO2 levels.
"We are close to the tipping point where global warming becomes irreversible. Trump's action could push the Earth over the brink, to become like Venus, with a temperature of two hundred and fifty degrees, and raining sulphuric acid," he told BBC News.
"Climate change is one of the great dangers we face, and it's one we can prevent if we act now. By denying the evidence for climate change, and pulling out of the Paris Climate Agreement, Donald Trump will cause avoidable environmental damage to our beautiful planet, endangering the natural world, for us and our children."
Hawking suggested that if global warming doesn't destroy humanity, Earth could eventually be destroyed by an asteroid strike.
"This is not science fiction. It is guaranteed by the laws of physics and probability," he said.
He noted that moving to space could help save mankind.
"Spreading out into space will completely change the future of humanity. It may also determine whether we have any future at all," Hawking said.
In a 2014 interview with El Mundo, Hawking explained why he does not believe in God.
"In the past, before we understood science, it was logical to believe that God created the universe. But now science offers a more convincing explanation. What I meant when I said that we would know 'the mind of God' was that we would understand everything that God would be able to understand if it existed. But there is no God. I'm an atheist. Religion believes in miracles, but they are not compatible with science," he said.