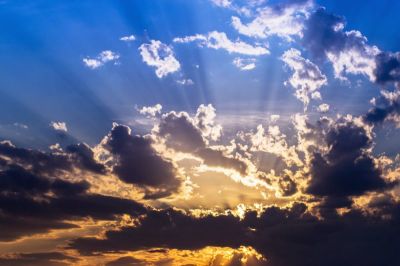 The Discovery is a film about a scientist who makes a discovery so significant it drastically alters the world. He discovers brain waves continue to emit from the mind after a person is dead. What's the big deal? It's scientific proof of an afterlife. Somehow, someway the deceased's brain continues to function after their heart has stopped.
People respond by committing suicide, millions of them, all around the world. Why? With definitive proof of an afterlife, they now have hope for a better life. They don't have to linger in loneliness or struggle with cancer. All they have to do is pull the trigger, and they can be reunited with their loved ones.
If you had definitive proof of an afterlife, how would you respond? If you knew, beyond the shadow of a doubt, you'd enter another life after you die, what would you do? Would you pull the trigger?
Pulling the Trigger
St. Paul also made a powerful discovery that radically altered history. He encountered a person from the other side, the resurrected Christ, and came to believe that Jesus was not only raised from the dead, but all who hope in Him will be raised to eternal life. But his response was different. Instead of taking his life, he gave his life. Instead of leaping to find what's on the other side, he transformed his life on this side. You could say he "pulled the trigger" on his old life, and his old life wasn't too shabby.
He formerly went by Saul, and according to the standards of Judaism Saul was no slacker. He was circumcised on the eighth day, of the people of Israel, of the tribe of Benjamin (Phil. 3:5). In other words, he wasn't a newbie in the faith; he was circumcised so early he was raised in the faith. And of all the ethnicities in the world, he was from the chosen people. And out of all of Israel, he was from a special tribe, the tribe that furnished Israel with their very first king. Saul had great pedigree, but he had even more.
His zeal eclipsed many of his contemporaries, aligning him with some of Israel's greats (Moses, Elijah, Phineas). An expert in the Law, Saul was esteemed by many. You might say he was the Steve Jobs of Judaism, with a passion for perfection to go with it. Saul arrested and persecuted Christians who perverted his Jewish faith. No one questioned his commitment, until his encounter with the risen Christ.
Then something switched, and his zeal ran toward Christ in a life of hopeful self-denial. He traveled unreliable roads and weathered seas throughout the Mediterranean to share the good news about Jesus, all while living off of his tent business and the support of friends. He wrote letters to struggling churches, and his writings eventually comprised half the New Testament. Along the way, he encountered misunderstanding, ridicule, rejection, prison, flogging, and even shipwreck. Yet he persisted. Why? The resurrection of Jesus had radically changed his notion of success.
Rediscovering Success
If you've been around successful people, you know how suddenly small and insignificant it can make you feel. A tiny voice pops into your head and starts interrogating you. What have you accomplished? What do you have to show? Why is that?
Sociologist Ernest Becker says it's a response to death. Sensing our ephemeral nature, we create what he calls "immortality projects." We might get a higher degree, establish a family, start a business, engage in philanthropy, or take a selfie, all in an attempt to avert death. We're haunted by questions like, "What will people think about me after I die? What will they say at my funeral? Will anyone remember me?"
Becker says this undeniable impulse is an attempt to deny death. To construct a way for us to live on, long after we are gone. Paul comes along and puts a gun to his immortality project when he says, "But whatever gain I had, I counted as loss for the sake of Christ. Indeed, I count everything as loss because of the surpassing worth of knowing Christ Jesus my Lord. For his sake I have suffered the loss of all things and count them as rubbish, in order that I may gain Christ (Phil 3:7–8). Resurrection fundamentally alters the meaning of success.
Paul looks back at all his accomplishments and describes them as loss—three times he uses the word. Now what would compel a person of his stature to throw shade on his success? Christ. Each time he mentions loss, he pairs it with a gain: loss for the sake of Christ, loss because of the surpassing worth of Christ, counting achievement as rubbish to gain Christ.
The word surpassing means "above the mark." He's saying when I stack my accomplishments next to Jesus, they can't even see him. The risen Christ is so good he's off the scale, beyond measure valuable. By comparison my accomplishments are rubbish. Instead, success is this: "knowing Christ and the power of his resurrection" (3:10). It's knowing the one who holds all things together, the God who swallows death, the rider on the white horse who will judge the quick and the dead, the King of a renewed creation. Knowing him is the greatest discovery, ever. And when you've got the greatest thing, you can live without a lot of things.
Glory in Regret
Eventually the scientific crew working on the "the discovery" realizes the post-mortem brain signals are actually connected to episodes of a person's past, not to an afterlife. When they convert the waves into images, they observe the episodes are actually moments of regret in a person's life. Unknowingly, the suicides are waking up, not to a circle of loved ones but moments of intense regret. The central character gets stuck in a loop trying to prevent the suicide of a woman he loves.
Faith in Jesus, however, does not lead to an eternal loop of regret. Rather, to borrow a phrase from C. S. Lewis, it allows heaven to work backwards. The meaning, love, joy, and goodness of heaven are transported back into the heart through union with Christ, which help us weather things like loneliness and cancer. Of course, our experience of heaven working backwards is uneven. We are, after all, still on earth so to speak. And once we reach heaven, Lewis notes that even a past agony, and I'll add even a regret, will turn into a glory. Why? Because that old pain will serve to intensify the present, everlasting comfort of Christ's nail-scarred hands. Our regret will be faint, but a vivid reminder of the grand discovery—the remarkable mercy of Christ, who rose to forgive and renew all things.
Jonathan Dodson is the founding pastor of City Life Church in Austin, TX which he started with his wife, Robie, and a small group of people. They have three children. He is also the founder of
gcdiscipleship.com
and author of a number of books including
The Unbelievable Gospel
, 
Gospel-Centered Discipleship,
and
Raised? Finding Jesus by Doubting the Resurrection.