Psaki dodges question about Equality Act's implications for Catholics: 'Difference of opinion'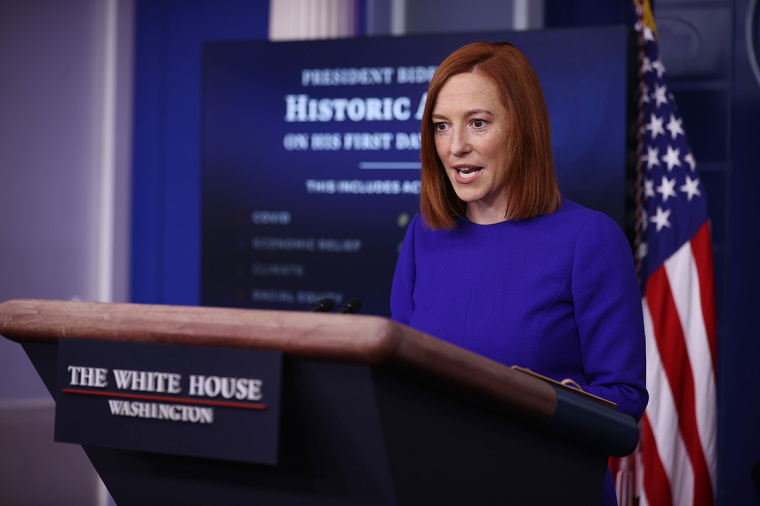 White House Press Secretary Jen Psaki declined to directly answer a question asking for President Joe Biden's thoughts about the Equality Act's implications for Catholic businesses and individuals who seek to operate in accordance with their deeply held religious beliefs. 
EWTN White House Correspondent Owen Jensen asked Psaki about the Equality Act's implications for religious Americans, specifically Catholics, during a White House Press Briefing Tuesday.
"What does the president, who we know is Catholic, say to Catholic doctors, Catholic institutions who are fearful that if the Equality Act passes, it has the potential to trample on their conscience rights? What does the president say to those people who are concerned about that?" he asked. 
Psaki responded by saying that the president "has a difference of opinion."
"[B]ut he has been a supporter of the Equality Act, and he also is a practicing Catholic and attends church nearly every week," she responded. 
Tuesday was not the first time Jensen brought up the Catholic and religious communities' concerns about the Equality Act, which would codify discrimination protections based on sexual orientation and gender identity into federal law without clear protections for religious organizations. 
At the March 2 press briefing, Jensen told Psaki that pro-life groups were "very concerned about the phrase 'pregnancy discrimination' in the Equality Act — that it would force doctors to perform abortions even if it violates their concerns." 
"There are also concerns the bill would force doctors to perform gender transition surgeries and sterilizations, again, even if it violates their conscience. What does the president, President Biden, say about those concerns?" Jensen asked at the time. 
Psaki refused to answer Jensen's question directly, instead pointing out that "the President has been a long supporter of Roe v. Wade" and has a "consistent belief that [the ruling that made abortion a national right] should be law." 
"And he will fight to continue to protect that as being law," she said. 
Jensen pressed Psaki for Biden's thoughts about "conscience concerns," to which she replied, "I'm just going to state what the president's policies are."
The Equality Act is a wide-reaching piece of legislation billed as a necessary measure to codify nondiscrimination protections for the LGBT community into federal law. Biden promised to sign the legislation into law during the first 100 days of his administration, which will come to a close on Apr. 30. 
Conservatives and religious organizations have raised concerns about several provisions in the Equality Act in addition to those mentioned by Jensen at the White House press conferences. 
Specifically, critics of the Equality Act fear that the bill would expand the definition of a "public accommodation" to include nonprofit entities such as shelters and food banks as well as religious schools. 
Should this happen, opponents contend, Christian colleges could be forced to place men who identify as women in women's dormitories. 
Additionally, religious employers could be forced to "include in their health plans things they might object to, like cross-sex hormones, puberty blockers for children and sex reassignment surgery," warned Alliance Defending Freedom Senior Counsel Gregory Baylor. 
Unlike most measures similar to the Equality Act passed at the state and local level, the federal legislation does not include religious exemptions.
The Equality Act has already passed the Democratic-controlled House of Representatives on a largely party-line vote. The bill has stalled in the Senate, where most legislation requires 60 votes to pass. Democrats have a narrow 50-50 majority in the upper chamber, with Vice President Kamala Harris casting the tie-breaking vote in favor of the Democrats. 
Senate Republicans are expected to unanimously oppose the Equality Act and one Democrat, Sen. Joe Manchin of West Virginia. Opposition to the legislation by all Republicans and Manchin would leave the legislation short of the votes needed for passage.
Biden has repeatedly touted his support for the Equality Act as a presidential candidate. As president, he has highlighted his Catholic faith extensively on the campaign trail. 
His support for abortion and embrace of other positions that contradict the Catholic Church's teachings have led to one church official requesting that he refrain from referring to himself as a "devout" Catholic and some denying him communion. 
Despite his divergence from Catholic Church teachings on several important issues, two-thirds of American Catholics think Biden should still be able to receive communion, according to a survey from the Pew Research Center.