Rand Paul Endorses Romney; Tea Party, Ron Paul Support to Follow?
Sen. Rand Paul (R-Ky.), Republican presidential candidate Ron Paul's son, endorsed Mitt Romney for president late Thursday night, just a day after his father admitted that he could not be the GOP nominee given his delegate count.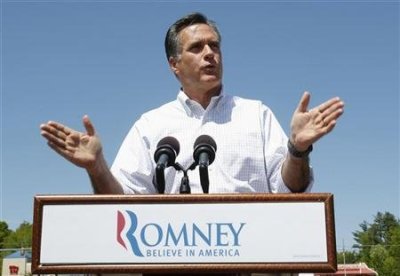 "My first choice has always been my father. I campaigned for him when I was 11-years-old. He's still my first pick," Paul, a founding member of the Senate Tea Party Caucus, told Fox News' Sean Hannity. "But now that the nominating process is over, tonight I'm happy to announce that I'm going to be supporting Gov. Mitt Romney."
Rep. Ron Paul (R-Texas) suspended his active campaign operation in May, but is still technically in the presidential race and could influence the GOP nominating convention in August. Romney has already clinched the 1,144 delegates necessary to be the Republican nominee.
Rand Paul, like his father, is a libertarian and was elected in 2010 to the U.S. Senate with the strong support of the Tea Party movement. He was very vocal and active during the budget negotiations last year that threatened to shut down the government, urging the government to reduce spending and taxation.
Paul's endorsement could help bring Tea Party members and his father's libertarian supporters into the fold of Romney backers at a time when the former Massachusetts governor is trying to unite the factions in the GOP.
The Kentucky senator said during his Fox News interview that he has met Romney and after talking, they found they have "a lot of kinship" on several issues.
"I think we have a lot in common, a lot of things that we will be able to fight together on," Paul said.
Romney responded to Sen. Rand Paul's endorsement by issuing a statement on his official website Thursday night saying, "I am honored to have earned the endorsement of Rand Paul." He went on to say that Paul has been a "leading voice" in the effort to reduce the size and reach of the government at a time when President Obama has made government bigger.
"As President, I will reform the federal government and make it smaller, simpler, and smarter. I am grateful for Senator Paul's support and look forward to working with him to get America back on the right track."
It has been widely suggested that Ron Paul is laying the ground works for his son Rand Paul to run for president in the future.
Joel Osteen: Obama, Romney are Christian
 MCNN's Anderson Cooper Quizzes Pastor Robert Jeffress, Mitt Romney -'Mormonism a Cult?'