Rapper Kanye West Debuts 'I Am a God' Song From Upcoming 'Yeezus' Album
Rapper Kanye West debuted five tracks from his upcoming Yeezus album at the Governors Ball Music Festival on Sunday in New York, with one track titled "I Am a God" and including the lyrics: "I just talked to Jesus, and he said, 'What up, Yeezus?'"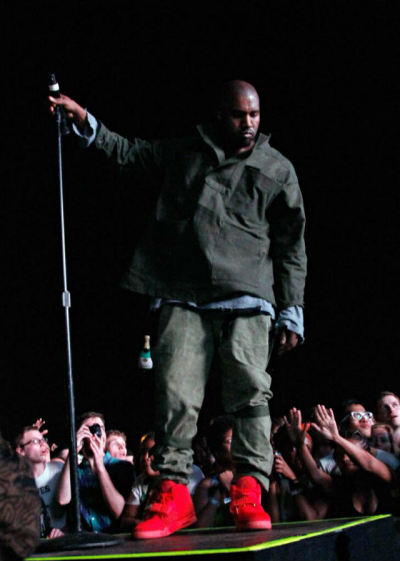 The Chicago, Ill., recording artist whose "Jesus Walks" breakout single from 2004's The College Dropout album helped earn him a Grammy and was recognized by the Stellar Gospel Music Awards as a possible contender for Best Gospel Rap Album, might have ruffled the feathers of some Christian music fans with his latest work. While he is certainly not the first hip-hop artist to refer to himself as "god," West seems to have a track record when it comes to comparing himself to Jesus Christ, which may have started with the February 2006 cover of Rolling Stone magazine that features a blood-stained West wearing a crown of thorns.
For his "I Am a God" performance on Sunday, West took the stage while fans cheered and a rap/rock/industrial type beat reverberated throughout Randall's Island Park, where the festival took place.
West, who also goes by the nickname Yeezy, raps on the song: "I am a god / hurry up with my damn massage / hurry up with my damn menage / get the Porsche out the damn garage …. I am a god / even though I'm a man of God / my whole life in the hands of God / see y'all better quit playing with God …"
At another point, West raps (courtesy of Rap Genius): "I just talked to Jesus / he said, 'What up, Yeezus?' I said, 'S**t, I'm chillin' / trying to stack these millions / I know he the Most High / but I am a close high / Mi casa (es) su casa / that's our cosa nostra … I am a god …"
On Rap Genius, a Wikipedia-like community that allows users to transcribe music lyrics and speculate on their meaning, several so-called scholars made conjectures on the meaning of West's "I Am a God" lyrics.
"Kanye has made his devotion to Christianity quite clear. His first hit single was even titled 'Jesus Walks,'" suggested one commenter. "But Kanye takes it further, boldly claiming that his life and his work is divinely inspired and being molded by God himself (a nod to the Yeezus album's title). Essentially, if you mess with Yeezus and you mess with God."
Another commenter, who found agreement among the Rap Genius community, suggested of the line "I just talked to Jesus / he said, 'What up, Yeezus?": "This is probably the best couplet in this entire song. Although many believe that Kanye is being sacrilegious in his usage of the term Yeezus, he's simply comparing what he is to music as what Jesus is to the Christian faith. He still believes in God, and even prays to Him (hence 'talked to Jesus')."
Christian music website Wade-O Radio highlighted some of the controversy West faced when it was revealed that his new album was titled Yeezus. While noting that some Christian artists "had issues" with West's album title, the Wadoradio.com report offered comments from others who said Christians should not be quick to make assumptions about West's intentions.
"I'm a little nervous for [West]. The Lord is just not going to be mocked. I'm not saying that some plague is going to happen to him, but that's not a smart move," Collision Records COO Mike Luna told Wade-O Radio. Luna added, however, that he didn't think West was seeking controversy just for record sales.
"He's too smart for this to be a publicity stunt. Kanye West is a very intelligent artist and he has a reason for everything he does. He's trying to communicate something," said Luna.
Malik Yusef, a longtime friend of West's and frequent collaborator, suggested in a tweet in March that the song title was actually "I am (A) GOD" and referenced Psalm 82, which reads in verses six and seven: "I said, 'You are 'gods;' you are all sons of the Most High.' But you will die like mere mortals; you will fall like every other ruler." The psalm is said to speak of earthly figures in positions of authority being called on to act justly because they themselves one day will have to answer to God, the ultimate judge.
The Huffington Post Entertainment previously reported when the title was leaked that an "inside source" insisted: "We would never be so presumptuous or sacrilegious to call ourselves the supreme being."
Although West has said he believes in God and was raised in a Christian household, he does not fully embrace the faith.
"Christianity is embedded in who I am, so I will still say things like this is a blessing, amen, and still say prayers; things that your grandmother embedded in you," West reportedly explained during a 2009 interview. "But, I do not believe that other religions are going to hell, I do not believe in a lot of elements of it. I want to express to people that I do believe in God, but I also have friends whom are atheists."
West, who is expecting his first child with reality television star Kim Kardashian, attracted even more criticism when an image circulated in May purportedly said to be the cover art for the Yeezus album. The artwork depicted an image of West nailed to a Y-shaped wooden beam, an apparent reference to Jesus Christ's crucifixion. A final image seems to have emerged, however, of the album cover art, which West has kept very minimal. The latest image suggests the CD comes packaged on a plain disc, in a plain case and features only a piece of red tape or a red sticker.
West reportedly performed 21 tracks, mostly songs from his previous albums, at the Governors Ball on Sunday. A video recording of West's performance of "I Am a God" can be viewed on YouTube: http://youtu.be/5RDdsWm3uRU.
Yeezus is West's sixth solo album and has been described as "dark," "aggressive" and "raw" by collaborators. The recording artist, who celebrated his 36th birthday on Saturday, is expected to release Yeezus on June 18 via Roc-A-Fella Records.