Ravi Zacharias to Liberty Univ. Graduates: Draw the Right Lines in Life, Find Your Definitions in God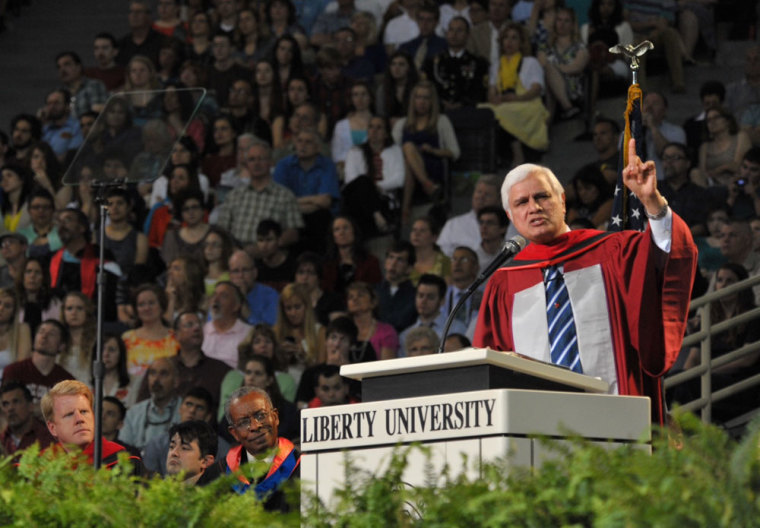 LYNCHBURG, Va. – Ravi Zacharias, renowned Christian apologist, best-selling author, and founder of Ravi Zacharias International Ministries, delivered the Baccalaureate Address at Liberty University's historic 40th Commencement exercises earlier this month.
In a powerful and engaging message from the scriptural account of Daniel, Zacharias told the more than 7,300 graduates ranging in age from 17 to 84, and thousands of guests in attendance on May 10, that "all it takes is one man or woman to step on the scene and change the course of history," and urged graduates to be "the center point of the arrow that God uses to transform culture."
Zacharias contended that "Daniel knew where to draw the lines" and said that his example offers "a reflection of what God intended for you and me to look like to stand before the powers of our time."
"You will learn from Daniel how he marched to a different drummer, and the lines that he drew helped him become a world changer," he said, asserting the importance of drawing three specific lines in life: resistance, dependence, and confidence.
"Daniel drew the line of resistance by training his appetite. He trained his hungers and disciplined himself," Zacharias pointed out, warning that "we make small decisions in the early days of our lives that often can put some deep desires in us that are not good in the long run." He cited "the scourge of the pornographic empire" as an example of a pitfall that must be avoided. "There are people whose sole purpose is to cut you in your soul, so you will be reprogrammed for desires that no one on the face of the earth can satisfy."
Daniel also drew his line of dependence, Zacharias told the audience. "You can only learn so much from books. You can only learn so much from education. Ultimately, it is the wisdom of God that will carry you through in the toughest situations of life," he said, emphasizing that graduates must not depend on their formal education or personal abilities but rely fully on divine empowerment. "Outside of the cross of Jesus Christ there is no hope in this world," he continued. "That cross and resurrection at the core of the Gospel is the only hope for humanity. Wherever you go, ask God for wisdom on how to get that Gospel in, even in the toughest situations of life."
Finally, Daniel drew his line of confidence and knew that ultimately the truth would triumph, explained Zacharias. "Three monarchs in a row crossed over to his side of the line; he never crossed over to theirs… it's remarkable," he said. "That is a reflection of the soul that God intends for you and me: to draw the line in the right places, to be shaped for His purpose, to be able to stand before the toughest adversaries, and to see that the difference will ultimately count."
Zacharias concluded his Baccalaureate remarks by challenging graduates to go boldly into a dark world, taking heart in the eternal power of the Gospel. "Graduates, you are facing a tough world, you are facing a changing world, you are facing a resistant world, you are facing a hostile world. But the Gospel story is always used to rising up and outliving its pallbearers. Take the message, it is alive, it is powerful, it is transforming," he said.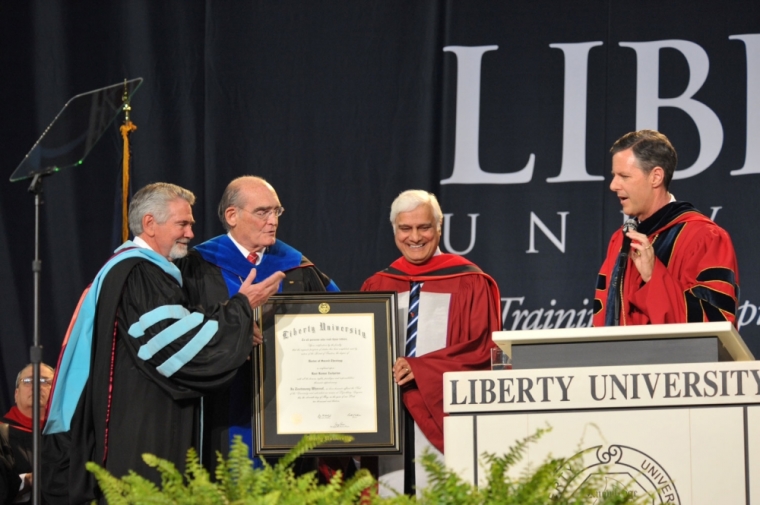 Liberty Chancellor Jerry Falwell, Jr. introduced Ravi Zacharias as "global spokesman for Christ… who has, for more than forty years, traveled the world in every imaginable setting, speaking to the dearest friends and most ardent critics of the Christian faith." Falwell presented Zacharias with an honorary Doctor of Sacred Theology degree from Liberty, in recognition of his "scholarship and intellectual contribution to the church of Jesus Christ and tireless efforts to present the Gospel of Jesus Christ around the world."
Zacharias thanked leaders for the honor and spoke fondly of his conversations with Liberty founder Jerry Falwell. "The vintage that Dr. Jerry Falwell represented was so unique, so extraordinary, combining courage with compassion and conviction and taking a stand in the best possible way to make a difference in life, undergirding it all with the message of Jesus Christ," he said. "May God bless you as you see multiples of people crossing over from that side over to this to become followers of Jesus Christ, which is the reason this institution exists and does so for the glory of God."
Zacharias also spoke briefly at the graduation ceremony on May 11 to a crowd of over 34,000 and focused on the importance of clinging to absolutes in a relativistic world. "We are living in a time in cultural history where our definitions have gone," he said. "The truth of the matter is when our definitions are gone, the minefield and the quicksand through which we walk is horrendous."
Zacharias said everyone seeks absolute definitions in the areas of evil, justice, love, and forgiveness, and the one place in history where these four converged was at the cross of Christ on Calvary.
"When you find your definitions in God, you find the very purpose for which you were created," he explained, and reminded graduates that they are about to enter a dark world. "Put your hand into God's hand, know His absolutes, demonstrate His love, present His truth, and the message of redemption and transformation will take hold."
Zacharias' baccalaureate message and graduation remarks resonated with those in attendance. "Ravi Zacharias is a profound communicator who has the ability to capture one's mind without losing one's heart," said Johnnie Moore, vice president of Liberty University. "He did this once again – artfully – in his challenge to the Class of 2013. Christ was exalted, the audience was inspired, and everyone left with something to think about. It was truly memorable and powerful."
Dr. Zacharias was born in India in 1946, immigrated to Canada with his family twenty years later, and currently resides in Atlanta. He has authored or edited over twenty books and is presently senior research fellow at Wycliffe Hall at Oxford University in England.
Ruth Malhotra works in Communications and Research and her areas of focus include religious liberty, family values, higher education, global missions, and grassroots politics. She is a contributor at the SixSeeds Faith & Family Channel on Patheos.com, where she frequently shares lessons on life, love, and leadership. A graduate of Georgia Tech where she studied international affairs and public policy, Ruth resides in Atlanta and is actively involved in her church and community. Follow Ruth on Twitter at @RuthMalhotra.