Ravi Zacharias tribute: Leaders honor the late defender of Christianity, 'well done sir'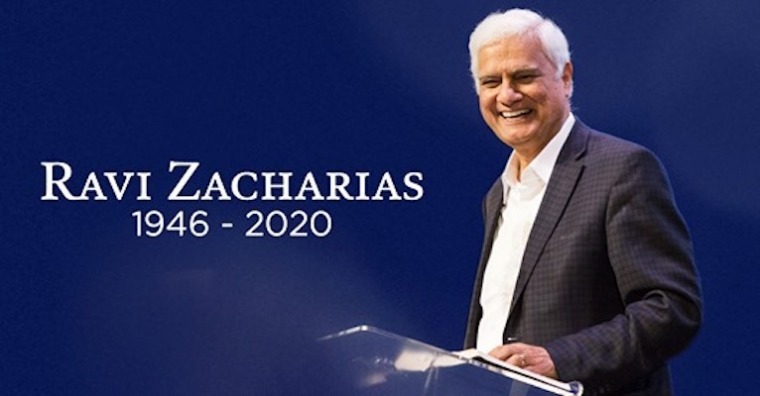 Christian leaders worldwide are paying tribute to Christian apologist, author and speaker, Ravi Zacharias, who died Tuesday from a rare form of cancer. He was 74. 
Zacharias' daughter, Sarah Davis, announced her father's passing in a post titled "Ravi Zacharias, Now With Jesus," on the Ravi Zacharias International Ministries' website. 
"It was his Savior, Jesus Christ, that my dad always wanted most to talk about. Even in his final days, until he lacked the energy and breath to speak, he turned every conversation to Jesus and what the Lord had done," she wrote.
Upon hearing about his death, Christians shared messages of gratitude for the highly esteemed apologist. 
Evangelist Franklin Graham, whose legendary father, Billy Graham, died in 2018, shared a heartfelt message and photo on Instagram of himself with Zacharias and Sami Dagher.
"@RaviZacharias, one of the great Christian apologists of our time, has stepped into the streets of glory and into the presence of the King of kings and Lord of lords. Don't feel sorry for Ravi–his fight with cancer is over, and he has placed his crowns at the feet of the One who deserves all glory and honor," Franklin wrote, encouraging others to also give their lives to Jesus. 
"For those who have put their faith in Jesus Christ, we will see him again on the other side of the river. Ravi shared the truth of God's Word with millions worldwide, 'So that at the name of Jesus every knee should bow, in heaven and on earth and under the earth, and every tongue confess that Jesus Christ is Lord, to the glory of God the Father' (Philippians 2:10-11). Ravi will be greatly missed—join me in praying for his family and loved ones in their loss," he added. 
Nick Hall, an international speaker and founder of the evangelistic ministry PULSE, thanked Zacharias for the impact he made on his own life and ministry. He also shared the last encounter he had with the minister who was recently a part of Hall's global Holy Week outreach.  
"Well Done," Hall wrote on Instagram. "Ravi Zacharias was a hero, mentor, and personal friend. He was a giant in the faith, giving Christians around the world confidence in their beliefs, while challenging the world to consider the exclusive claims of Jesus. Ravi opened doors for me, shared our stage at @pulse.movement and @together.generation events, and spoke into my life in ways that I will never forget. He has left an incredible legacy of young evangelists and apologists through @rzimhq and beyond."
Hall revealed that just a few weeks before Zacharias' death, the two celebrated the impact of their Holy Week collaboration. It was to be Zacharias' "last ministry event while on earth, where his message went out to possibly his largest audience ever — over 100 million people, according to Nielsen ratings," Hall said. 
"Over 135,000 people respond[ed] to the Gospel," Hall said, "Ravi glowed with excitement, 'What a work of God!'"
"Ravi was faithful until the end. While we mourn his passing, and pray for sweet Margie, and their dear family, we know that all of heaven rejoices, and that an entire generation is ready to pick up the torch as a result of his legacy," added Hall, who said he will honor  Zacharias on Saturday by hosting an event titled, Make Jesus Known. 
"I can't think of a better way to honor Ravi than to continue equipping a generation to follow his lead. I love you Ravi — thank you for changing my life," he concluded. 
Others who paid tribute to the apologist include Christian athlete Tim Tebow who tweeted, "To my friend, my mentor and a great hero of the faith @RaviZacharias — Thank you." 
Rapper Lecrae honored Zachariah on Instagram by adding: "This morning the world lost a husband, father, leader, and friend. You are seeing wonders we can only imagine. You are in the presence of glory we can't comprehend. Your legacy on earth continues," 
Gospel pioneer Kirk Franklin shared a photo of the two in an embrace along with a message about Zacharias: "Today one of my heroes left his earthly tent to be with the living word. We will miss this genius of a man...Well Done sir."
Christina singer Crowder shared quote spoken by Zacharias as part of his tribute.
"Today heaven rejoices and welcomes home a giant of the faith. Today we miss and mourn the loss of a friend and a teacher."
He added: "'When you come to a religion, you come to a place. When you come to Jesus Christ, you come to a person' — Ravi Zacharias. Today Ravi meets Jesus in person. That's amazing."
Archbishop Joseph D'Souza of the Good Shepherd Church of India, the country where Zacharias was born, also shared his condolences in a message shared with The Christian Post.  
"I have received the news of Ravi's passing away with great sadness. The last few weeks I have been following his retweets on how his life blessed so many and how his teaching strengthened countless disciples of Jesus across the nation," D'Souza said.
"Ravi's passing is not just a loss for the global Christian community. India also has lost a great son and a great Christian apologist. We were proud of his life and work," he added. "Ravi died as he lived by focusing on Jesus the Savior and Lord. His family is in our prayers and we trust that the Lord will comfort them."
Pastor Jentezen Franklin of Free Chapel, a multi-site church based in Gainesville, Georgia, said in a statement: "Ravi Zacharias resurrected the faith of many doubters and illuminated the truth for many skeptics. He articulated the validity of the Christian faith better than anyone I know. His loss is a loss for the entire world. I am grieving with his family and his ministry today."
Former atheist, author of The Case for Christ and apologist Lee Strobel tweeted: "If you ever met Ravi, read one of his books or heard him speak, he undoubtedly impacted your life. He was challenging & encouraging at the same time. Wisdom, compassion, grace. A rare gift. Thank you, Ravi. Looking forward to seeing you on the other side.

"We lost a real treasure and champion of the faith today," California's Harvest Christian Fellowship Pastor Greg Laurie wrote on Twitter. "@RaviZacharias has gone to Heaven. Ravi was scheduled to speak at our Church this month, but that was [not] meant to be. Thank God for the thousands of lives he touched."
"I was desperate for help on how to communicate & connect with a 'post everything generation.' It was the 1990s and we had already reached the 'post' stage in Australia (there's nothing new under the sun). A friend gave me a book by @ravizacharias and I literally could not put it down. He continued to help frame, form and shape my thinking on apologetics and evangelism for over two decades," Christine Caine wrote on Instagram. "He was so kind, compassionate, loving, brilliant, humble, passionate and gracious. He ran his race with courage, dignity and strength — and finished his course. He is now home. #thankyouravi"
The Rev. Samuel Rodriguez, president of the National Hispanic Christian Leadership Conference, added on Twitter: "Ravi Zacharias, a teacher of truth, a preacher of hope, a builder of wisdom, an equipper of faith, a disciple of grace, a follower of Christ, a friend of God; a true world changer. Ravi inspired me, his intellect matched his heart, both extraordinarily blessed. I will miss you my friend. Thank you for changing me. Thank you for changing the world. #ravizacharias"

Harry Hargrave, CEO of the Museum of the Bible in Washington, D.C., likewise shared a message about Zacharias in a statement to CP. 
"Museum of the Bible is saddened by the death of renowned Bible scholar and Christian apologist Ravi Zacharias. For close to 50 years, Zacharias traveled the world sharing his love for and knowledge of the Bible. He was a gifted and passionate communicator with the unique ability to engage academics and laypeople alike. Though he will be dearly missed, his legacy lives on in the 25 books he wrote and edited, the international ministry he founded and the lives he impacted."