Reacting to Gay Kiss During NFL Draft Should Not Get You Fined and Suspended, Says ESPN's Stephen A. Smith (VIDEO)
ESPN commentator Stephen A. Smith blasted the Miami Dolphins' decision to suspend safety Don Jones after he tweeted "omg" and "horrible" after watching footage of Michael Sam celebrate becoming the first openly gay NFL player by kissing his boyfriend live on TV. Smith has said people should not be punished just for reacting negatively to a homosexual couple kissing, and insisted that those with views that do not condone homosexual behavior should also be respected.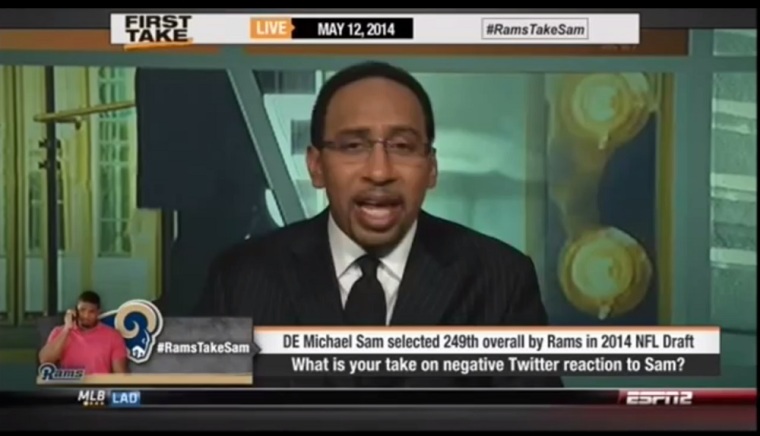 Smith, who appeared to talk about ESPN's coverage of Michael Sam, on FirstTake on Monday, stressed that the kiss "didn't bother me," and that he was celebrating in a similar manner to how "we see with heterosexual couples all the time."
The commentator said that he had not seen footage of Sam and his boyfriend Vito Cammisano smashing cake into one another's faces in celebration but "if I saw all of that... I would say the same thing I would say to a heterosexual couple: 'Get a room'."
Earlier this week, the Miami Dolphins announced that Jones would be fined and suspended from team activities until training camp because of his negative social media reaction to Sam, which did not sit well with Smith.
"When it comes to the players and their tweets, I don't believe they should have been punished for it. I'm of the mindset that there is freedom of speech. People have the right to say what they feel and if there are ramifications for it, so be it. If advertisers and sponsors and them, they don't want to endorse them or something like that, then that's the price you clearly was willing to pay and you have to pay it," Smith explained. "But I think it's a very, very dangerous thing when people see something and they have a problem with what they're seeing and they express themselves and ultimately they're fined."
Fellow ESPN commentator, Skip Bayless, who is a Christian, also chimed in, saying that while to the gay community, Sam's display of affection may have been "tender," "compelling and powerful," those who did not find it the same way, were equally entitled to their opinions.
"I also defend the right of those who believe that the Bible says a man should not be with a man and a woman should not be with a woman. If you believe that, then because your country was founded on religious freedom, then you have the right to believe that. But again, those in the locker room, who hold that spiritual or Christian view, that biblical view, they still, they need to be tolerant of Michael Sam," said Bayless.
Having spoken to prominent pastors on both sides of the issue, Bayless said he is personally split, but noted, "For those who don't believe it, the repetition on this and other networks was cringe worthy after a while: 'Gee it's again and again, you're sort of rubbing our nose in it here'."
Smith also added: "If we're going to call ourselves a Christian nation, then we have to be sensitive to some of the beliefs that emanate from the Christian religion," and that the public has overall become much more educated about the LGBT community in recent years.
"[When a person is] in the process of learning it Skip, when someone is willing to say....'I was watching the NFL draft. I didn't expect to see that. It just shocked me. And oh by the way, it was shown over and over and over again and I wasn't ready for that.' Is that wrong? Is that a crime? Is that something that warrants a fine and being ostracized from team activities until training community?'" he added.
Sam was drafted by the St. Louis Rams as the 249th pick in the seventh round.